It seems business casual is fast becoming the most important dress code in everyday life.
If it isn't already, that is.
Fashion has gotten more casual in the past few decades. But how you dress is still important when it comes to making good impressions and, frankly, when it comes to looking like a well-adjusted adult.
So strike a balance between business and casual in your everyday life. It's the safest bet. You never know who you'll run into or where the day will lead.
As quality footwear is our focus here, these eight best business casual shoes are a surefire way to do this.
How Did I Come Up With My List?
I've worked in the commercial art industry for over ten years, and if there's one prevailing dress code for footwear in this world, it's business casual. Why?
Well, it's an industry where I spend as much time in boardrooms and my office as I do on cement floors supervising workers who operate electric lifts during exhibition set-ups.
That being the case, I've worn more business casual shoes than any category of shoes. I used that experience as a foundation for the past few weeks while researching current models.
I dug deep, trying on several of them, consulting shoe experts, colleagues, fashion industry people, and other professionals who often have to dress in business casual attire.
Of course, I also scoured the internet for reviews. No two pairs of feet are made alike after all, and I wanted to be sure to represent all priorities in my findings.
The Best Business Casual Shoes for Men
Best Overall: Allen Edmonds Strandmok Cap-toe Oxford with Dainite Rubber Sole
The Allen Edmonds Strandmok Cap-toe Oxford effectively balances lively character with timeless class exactly what you want from a business casual shoe.
It's highly brogued, even flaunting a decorative medallion on the cap toe. However, instead of having a clunky or thick body the way classic brogues do, Allen Edmonds uses their popular 65 last. This means it has a gracefully narrow figure, providing a sleek look that tempers all the fun details.
This shoe is also functional and comfortable. The sole looks like it's stacked wood and leather but has a Dainite outsole, which is high-traction and naturally impact-resistant. If you're looking for a dress shoe to do a lot of walking in, this is your guy.
Unlike so many rubber-soled hybrid shoes, the Strandmok is 360-bench welted. It's durable, water-resistant, and resoleable. Allen Edmonds will even recraft the rubber cup sole when it wears out.
Best on a Budget: Johnston & Murphy Upton Knit Wingtip Shoe
The Johnston & Murphy Upton Knit Wingtip exhibits a distinct mix of modern and classic styling, giving it a unique personality. It's shaped like an on-template wingtip, but the knit construction infuses it with a contemporary sneaker look akin to an Allbirds runner.
You can basically wear this with any outfit if the dress code allows.
It essentially wears just like an athletic sneaker, with a flexible and lightweight body. The EVA outsole ups the agility factor, making this shoe easy to run in, and administering the support and drive needed for quick direction changes.
And if you do find yourself running around in this shoe a lot, the leather and mesh lining is antimicrobial, keeping odors at bay.
Great Value: Thursday Boots Statesman
At this point, I'm no longer surprised when Thursday Boots serves up a piece of footwear that's tough-looking and durable, but also suit-friendly. It's their MO. While so many business casual hybrid shoes combine sneaker and dress shoe qualities, the Thursday Statesman infuses work boot brawn with a moderate derby formality.
Strong features like the solid eyelets, the wide toe, and lugged outsole go well with casual workwear. However, the shoe is low-profile enough to go with a blazer.
Relatedly, the upper is made with Thursday's Rugged & Resilient leather, which is work-boot-level durable. Sturdy parts of the cattle hide are specifically sourced to make this leather, ensuring it can take a beating without needing constant maintenance.
It also looks supple, yet matte, which aligns with the visual balancing act this shoe so thoughtfully achieves.
Most Versatile: Allen Edmonds Park Avenue Oxford Sneaker
This Allen Edmonds Oxford is the sneaker version of their perennial classic, the Park Avenue. The standard Park Ave may be one of the most iconic oxford dress shoes on the market. But, their oxford sneaker is a youthful take on that famous model, boasting loads of cool factor, while maintaining the refined and classic vibe of the original.
Because of this, the Park Ave Sneaker fits a wide range of personal styles, adding class to trendy streetwear and relevant modernity to traditional outfits.
This versatility is rooted in the fact this model is undeniably premium. The upper is full-grain calfskin leather, which is lush, tight, and durable. It's also impeccably waxed, bringing out its natural luster and smoothness.
Meanwhile, the leather-lined interior is secure and cushy, but offers slightly more room and breathability than the traditional version. The insole has a dense, open-cell foam that allows air to flow while still supporting your foot and absorbing shock.
Most Comfortable: Amberjack Original Dress Shoe
The Amberjack Original Dress Shoe is a derby infused with a sneaker. It's equipped with several comfort features working together, allowing it to achieve three important things.
First, it's immediately comfortable right out of the box. Second, it's a great shoe for arch support, providing comfort and softness, and making it easy to stand in for hours at a time. And finally, despite all of the layers, it's impressively breathable. This makes it a perfect shoe for long walks.
The sheepskin lining is lush and has stayed that way for the years I've been wearing it. It feels great with or without socks, especially since the ankle is so well-padded.
If you look at the heel portion of the insole, you'll notice that it's three times thicker than regular memory foam. It then wanes towards the toe area, providing the kind of heel support you'd get in a work boot, but the overall flexibility of a sneaker.
Relatedly, the outsole is made out of a custom TPU blend that uses athletic technology in the front and hiking boot material in the back, perfectly matching the composition of the insole.
The heat-activated arch support in the midsole allows the shoe to conform to your foot exactly, while the perforation on the top helps with a bit of airflow. I've stomped around in this shoe for hours in 80-degree weather and never got overheated.
Best for Happy Hour: Thursday Boots Duke Chelsea Boot
Going business casual is a safe bet for most happy hours. When it comes to footwear, you want something stylish but effortless—something like a chelsea boot.
The Thursday Boots Duke brings a rugged aesthetic to the standard chelsea, while still maintaining its adaptable and minimalist character. I like to think of it as a work boot that's been to finishing school.
The silhouette tapers, but it isn't overly sharp, and the heel is attractively well-defined, just like an Italian dress shoe. Whether in a blazer and jeans or a full suit, this boot can take you from pub to bar to lounge, regardless of the dress code.
And since this is Thursday, you know this boot has plenty of function. All the variations have durable uppers. This includes the suede versions, which are treated with a special mix of hydrophobic compounds to ensure the upper is as waterproof as it is supple and soft.
Best Derby: Beckett Simonon Dunham Derbies
These days, many derbies are designed to wear like oxfords, many brands tempering the topographical upper with a sharper toe or an extra low profile. The Beckett Simonon Dunham, on the other hand, isn't afraid of its naturally robust look, giving it a confident business casual aesthetic.
The rounded toe (which makes this shoe great for wide-footed gents), raw eyelets, and matte quality give the design a relaxed energy. Meanwhile, the premium materials ensure a level of class that's plain to see.
This shoe seems tailor-made for a classy pair of dark selvedge denim pants. However, the stacked heel and flawless leather is sophisticated enough for any suit.
Best Loafer: Carmina Penny Loafers
The handmade Carmina Penny Loafer is classically elegant and gracefully tapered. You can choose between a svelte, flawlessly oiled calfskin upper or a beautifully napped suede.
However, the beefrolls on the side of the saddle and the traditional toe shape make this design the quintessential business casual shoe.
It's a true piece of luxury. Each shoe is handmade in Mallorca, and it comes in stunning colorways. Of course, there are different shades of brown and classic black. Beyond that, the Tan Varik is vivid with yellow undertones, while both Burgundy Variks display strikingly beautiful red tones.
How to Choose The Right Business Casual Footwear
Consult Your Company's Official Dress Code
Remember, one company's casual Friday might mean something different than another company's. Always follow the relevant dress code, even if the event is taking place outside of the office—just to be safe.
Consider Your Industry
Related to different office cultures, whole industries tend to have their own sartorial language. For the West Coast tech industry, it seems every day is casual Friday. Banking on Wall Street? Not so much.
Don't forget what your industry standards are when you're offered an opportunity to go business casual.
Check Out What Other Employees Are Wearing
And, when you're completely unsure, just follow the crowd.
Check out how your colleagues dress during business casual occasions, particularly those who have been there longer than you.
When I first started in the art industry, I had to wear a full black suit and tie when attending major auctions. I noticed my boss wore a red tie, so I decided I could do that, too.
I was immediately asked to change.
The moral of the story? It's best to follow the dress code of your peers. Your bosses might be able to take liberties that won't sit well if you tried it.
What Shoes Count as Business Casual Footwear?
Here are a few common business casual shoe models.
Dress Sneakers
Dress sneakers, like the Park Avenue Sneakers we highlight here, are a fun, relaxed, and balanced option for business casual. Plus, they're often as comfortable as athletic trainers but blend in with professional outfits more.
Dress Shoes (and Boots)
Dress shoes and dress boots are best for full-on professional dress codes, but you can wear them in business casual situations as well. Remember, it's all about balance.
So, if you want to wear dark, fitted jeans with your dress shirt and blazer, anchor the look with dress shoes or dress boots.
Smart Casual Boots
Smart casual boots, like the Thursday Duke Chelsea (or any chelsea), pair naturally with chinos, a go-to smart casual pant style. Leather chukkas are also a good option for smart casual boots.
Again, it's all about balance, and any leather-soled boot can work like a smart casual boot when styled appropriately.
(Some) Sneakers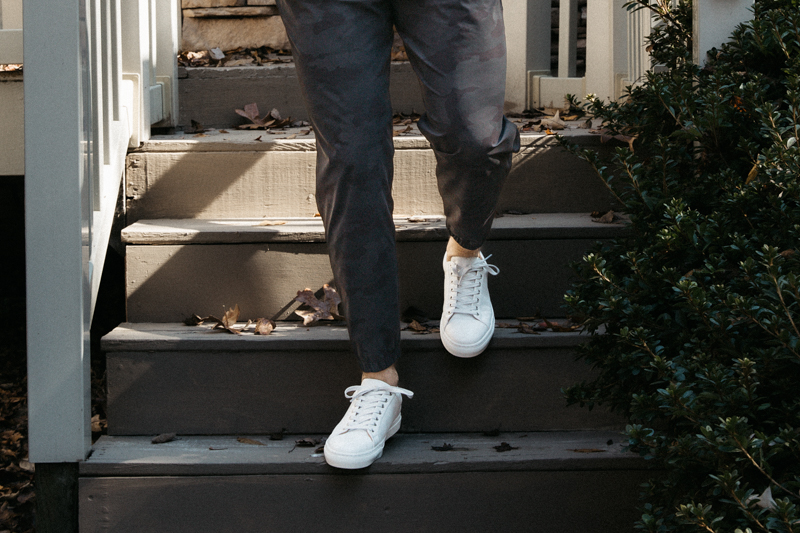 In today's era of casual fashion, you can pull off certain sneaker styles in a business casual setting. Again, make sure to refer to the dress code when doing this.
Minimal sneakers are an excellent option since they're more understated than high tops. Make sure they're leather and that they're perfectly clean and polished.
Perfect for Work and Play
Thanks to its slim profile and lively details, the Allen Edmonds Strandmok is our best overall business casual shoe. If you're on a budget, check out the Johnston & Murphy Upton Knit Wingtip.
The Thursday Statesman has a resilient leather upper and unique workboot vibe, making it an excellent value option, while the Allen Edmonds Park Ave Sneaker is the most versatile.
Is comfort your main priority? The Amberjack Original Dress Shoe flaunts loads of comfort and support features.
I love the Thursday Duke Chelsea Boot for nights out because it's effortlessly dapper and adaptable. If you're more of a derby guy, the Beckett Simonon Dunham is an authentic take on that classic style.
And finally, the Carminas have a functional and elegant design, making them the best business casual loafer.
FAQs