Let's talk about how often the word "essential" gets overused and exaggerated these days.
I love watches, but the truth is, if you have one good investment piece, that's all you need. Perhaps one dress watch and one casual watch, at most.
Surprisingly, figuring out what types of shoes are true essentials took some time for me. As a style writer, I get sent so many models. But as a minimalist (and a New Yorker with limited closet space), I've had to part with a lot of beloved pairs.
Still, this experience has made me wiser. And today, you dear reader, can benefit from my lessons learned and mistakes made, instead of having to spend time making them yourself.
The five types of shoes I've lined up here are the core essentials for style and function.
5 Must Have Shoes All Men Need
1. Dress Shoe
Why You Need It
I'm coming out of the gate strong with this: You need a pair of dress shoes.
I've heard every excuse in the book. I don't work in an office. All of my children are already married. I don't go to fancy restaurants.
Invariably, the very person giving these excuses will find themselves as a plus-one to a friend of a friend's wedding. Or they'll have a cousin with an extra ticket to a graduation ceremony. Not to be a downer, but we'll all attend a funeral at some point too.
The only way you can convince me that you don't need dress shoes is if you live off the grid, hermit style, and literally never see any other humans ever. Even then, who knows? An anthropology professor might come knocking at your door asking you to be a showcase at his lecture.
What Style of Dress Shoe Should You Go For?
Now that we have that out of the way, a good pair of dress shoes are made out of leather (full-grain is the strongest and most visually lush) and are either Goodyear welted or blake-stitched. The former is more easily resoled, the latter is more comfortable.
Go for a black or a dark brown. This way, you can pair them with either a suit or a tuxedo. You want a slim taper and a simple construction. Avoid a lot of details and heavy broguing.
Details aren't bad per se, but if you're going for the literal essentials, meaning your sole pair of dress shoes, then you want to get a lot of style mileage out of it. Minimally-designed shoes, like a plain leather Oxford or Derby, or even a Monkstrap shoe, can be worn with suits, tuxedos, and even jeans.
My Dress Shoe Pick: Allen Edmonds Park Avenue
Allen Edmonds Park Avenue
The highly-respected Allen Edmonds Park Avenues are both classic yet distinct, thanks to their subtly unique details. Their all-around bench-welted construction and incomparably premium leather uppers give these shoes the potential to last a lifetime.
Buy Now
If you click this link and make a purchase, we earn a commission at no additional cost to you.
The Park Avenues from Allen Edmonds are a perfect encapsulation of a classic shoe. They're cap-toe Oxfords, double-stitched at every point where new leather meets. This provides a fortified construction, and just a touch of personality without compromising the tried-and-true look.
These beauties are 360 bench-welted, meaning they're super durable and easily resoleable when and if the time comes. Moreover, the calfskin leather is handsomely refined, while also boasting a high strength-to-weight ratio.
2. Leather Boot
Why You Need It
Here's a general rule for men's style. If the piece in question has utilitarian roots, especially roots in the army, there's a high likelihood it's a classic, an essential, and won't go out of style. Trench coats, for example, were developed for British Army officers during World War I.
This is why you need good leather boots in your arsenal. They were made to protect your feet, still do, and look great in smart casual situations all the way down to rugged casual contexts, say with a flannel or even work pants.
What Style of Leather Boot Should You Go For?
If you prefer a sleeker look, Chelsea boots are minimal and adaptable. You can even wear them with dress pants. Meanwhile, chukkas and jodhpurs are just a tad more detailed without taking away from that overall clean aesthetic.
In my opinion though, since you already have a pair of dress shoes in your closet (or will, after you're done with this article), service boots are the purest expression of what men's boots should look like and how they should function.
They aren't as robust as combat boots, aren't as dressy as Chelseas, but still have a sleek style about them (albeit in a more casual way). Plus, they have that prior-mentioned army connection that makes them like the field watches of the footwear world.
You can kick around in a pair of well-made service boots on city streets in chinos, or out in the country in a pair of jeans. Heck, I've even seen them out in the wild in Manhattan paired with a full suit and a quilted hunting vest—the Wall Street special, I call it.
My Leather Boot Pick: Thursday Boots Captain
Thursday Boots Captain
Our pick of the best value service boots under $200, the Thursday Captains are made with supple, well-oiled leather and combine comfort with strength and stability. In addition to its Goodyear-welted construction and embedded steel shank, the cork midsoles will conform to your feet while the insoles are shock-absorbant.
Check Best Price
If you click this link and make a purchase, we earn a commission at no additional cost to you.
Digital native, Thursday Boots, came about to fill a gap in the market between stylish but delicate fashion boots and hard-wearing but clunky work boots. The Captains, therefore, are a genuine, durably-built service boot, with an attractive, non-bulky silhouette.
They're made of full-grain leather, and are equipped with both Goodyear welting and a steel shank for stability. On the comfort front, the insoles are shock absorbing and antimicrobial.
3. White Leather Sneaker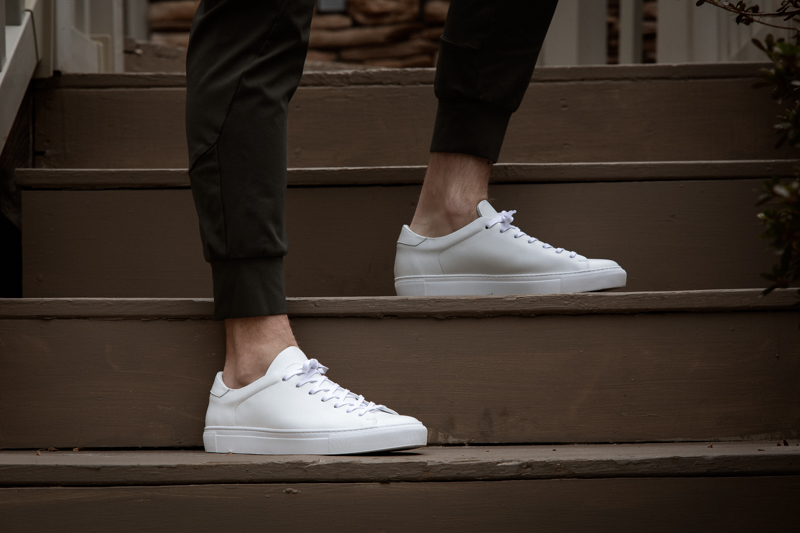 Why You Need It
Rubber soles originated in the 1860s for croquet players. So not only are they rooted in practicality, but white sneakers have been in and out of style enough that they've been inducted into the classics club.
Currently, it's often even acceptable to wear a nice pair of sneakers with trousers for business casual dress codes. The keyword here is nice though, which is why I highly recommend going the leather route.
What Style of White Leather Sneaker Should You Go For?
Both high-top and low-top sneakers are equally classic, so really it's all about your personal style. Many find low-profile, low-top versions easier to style, since they have a more neutral aesthetic about them, as most accessories and garments that have less going on do.
You don't necessarily have to go the leather route, as sneakers like GATs, plimsolls, and even slip-ons can be perfectly classy, versatile, and well-made. If you know your way around shoe fashion, any of these styles can work if you choose the right model.
However, white leather sneakers are the most fool-proof. They go with shorts or pants, trousers or denim, and slip easily into any grown man's closet.
Again, one of the great things about modern-day fashion is that you can wear any minimal white leather sneakers with dress pants. That isn't going to be the case with every model of slip-ons, GATs, and so on.
My White Leather Sneaker Pick: New Republic Kurt
New Republic Kurt Triple White
The Kurts from New Republic have a relaxed look that make them effective all-season shoes. Thank the almost non-existent details on the upper for this, which enable them to be great smart casual shoes too.
Check Best Price
If you click this link and make a purchase, we earn a commission at no additional cost to you.
An efficient year-rounder, the Kurts from New Republic are relaxed but still sophisticated thanks to their clean leather uppers with almost zero detailing. They're so low-profiled, that the tongue kind of just disappears.
Even more, they're on the more affordable side as far as the general leather sneaker market goes, and they're super comfortable. The insole is EVA foam, while the interior is a soft microsuede.
Just make sure to keep them clean, otherwise the sophistication factor goes out the window.
4. Summer Sandal
Why You Need It
Another rule of what makes something an "essential" is that nothing else in your closet can replace it.
Even if you don't live in a warm climate, you do go on vacation, don't you? Weather aside, don't you want something easy to slip in and out of for quick errands or backyard barbecues?
Particularly if you're a shoes-off household, you'll want something easy and laceless when you're running back into the house to grab refills for the outside beer cooler.
What Style of Summer Sandal Should You Go For?
Again, when it comes to summer sandals, it's all about personal style. Though a lot of brands make exquisitely-constructed thongs (otherwise known as higher-end leather flip-flops), they might be too beachy to be considered an essential.
I say go for thickly-strapped leather cross-overs or even a woven, backless upper. Either would work well with shorts while you're on holiday or on a cruise, or while you're sipping a whiskey on your porch at the end of the day.
My Summer Sandal Pick: Allen Edmonds Del Mar Woven Sandal
Allen Edmonds Del Mar Woven Sandal
The Allen Edmonds Del Mar Woven Sandals are relaxed yet sophisticated. The flexible construction and slip-on design is comfortable and easy, while the woven leather upper provides undeniable class.
Check Best Price
If you click this link and make a purchase, we earn a commission at no additional cost to you.
The Allen Edmonds Del Mar Woven Sandals are what James Bond would wear when he's on a Bahamas mission. They're as functional as any men's sandal, with a molded and flexible footbed and a treaded outsole that'll grip either beach sand or backyard grass. It's also slip-resistant and super roomy inside.
Meanwhile, the luxurious leather upper features a dapper weave, the leather straps creating a diamond pattern on the surface.
5. Leather or Suede Loafer
Why You Need It
No, I'm not breaking any of my rules for what makes an essential by adding loafers to this capsule. You may very well be wondering why it's included considering we already have dress shoes for formal situations, and white leather sneakers for casual and smart casual situations.
Well, no group of essentials is complete without a contingency plan.
You may find yourself in a fairly traditional smart casual event, in which white sneakers might be too risky. Do you know how many high-end "cocktail dress" lounges there are where sneakers aren't allowed at all? Meanwhile, a formal lace-up might be too dressy.
Loafers are the smart casual shoe, and can be worn with or without socks, all year long.
What Style of Loafer Should You Go For?
To get the most out of your loafers, you can really go for any style as long as it isn't the strictly-casual driving shoe. Horsebits have a European resort vibe about them, while tassel and kiltie loafers are perfect for you if you love details.
Leather penny loafers are time-honored designs that look just as attractive on your grandfather as they will on you. They get my vote for the best kind of loafer.
My Loafer Pick: Allen Edmonds Randolph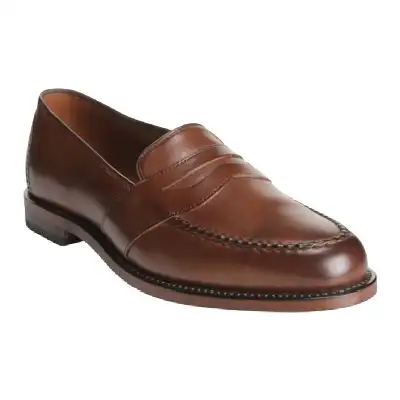 Allen Edmonds Randolph Penny Loafer
If you appreciate traditional style in your Penny loafers, these may just be your new grail. Handcrafted in Wisconsin, the single layer soles give them a sleek profile and the leather lined interior makes for comfortable wearing. Yeah, they're really classy.
Check Best Price
If you click this link and make a purchase, we earn a commission at no additional cost to you.
The Randolph Loafers have an unflashy elegance about them. Since this is Allen Edmonds, the leather is topnotch and they're fully Goodyear welted.
They take a traditional American penny loafer style, omit the bulky beefrolls, and taper the overall shape without going too sharp. It basically takes the best of American and European dress shoe approaches, to create a distinguished but still understated aesthetic.
The Nucleus of Your Shoe Closet
I refer to these five styles as the nucleus of your shoe line-up, the no-frills, universal approach. Since it's the nucleus, some of you might need to curate one or two other styles, of which you might go through several pairs of, around it.
If you're a construction worker, it might be a steel toe work boot. Ditto for professional skiers and ski boots. If you're a gym rat, you'll probably go through several athletic trainers in your lifetime.
Still, most men won't need much more than a dress shoe, a white leather sneaker, a sandal, a leather boot, and a loafer.