The good thing about sneakers is that they can be incorporated into anyone's wardrobe.
Still, it's all about picking the right type of sneaker for your personal style. We'll often labor over getting the right pair of dress shoes for formal events, but take casual shoes for granted.
Each type of sneaker says something different about you though, so we're going to break that all down here.
17 Different Types of Sneakers for Men
1. Minimalist Sneakers
Minimalist sneakers are self-explanatory. They're super low-profile, have as few details on its upper as possible, and sport a monotone hue throughout. Think of them as the simplest, most abbreviated version of trainers.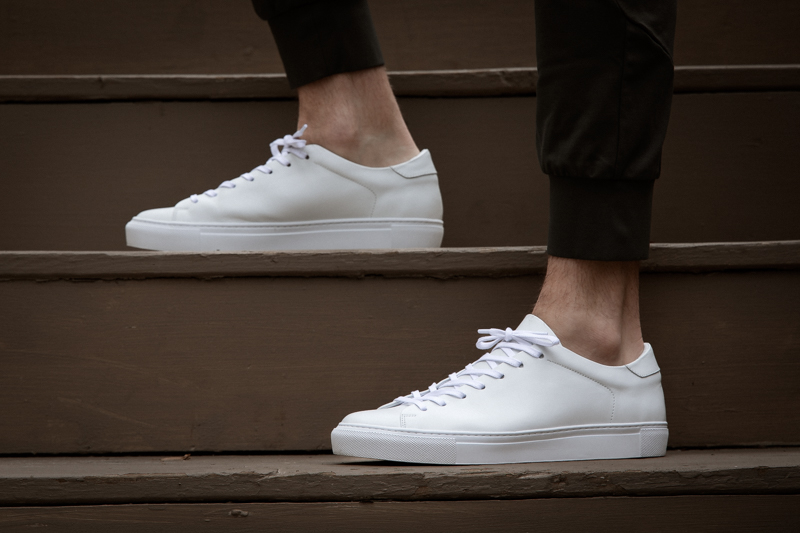 The Beckett Simonon Reid, specifically the Triple White variation, look great with pants or shorts, and with or without socks. The only apparent details are the eyestays and the collar, which by the way is so low, the tongue is visually inconsequential.
In addition to having a summery vibe about them, they can still be styled similarly to white leather trainers.
2. Skate Shoes
You've owned a pair of skate shoes at some point in your life. And when you get older, you realize just how amazing this simple type of sneaker is.
There's nothing wrong with rocking a basic skate sneaker. They're comfortable and relatively inexpensive, so you can get several different color options.
The Cariuma OCA Low is a more grown-up, wearable version. They're basically just something in between GATs or low-profile sneakers, but with a slightly thicker look, making them more youthful.
3. Leather Trainers
Technically, in American English, trainers have roots in versatile physical activities versus general sneakers which have roots in just running. This means they're built with lateral support, instead of just forward motion support.
These days though, the main difference is that trainers are the British English equivalent of the word sneaker.
That being the case, leather trainers, for all intents and purposes, are everyday tie-up sneakers with a rubber sole. The most popular kind are low-profile whites, which we can probably credit to the Common Projects Achilles.
They've become a fashion staple thanks to their versatility. You can even wear certain leather trainers with a suit (sans tie, of course) for a smart casual approach.
The KOIO Capris are a good hundred bucks less than a pair of Achilles, but are still made with full-grain Italian leather. They come in several classy colorways, all of which can be worn with jeans, chinos, and business trousers, with the exception of the napped or perforated variations.
4. GATs
German Army Trainers are distinguished by their gum sole, white leather body, and suede detailing.
The sporty, multi-sectioned composition on the clean, sleek silhouette are a dynamic combination that can be styled with minimal outfits like a t-shirt and jeans, as well as workwear-inspired get-ups.
GATs have been popular since the German Army commissioned their design in the '70s, but became fashionable in the 2000s when Maison Margiela released their GAT Replicas.
The Beckett Simonon Morgens are classic on-template GATs. The white and gum is the most traditional, but since the suede detailing is almost tonal to the leather uppers, they have a simpler, more adaptable look than most GATs.
5. Plimsolls
Plimsolls are the sneaker prototypes, the design originating in the 18th century. Since technically all sneakers descend from them, there are a lot of canvas-constructed, rubber-soled shoes labeled as plimsolls.
The closest thing to the originals are the lightweight, low-silhouetted design popularized by Keds and adidas.
The Keds Champions are textbook plimsolls, with an athletic yet youthful tone. Since they're so light, they look perfectly at home with polos, shorts, and other warm-weather combinations.
6. High-Tops
Originally built to give athletes ankle support, high-tops were once the go-to sneaker style for basketball players. There are more sophisticated basketball shoes now, but a lot of high-tops still have a vintage NBA look.
Something to note is that there are also mid-rise sneakers, which sit somewhere between low-rise and high-rise styles. Since there aren't any real rules regarding at what height a mid-rise becomes a high-rise, I consider any sneaker that covers your ankle a high-top.
Thursday takes a unique, almost non-athletic approach with their Premier High-Tops. It's a bit like a slim boot with rubber soles, so they can be styled similarly to sneakers as well as boots.
7. Slip-ons
Slip-ons are laceless rubber-soled shoes. Vans pioneered slip-ons in the 1970s, as easy, convenient sneakers for skaters, with which their lack of laces meant nothing could come undone to pose a safety hazard.
The Vans Low-Top Trainers are still one of the most iconic slip-ons. The checkered versions are still associated with skater style, but the all-whites and all-blacks can be styled like any low-profile sneaker, though the canvas construction makes them much more casual.
8. Deck Shoes
It might be controversial to categorize deck shoes, or boat shoes, as sneakers. Still, this northeastern collegiate staple, with its rubber outsole and and three-piece construction, like all sneakers, were invented for a specific purpose. In this case, they're for working on a boat.
They have a beachy, preppy aesthetic, and Sperrys has a lock on the market.
Oliver Cabell's Boat Shoes, however, are classically-designed and are made with premium materials like full-grain Italian leather. Regardless of whether you go for canvas or leather though, deck shoes are strictly casual.
9. Pre-Distressed Sneakers
When Golden Goose put worn-looking sneakers built from strong, high-end materials on the runway, a trend was born.
Obviously, pre-distressed sneakers are fashion-forward, borderline ironic, and definitely contemporary. The clear benefit to them is that they're easy to maintain since scuffs and scrapes just blend into the design.
Oliver Cabell takes this trend into their own hands, building a wide range of pre-distressed sneakers. The Low 1 Cowboys are just one example. I love that the mostly white palette gets some accents in the form of the blue back collar and the small red contrast stitch.
10. Court Shoes
More than a specific look, court shoes are any sneakers made for basketball. They used to be synonymous with high-tops, but these days they tend to be pretty flat with thick, jump-friendly outsoles.
The Kobe Mambas aren't just good for a day on the court, but for long walks in the city as well. They're more utilitarian than fashion, but the different color palettes they come in allow a level of personalization, and could be partnered with super casual outfits on active days, say during a company picnic.
11. Soccer/Football Sneakers
Soccer shoes, or football shoes if you aren't American or Canadian, are close-to-body sneakers with a low lip and cleats. Since it's also popular as a style, a lot of brands make soccer shoes with regular rubber outsoles or less dramatic cleats.
Adidas is arguably the shoe brand most associated with this type of sneaker. Their Goletto VIIIs are definitely made for the soccer field specifically, but since the cleats aren't so deep, they offer a touch more versatility.
12. Trail Shoes
Trail shoes are built for outdoor, multi-terrain activities. So, they're often made with a lot of different materials, to accommodate everything you're hit with in the great outdoors, from rain to rocky topography.
They usually look like an amalgamation of different shoes, resulting in a multi-textured Frankensteined aesthetic.
The Nike Pegasus Trail offers a lot of cushioning and traction, but won't take the trail home with you after a long run. As far as activity-specific sneakers go, they also have a fun, often colorful, and athletic look that can be worn casually on days out, like at a theme park or a relaxed hike with friends.
13. "Dad" Shoes
Almost every brand and retailer currently has a "dad shoe" offering, whether they're a fast fashion site like Shein, or high-end designers including Gucci, Balenciaga, and Raf Simons.
What they all have in common is that they're meant to be comfortably practical, often chunky, and anti-fashion, which ironically is now fashionable.
Classic dad sneakers include the Nike Air Monarch IVs, the bulky 1995 Reebok Instapump, and the New Balance 576s from the 1980s.
My top pick for best dad shoes are the New Balance 574s because they look like a modern, slightly slimmer, and more wearable version of the legendary 576s.
14. Knitted Sneakers
Knitted sneakers, ones with woven textile uppers, can come in basically any style requiring more breathability. Allbirds are popular for making knitted runners that are easy to slip and off and are lightweight.
The knitted look also seems to be a visual shorthand from brands who want to advertise their sustainability practices. In that sense, they're like the new Toms.
Cariuma is one such brand, and their knitted sneakers definitely have an earthy, environmental look about them. With a silhouette similar to Keds Champions and a tight knit, they can be worn effortlessly with casual outfits, even if you aren't of the Bohemian style persuasion.
15. Canvas Sneakers
As with several categories on this list, a canvas sneaker can be made in any style, such as the prior covered plimsoll.
I wanted to give it its own category though since one super important canvas shoe, the Converse Chuck Taylor All Stars, deserves a bit of the spotlight.
The high-top version was originally designed for basketball, but today, they transcend subcultures. They're a go-to casual sneaker with a vintage but relevant look that's one of the most recognizable sneaker designs ever.
16. Running Shoes
While running sneakers are necessary for an effective jog, most of them aren't designed to be worn as everyday casual shoes the way leather trainers are.
Modern-day runners have breathable uppers, often rubber or mesh, and thick soles. This allows the heel to act as a springboard for forward motion. They're just too athletic for a casual night with friends at a pub.
The Nike Pegasus 39s have stylish uppers similar to basketball shoes. The outsoles are still pretty bulky for regular casual wear, but they're an effective choice for running and long walks as well.
17. Cross-Trainers
The difference between running shoes and cross-trainers is that the latter is more heavily cushioned in the forefoot area, with extra padding in the heel. This provides support regardless of which part of your foot makes initial contact with the ground, while also absorbing impact when you land on your toes.
Basically, runners and cross-trainers aren't at all interchangeable.
I like the Puma Axelion Sparks because they're well-built for most gym activities, and also feature balanced padding and a relatively non-bulky silhouette. They're mainly for cross-training, but they're functionally and aesthetically moderate enough for a long walk home when I'm done with my workout.
The Right Sneakers for You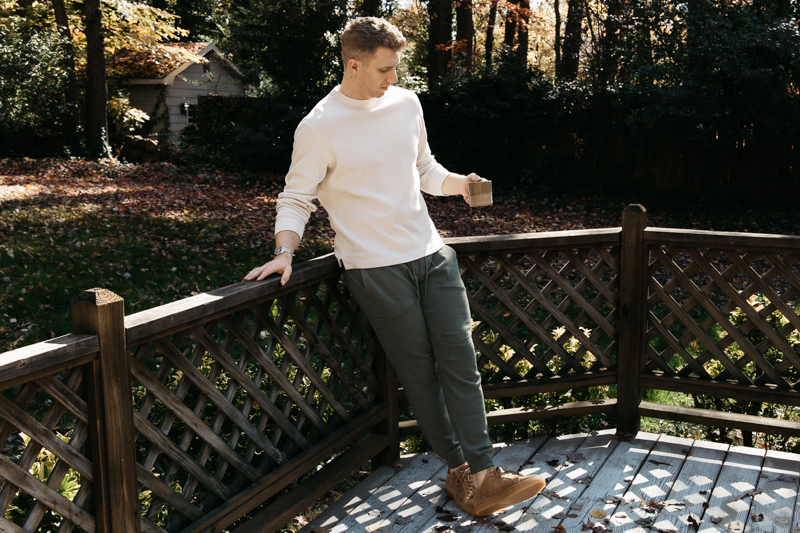 Something important to point out is that a lot of these sneaker categories can definitely overlap. There are runners with knitted uppers, canvas skater shoes and court shoes, and now, there are a lot of combination styles as well.
Don't use a running shoe for intense lifting, and don't do a full marathon (or even a half marathon) in a nice pair of leather trainers.
And speaking of, let me reiterate the fact that low-profile leather trainers are considered a style essential since they go so easily with a wide range of outfits.
Other than that, it's all about choosing sneakers that go with your personal style and what you typically do, day to day.
FAQs