Everyone and their mom own a pair of Converse.
But you gotta admit: they're pretty cool looking.
If you're like me, you want that same throwback retro style, but with a twist. Something a little different than what everyone else is wearing.
That's why I put together this list of Converse alternatives. Each shoe here is like Converse, but I think has a feature or quirk that makes it just a little better.
How Did I Come Up With My List?
I like my Converse shoes. I have the Chuck Taylor All Star Classic and the Chuck 70. Both are great sneakers and I've gotten a lot of wear out of them.
But I understand that sometimes you want something a little "off the beaten path," as they say. A sneaker that's less common. Maybe something higher quality. Maybe something less expensive.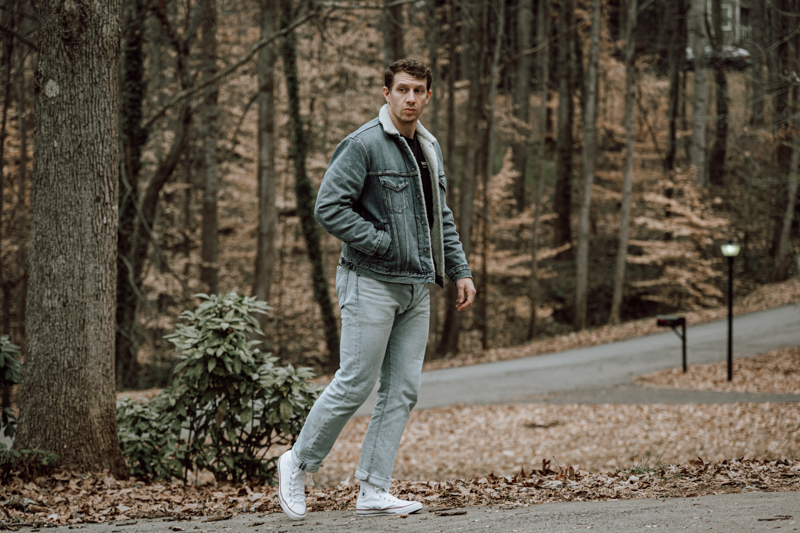 I've broken in and tried over 100 pairs of shoes over the years, and I've owned shoes from 89 different brands (yes, I actually counted, and yes, I'm buying more to get over 100 asap because it sounds cooler).
So this list isn't just some random shoes that look like Converse all thrown together. These are brands I love—some of the shoes I actually own, some are from brands I own (but not the specific model).
But I stand behind every recommendation here on this list, and I think you're going to find a Converse alternative that fits what you're looking for.
7 Best Shoes that Look Like Converse But Better
Best Overall: Cariuma OCA Low
Cariuma is a Brazilian brand and they quickly blew up in popularity because of their casual, bright style and sustainability mission.
They're also extremely comfortable.
Cariuma offers the OCA Low, and the OCA High. To me, these shoes remind me of a Converse and Vans hybrid.
They have the rubber toe cap and flat sole reminiscent of Converse, but it's pared back and more minimal.
I have a bright yellow pair of OCA Lows, and they're some of the most comfortable sneakers I own. And because I got the bright yellow, I also get a ton of compliments whenever I wear them.
Runner Up: Palladium Pampa
I think of the Palladium Pampa as a pair of Converse All Star Classics on steroids. The origins of the company are quite similar, but where Converse went to the basketball court, Palladium went off to war.
The Pampa is what the French Foreign Legion wore throughout WWII, and you can see why with the heavy rubber lug outsoles.
Like Converse, Palladiums have a rubber toe cap that connects to the rubber outsole. But unlike Converse, the Pampa has thick lugs on the bottom which add a lot of traction and also give a sweet military aesthetic that's a nice fit for streetwear.
Most Comfortable: Nothing New Classic Low Top
My everyday shoes have to be comfortable for long walks. Because I do a ton of walking. And I'm often reaching for my Nothing New Classic Low Top sneakers because they're some of the most comfortable sneaks I own.
Nothing New makes their shoes entirely with recycled materials. Pair that with their carbon neutral shipping and recycled packaging, and you get a sneaker with some of the highest sustainability marks out there.
The Classic Low Top has a similar rubber toe cap to Converse, but the style is a little less retro and has a more laid-back beachy vibe.
While they're a touch more expensive than Converse, the outsoles are stitched, rather than cemented. This basically means that they're more durable and the sole is less likely to peel away from the upper over time.
Best Designer: Oliver Cabell Low 1
If you want a shoe that's like Converse, but you have a little more room in your budget and are looking for something more designer level, check out a distressed Oliver Cabell Low 1.
Oliver Cabell makes all their sneakers in Italy, with Italian leather and Margom soles.
These are definitely the highest quality sneakers on the list, and they have a unique look you can't find elsewhere.
While there are plenty of minimalist versions of the Low 1 available, I recommend a distressed colorway as a good designer alternative to Converse.
Best Nike Version: Nike Blazer
I saw a kid wearing a pair of Nike Blazers in the gym and thought they were the coolest looking sneakers.
There are a ton of differences between the Nike Blazer and the Converse Chuck Taylor All Star Classic, but they both have a retro vintage style that puts them in the same league.
While the Converse toe cap is rubber, the Nike Blazer toe has a suede bumper around the front. The look is somewhat similar, even if the materials are completely different.
For a vintage leather basketball sneaker, the Nike Blazer is an awesome alternative to Converse.
Best Leather Alternative: Beckett Simonon Garcia High Top
Beckett Simonon shoes have amazing leather quality considering the price. I'd put Beckett Simonon's leather on par with Oliver Cabell's, but the price is much lower.
The Garcia High Top is an interesting basketball sneaker design that's a nice blend between modern and vintage. I consider it more as an alternative to the other Converse alternatives on this list rather than a direct Converse alternative because it doesn't really share much in common with Chucks.
But it's a fantastic sneaker worth considering if you like luxury level leather in a retro sneaker.
Best Budget: ZGR Canvas High Top
If your budget is tight, or if you just don't want to spend much on a new pair of shoes, the ZGR Canvas High Top is a worthy alternative to standard Chucks.
I wouldn't get these shoes if you plan on wearing this style more than once or twice a week.
They're probably not going to last very long, because admittedly, the quality isn't great.
But the price is definitely right on this pair, and they're the best budget alternative to Converse out there right now.
It's true that you get what you pay for, but if you can pamper your sneakers, the ZGR Canvas High Tops might be worth a look.
Should You Just Get Converse Instead?
Just throwing this out there: in my comparison of the Converse Chuck 70 vs the All Star Classic, I found that the Chuck 70 is the better shoe in pretty much every way.
If you're looking for a Converse alternative because the standard All Star Classic is uncomfortable, you may have better luck with the Chuck 70. It has a much better insole that's far more comfortable and has more arch support.
A lot of people with flat feet find the All Star Classic unwearable. And that's because there's zero arch support. That can wreak havoc on your back, knees, and your feet can feel super sore after a long day of standing.
If that's you, the Chuck 70 offers some relief, though I still think Cariuma and Palladium do a better job with arch support.
However, if it's the style of Converse you're after, no brand is going to do it better than Converse.
Converted from Converse
While I like my Converse, I think there are better brands out there offering similar looks with better quality and more comfort.
My top Converse alternative is Cariuma. I love their OCA Low sneaker—especially the colorful variations.
But Palladium is also worth considering if you're willing to shift into more of a streetwear style.
And if you want high end, Oliver Cabell and Beckett Simonon offer some of the best sneakers available.
So what's it going to be?
FAQs