There are so many appropriate ways to style white leather sneakers these days.
I mean, don't wear them to a traditional church wedding, but truthfully, there aren't as many don'ts as there are dos.
That being the case however, it's easy to take them for granted.
And when you take them for granted, you're more likely to fall into that don'ts category.
Fortunately, I've got some hacks for you.
Read on to ensure you're not unknowingly making a fashion misstep, and more importantly, that you're upping your overall style game.
7 Tricks to Style White Leather Sneakers
Keep Them Clean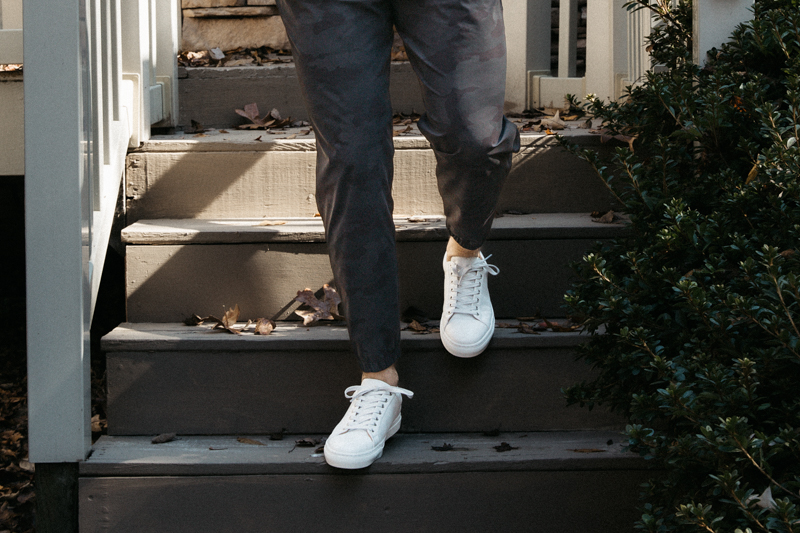 This is first and foremost. If they're dirty, you're no longer styling white leather sneakers—you're styling grayish, spotted sneakers, and that's a different beast more akin to distressed shoes.
Here's an analogy. Making sure you have the right shoe size is the same thing as making sure you have the right pants or shirt size, right? Well, since it's more visual, keeping the leather clean and supple is a lot like ensuring you have the right cut for a garment. It doesn't matter how well-designed a piece of clothing is if it isn't doing the basic aesthetic thing it's meant to do.
No stress though, keeping white leather sneakers clean is pretty easy with just some saddle soap, water, and a brush.
When you're wearing something as simple and casual as white sneakers, the key is to make sure you're not equating relaxed with sloppy.
Consider Your Sock Game
The socks you pair them with are obviously the next most important thing. They make direct contact with the shoes, after all.
In smart casual situations, say with trousers and a jacket, you want simple dress socks or no shows. Keep in mind the rule of thumb that the simpler and sleeker a garment is, the more formal it is (think heavily-pocketed cargo pants compared to classic-fit dress pants).
When you're wearing a suit with dress shoes, there's more room for simple sock patterns, but since the sneakers are already borderline athletic, you can only toe the line.
With shorts, it's best to go with no-show socks, since it gives you a sleeker silhouette.
I know some of you might be asking if tube socks would work if you're going for a cool vintage dad situation. I say not with shorts. It's difficult to pull off. Instead, achieve that look with cuffed light-wash jeans.
Speaking of, you can have some fun with your socks when you're cuffing your pants in general. You can go tonal to match your pants, or go for patterns to match another accessory on your person, a scarf perhaps.
Make the Shoes the Casual Part of Your Smart Casual Outfit
Yes, you can wear a pair of smart, clean, white leather sneakers with a suit. It's a great smart casual combo.
Partner the shoes with a full suit, no tie, and no-show socks or dress socks. You can do a broken suit situation as well, swapping the trousers for khakis or even a nice pair of jeans.
White sneakers actually look quite natural with a pull-over sweater over a button-up and trousers. The sweater is already leaning into the comfort aesthetic, so the shoes just cinch it.
Clae Bradley Vegan Sneakers
The Clae Bradley Vegan goes beyond its price point both on the style front and in the vegan prerequisites. Though it's based on a time-honored court shoe, the immaculate silhouette at every view and angle up the slickness factor, making it easy to wear with most closet essentials.
Check Best Price
If you click this link and make a purchase, we earn a commission at no additional cost to you.
Consider the Season
There are two important things to note when it comes to seasonally styling your white sneakers.
First, you can wear them all year long, but they're essential to your summer and spring wardrobe. Second, you'll style them completely differently during the warm seasons and cold seasons.
White sneakers are summer essentials because they'll go with most things in your warm weather arsenal since they'll likely be lighter in color and build. Think: shorts, t-shirt, sneakers, sport watch.
For winter and autumn, white might be a bit too stark to pair with, say, a lot of dark forest green (though there are worse sins, since white goes with everything). But if you really want to up the rapport between your clothing pieces, go for subtle contrasts.
You can make this happen using the same shade, but at different volumes, light olive chinos and a darker olive utility shirt, for example. Or you can do it with different colors that are both at the lighter end of the spectrum, like muted charcoal pants with a light chestnut jacket.
Accent Them with Athletic or Collegiate Pieces
White leather sneakers are classics that can be worn by men of all ages and personal styles.
Still, they do have an inherent youthfulness and athleticness to them. You don't have to style them with youthful or athletic looks overall, but finding pieces that match that energy will make your outfit look more purposeful.
Some examples of pieces you can wear your white sneakers with include well-fitted joggers, a varsity bomber jacket, a cardigan, sweatshorts (they should stop just above the knee, by the way), tech vests or quilted hunting vests, and relatedly, quilted hunting jackets and field jackets.
High-Tops vs Low-Tops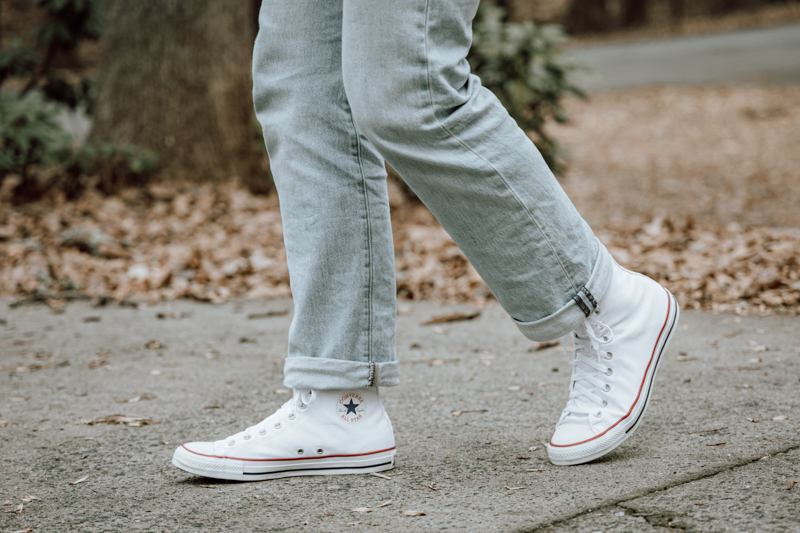 You should definitely take into consideration whether you want to go for high-tops or low-tops.
You can basically style them the same way, however, low-tops have a more elegant, understated vibe while high-tops have a cooler, sportier, even retro feel.
So for smart casual situations, your best bets are low-tops, and in situations you want the shoes to be a bit more of the statement piece, high-tops are perfect.
Which leads us to our last hack.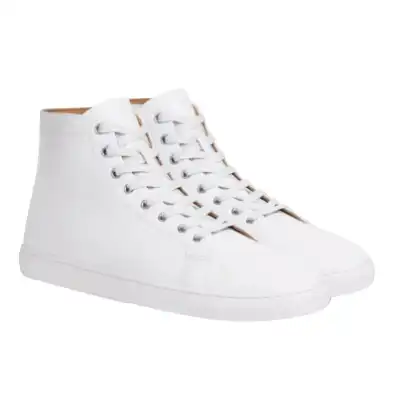 Thursday Boots Premier High-Top
Thanks to a combination of shock and pressure management, along with a durable Vachetta insole, the Thursday Boots Premier High-Tops are immediately comfortable and effectively multi-turf. The style is simple and almost boot-like, making them truly distinguished in the high-tops category.
Check Best Price
If you click this link and make a purchase, we earn a commission at no additional cost to you.
Make Them the Statement Using Monochromatics
Remember when I mentioned that all-white sneakers might be too stark to go with a lot of one dark color?
Get in the go big or go home mentality, and lean hard into their starkness by pairing them with a fully monochrome outfit, making them the statement piece. Black trousers or well-fitted jeans, a black turtleneck, and a black trench coat would look absolutely streetwear chic with white leather sneakers.
In the summer, you can wear your white shoes with an all-tan linen suit and a tan crewneck. You can basically go monochrome with any color, as long as you commit. The darker the shade, the more your shoes will enter statement territory.
7 Examples of Guys Who Rock the White Sneaker Style
1. Casual Blue Jeans
Starting with something easy and accessible, this casual look is successful because it levels up the basics. Notice how every single garment of clothing has the exact same fit: Relaxed but not sloppy.
Moreover, the pink shades on his flannel add personality, but are muted by the grays, making this combo stylish but not intimidating.
2. Mostly Monochrome
This smart casual approach is simultaneously classic and hip, thanks to his mix of high (long black trench coat and turtle-neck) with low (the white sneakers, of course).
He pairs his shoes with simple white socks, giving them more height without having to resort to high-tops, which would've been too casual for the sophisticated vibe he's clearly going for. This would have worked just as well with a black turtle-neck too.
3. Fully Monochrome
This is an extremely fashion-forward version of the monochrome trick I mention earlier. The fit and cut on each of the pieces, from the slim-chest shirt to the loose but close-to-body leather joggers, is hyper specific.
And to ensure his white shoes don't get lost in his veritable feast of textures, he rightfully goes for high-tops over low-tops.
4. Workwear Adjacent
Sneakers are technically practical shoes, so they can go well with other aesthetically utilitarian pieces.
This gent is pulling off his work pants and trucker-style jacket in a pretty clean way because of all the straight lines adding structure to his outfit. The fact he has the jacket completely zipped up helps with this too.
5. Smart Casual with a Touch of Collegiate
This guy, who may have written this guide for you, is pulling off a few of the aforementioned tricks here.
The full suit and dark socks fulfill the formality requisites for going smart casual, but the college sweater, well-fitted so it isn't out of place, works with the sneakers to anchor the casual components in a collegiate youthfulness
6. Irreverent Formal
How is this guy pulling off sneakers with a three-piece suit and bowtie? Easy. The summer colors.
The white sneakers are tonal with his shirt, which helps too. And as any suit should be, his is well-tailored, making it work at any dress-code-appropriate event.
7. Classic Resort Look
This outfit is one of the most flattering summer combos when it comes to styling white sneakers. He's wearing a collared shirt and white shorts which add class. Most importantly, the sleeves end at the biceps and the shorts are above the knees, which perfectly match the warm-weather peek-a-boo aesthetic of the ankle-bearing no-show socks.
Blanched Kicks
Again, white sneakers are generally easy to pull off with most outfits. But, now you know that there are some nuances, devils in the details perhaps, that can really make them shine.
It's almost like good wine, right? If it's good, it's good with most eats. But when you pair it with just the right food, it truly levels up, final boss style.
Think of your white sneakers as being like this proverbial wine.
Beckett Simonon Reid
While it may take you around three months to get your feet into these bad boys, they're well worth the wait. Made-to-order, crafted from full-grain Italian leather with a Vachetta leather lining, the Reid packs a ton of value at this price point. We also love that the eyelets are hidden to make for a slightly sleeker look overall.
Check Best Price
Read Our Review
If you click this link and make a purchase, we earn a commission at no additional cost to you.