Wearing socks with a suit is a case of matching the sock to the color of your pants. With the right color sock, your suit will seamlessly blend with your shoes, though it's important to find socks that will remain calf height to prevent them from bunching up around your ankles.
The right socks will complete a suit, and the wrong socks will ruin it.
It's all about the details, gents. So let's get 'em right.
5 Rules to Follow When Wearing Socks with a Suit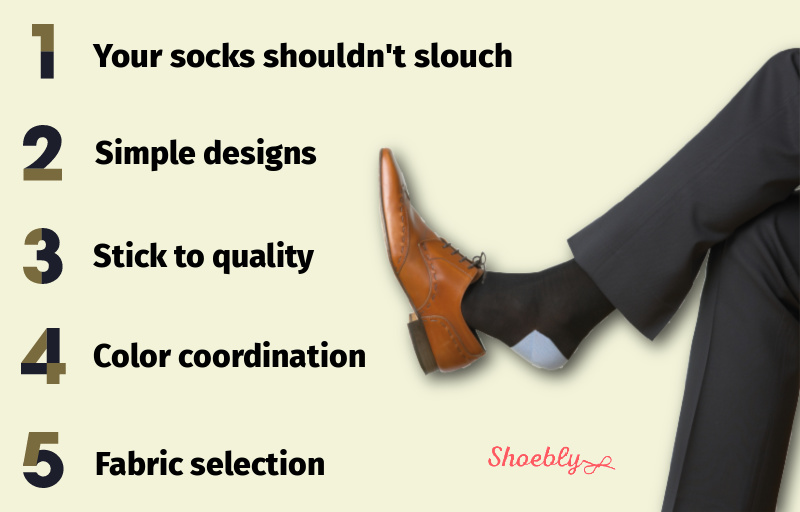 A killer suit with great dress shoes can be undone by the wrong socks, getting the color right is key. Socks are seen as such an unobtrusive part of your wardrobe that most people don't make an effort to find the right socks.
You wouldn't wear a pair of hiking boots with your suit, and it's the same for your socks. Color, pattern, length, and style make a difference in the final look. Follow my five rules when wearing socks with your suit, and you'll double your style rating overnight.
1. Your Socks Should Never Slouch
There's a time and a place for flashing a bit of skin, but wearing your suit isn't the time. Your socks are an elegant bridge between your shoes and your pants, and they should remain smooth and stationary when on your foot.
An unironed shirt or a creased suit jacket just says lack of effort, and it's the same for your socks.
If your socks slide down to the top of your shoes, they'll look unkempt, and it's noticeable. Your skin will show, which draws the eye, and then you'll find someone staring at the sad puddle of socks that's limply hanging around your ankle.
The best way to avoid this is to buy dress socks that are calf high. Most men's socks are mid-calf or even shorter, so you'll have to shop around for the right pair. My go-to over-the-calf dress socks are from Boardroom Socks. They're the perfect length to stay put all day.
Ensuring your socks don't bunch up around your ankle is easy if you follow these steps:
Buy the right length.
Avoid cheap elastic; nylon is preferable.
Find socks that are the right size – look for a narrower size range, an 8-10 rather than a 6-14.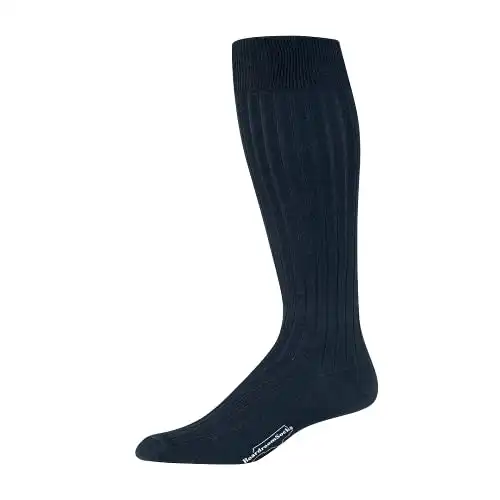 2. Keep the Design Simple
Socks with crazy patterns, flashy colors, or, god forbid, cartoon socks with Homer Simpson or Duff beer on them should be avoided.
Novelty socks are fun and make a great present, but the quality is often poor, and the design won't add anything to your look other than desperation.
If you're buying socks with garish patterns on them then you'll undoubtedly stand out from the crowd, but I prefer a more blended look where the sock matches the color of your pants.
Matching blue socks to a blue suit or even to jeans, is an excellent example of a simple yet elegant sock choice that's not flashy, yet really does add tot he overall look..
Simple colors often make for the best look, so if you're wearing a dark suit and shoes, then why overcomplicate things?
This classic-looking style isn't overshadowed by the socks. Imagine this picture with novelty socks; the whole style ends before it even starts.
3. Don't Skimp on Quality
If you're mastering the style-specialties like matching your socks, I doubt you're buying $15 dress shoes or $40 suits, so why would you wear cheap socks?
A cheap pair of socks won't last long. The material is thicker, which can overheat your feet and calf, and the sizes are just too vague to be accurate.
In much the same way the lottery could be won by a man, or a woman, a cheap pair of socks that state they're for sizes 6-14 just doesn't help. If they're a size six, they're too tight, and if they're a fourteen, they'll look like you have sacks on your feet.
Cheap socks are rarely long enough, you'll need them to be over calf-high for them to stay in place, but even if you do find cheap socks that are long enough, it's likely to be so loose that it looks like an inverted pantaloon!
A pair of Boardroom Over the Calf Socks are thin enough to keep your calf cool, long enough to stay exactly where you want them, and are made to a high standard. You could buy 30 pairs of cheap socks for a similar price, but the longevity, comfort, and quality just isn't the same.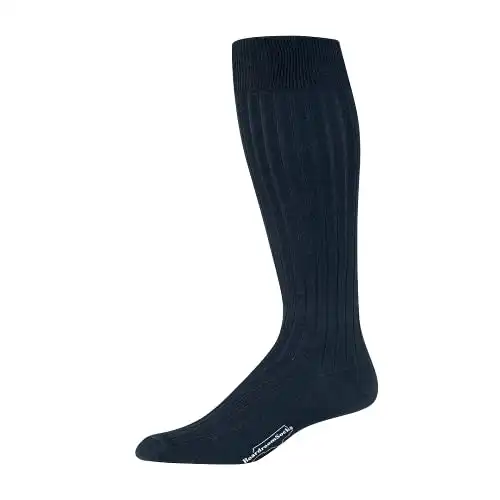 A more expensive sock will be smoother and more comfortable, the toe of the sock won't have thick stitching, which can be uncomfortable, and the closer fit will look much more stylish when you're seated.
Choosing socks that match both the color and material of the suit can make all the difference. it's an excellent example of a close-fitting, more expensive sock that's contoured to the foot. Imagine this scenario with a pair of thick, $4 socks, and the elegance evaporates.
4. The Key to Color Coordination
For any environment where looking professional is expected, bright, garish-colored socks should be avoided. There's a time for brightly colored socks; feel free to be bold for a less formal occasion.
A pair of socks that contrast wildly with your suit and shoes adds great fun to an outfit, but for formal dress, there's one key thing to remember. When choosing the color of your socks, you should always match them to your pants.
Patterned socks are fine for casual wear, and for the dads amongst us, they're a Christmas present that never fails to turn up in our Christmas stockings. While fun to wear, colorful socks will detract from your suit rather than add to it.
Socks that are a single color are ideal, especially when you're matching the sock to the pant color. Two-tone socks are also a fantastic choice, but make sure one of the colors matches the color of your suit pants. It doesn't have to be a perfect match, but it should emphasize the look rather than clash with it.
There are loads of great examples of a simple sock design adding to the overall look of your suit.
This combination nails it with this suit, sock, and shoe coordination. An unobtrusive sock that matches the color of both pants and shoes, resulting in a great-looking style.
5. Choose the Right Sock Fabric
Suits come in various materials, and you may prefer to wear a linen or cotton suit during summer or even all year round if you live in warmer climates. A thicker suit for winter could be made of wool, and you should take that into consideration when buying your socks.
Certain materials won't wick any moisture away from your skin, though, from a style perspective, they'll match your pants better. A cotton or linen suit with cotton socks will look more natural than if you've worn your thick woolen socks.
How stylish is this? combining a pair of socks that perfectly matches the suit's material; it's a great example of using suitable materials in play. Thick, fluffy woolen socks might keep your feet toasty warm, but it's the wrong combination for a linen or cotton suit.
3 Examples of Guys Rocking Socks with a Suit the Right Way
The right combination of suit, shoes, and socks make looking stylish effortless, but it's surprisingly hard to get it right the first time. I've put together three examples of guys rocking their suits and socks the right way. These examples make it clear what a difference the right color combination and a bit of extra effort can make.
1. Two-Tone Socks
Two-tone socks are a great way to highlight the colors of a dark suit, as long as one of the two colors looks very similar to the color of the suit itself. With black dress shoes and a pinstripe suit, these two-tone socks blend fantastically with the suit.
You can also see the thought process behind the blue suit jacket and tie. Everything fits together perfectly to create a well-thought-out look. The cotton socks are slimline enough not to look bulky, and the blue tone is bright enough to draw the eye without being garish. It's an excellent combination that will look great in the office or out on the town.
2. Color Coordination
Some colors just go well together, and green and brown are excellent examples of two colors complimenting each other. These awesome-looking boots might not be the first choice that you'd think of to pair with a suit, but the rich brown color looks fantastic alongside the dark green of the suit.
With boots as tall as these, you'd be forgiven for thinking that the socks don't matter. You'd be wrong, though, as pairing these green, cross-patterned socks perfectly finish off this relaxed style.
It's a great example of putting the proper thought into your outfit, and you can immediately see how that little extra effort makes the outfit complete. These socks weren't randomly picked; they're there to add the finishing touch to a great style and do it perfectly.
3. Comfortable Elegance
A simple color scheme shows how simply following the rules and matching your socks to your suit makes finding your style effortless. I've chosen this as an example of a guy rocking his suit and socks not because of its complexity but because of its sheer simplicity.
Now you know the rules of how you should be wearing socks with your suit. This final example just makes it all so easy. It's hard to find socks that are an exact match in color, and you can see here these socks don't quite match. But that's fine, the color coordination is spot-on, and the style is seamless.
Sock It To Me
Following the most straightforward rules regarding your choice of socks will make your suit complete. Your style will look effortless, and you'll avoid the pitfalls of wearing your novelty socks.
I can't emphasize enough the need to match your socks to your pants; your suit will look more stylish as your coordinated effort looks clean and great on the eye.
Bright or crazy socks should be avoided for smart occasions. Sure, you'll stand out, but you'd stand out if you fell over, too, so stand out for the right reasons. Why not subscribe to the Shoebly Youtube Channel for more tips on how to stay ahead of the competition?