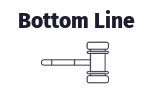 How should my dress shoes fit?
Your dress shoes should be a comfortable and snug fit right out of the box. There's no breaking in period necessary, though depending on the materials your shoes are made of, you may find they do stretch a little over time.
A great dress shoe should have just enough room to wiggle your toes and be a close enough fit not to feel constricting. You can wear slightly loose shoes, but walk a mile in dress shoes that are too tight, and you'll regret it.
I'll often alternate my footwear depending on what I'm doing and where I'm going, but my dress shoes only make an appearance when I'm going for the smart look.
Because you can wear dress shoes straight out of the box without a breaking-in period, a perfect fit is important; otherwise, they'll soon torture your feet.
Finding out your new dress shoes are agony to wear is bad enough, but not being able to return them because you've worn them outside will hurt your wallet almost as much as it does your feet.
Get it right the first time, and your new shoes will look and feel great immediately, get it wrong, and you're stuck with something you can't wear.
What to Consider When Trying on Dress Shoes
This article isn't about what type of dress shoes I think you should buy. The style is irrelevant if you can't walk properly. The fit of your dress shoe determines whether you just threw money down the drain or whether you're going to look great or not.
If you're buying in a store, these tips will help you select the perfect fit for your dress shoes, and if it's an online purchase, make sure you check everything before taking them outside.
Your warranty can become invalid once your shoes show any sign of wear, so ensuring your dress shoes aren't too tight, you've got wiggle room at the toes, and the heel doesn't slip or rub is vital.
As much as 72% of men don't know their actual shoe size and shuffle around like the walking wounded. I get it, I don't like to admit when I've made a mistake (thankfully, my wife keeps a tally), but knowing exactly how to size your dress shoes will save you time, money, and effort.
How Does the Toe Fit?
Dress shoes can often be slightly narrower than your usual footwear, and there's usually less give in them, too, so your toes need space to move.
When trying on a new pair of dress shoes, make sure your toes have around half an inch between your longest toe and the front of your shoe.
As you walk around in dress shoes, your foot will usually move slightly forwards in the shoe, so that extra space is needed. You'll risk rubbing your toes, or worse, your toes will squash together, causing serious discomfort.
If you find your toes are cramped in the toe box, you can look at going up a half size in your dress shoe. You don't want to ignore the problem if the toe box is too short; your shoes might not feel too bad trying them on at home for an hour, but a day walking in them will be agony.
How Does the Heel Fit?
The heel of your dress shoes is so important to comfort that I can't overstate it. Too tight, and you'll have blisters the size of apples; too loose, and you'll walk around in leather flip-flops.
Depending on the materials used in making your new dress shoes, they might not stretch as much as you'd; like too much after wear, you must ensure the fit right from the start.
If you can fit your finger into the heel of your new shoes (while you're wearing them before you ask), then they're too big. You can still get blisters from dress shoes that are too loose, so you'll have to go down a half size.
When trying on your dress shoes, try to wear the style of socks you're going to wear with them. I once went straight from work, in safety boots and thick socks, to buy new shoes, and the thicker socks meant I bought the wrong size completely.
What you look for in a great heel is just enough give so that you don't feel constricted but not too loose that your heel slips out while walking. Tie your shoes and walk around at home; use the stairs, and give them a workout to see if the comfort and stability are what you're looking for.
If you've found the perfect fit, your heel should be millimeters from the material, and your toes should be half an inch from the front of your shoes. Check the heel for a seam or any stitching that might rub your heel; if you find anything there, I would recommend avoiding these shoes.
How Does the Forefoot Fit?
A dress shoe that doesn't offer your feet a comfortable sole can make wearing them a miserable experience. The same goes for the bridge of your foot; if the vamp is too tight, your shoes can rub the top of your foot and cause muscle pain.
It's alarming to read just how many issues can be caused by ill-fitting shoes. Make sure the vamp is close-fitting but not tight. A great pair of dress shoes should feel like a second skin.
If the soles of your feet feel uncomfortable or your arch isn't as supported as you'd like, then I recommend Insoles like the Tread Labs Ramble Comfort Insole. Adding insoles to your dress shoes isn't an admission you got the wrong size; everyone's feet are different, and insoles add a real quality of life boost to your shoes.
Making sure your dress shoes are the correct width will dramatically improve their fit and allow your forefoot to have enough freedom to move comfortably.
The easiest way to find out how wide your feet are is to use a Brannock device, so the next time you pass a shoe store, why not get your feet measured for the perfect fit?
4 Tips for Finding Dress Shoes That Fit You Perfectly
There are plenty of ways to avoid the pitfalls of buying dress shoes that don't fit; it's about being prepared and having the right information. If you follow the tips below, you'll be able to try on a new pair of dress shoes and know almost immediately if they're a good fit.
Use A Brannock Device
It's a common problem that men have; their judgment of length is often way off the truth.
That's right; I'm talking about the length of a man's foot. You should take the time to visit a local shoe store, whether you intend to buy your shoes there or not.
Your local store should have a Brannock device available for you to measure your feet, or better yet, ask a store assistant who is probably trained to use them to do it for you.
If you're going to use a Brannock device to measure your own foot, then it's as simple as:
Open the device to its full width and length.
Place your shoeless foot at the very back of the device so your heel is flat to the back.
Measure the length of your foot by sliding the device back to touch your longest toe.
Measure the width of your foot by sliding the side arms in until both sides touch your foot.
Stand up to ensure your foot is flat, and adjust the length and width if needed.
Do this with both feet; remember, each foot is slightly different.
Buying In-Store or Online
It's always nice to try before you buy, especially with items of clothing or footwear. Sadly, one brand's XL is another brand's large, and it's the same for shoes, so if you can find a store with a great selection of dress shoes, you can make a much quicker decision.
That's not to say buying online doesn't have a lot of benefits; you'll often find shoes at a lower price, and there's a much more extensive selection to choose from. The problem is, of course, that you can't try them on first.
If time isn't a factor, then buying online isn't an issue; you can buy your shoes and then do the checks above to ensure you've got the right fit. If you haven't, return them and order another size; please don't compromise to save time and effort and just make do with ill-fitting shoes.
Buy Bespoke Shoes
Okay, so buying bespoke dress shoes is a bit extreme due to the high costs involved, but it is an option.
Bespoke shoes deal with the issue of your feet being of slightly different sizes and can look fantastic.
The downside is that having a pair of dress shoes specially made can cost around the $2,000 mark. It may only be worth considering if your feet are quite particular or you plan to get plenty of use out of the shoes.
Buy A Half-Size
A cheaper and more reasonable option is to look for a pair of half-size dress shoes. A reputable shoemaker such as Beckett Simonon has a wide range of dress shoes in half sizes, like the Brent Oxford. This gives you the flexibility to find the perfect fit.
Beckett Simonon Brent Oxfords
With its playful broguing and unique punching along the throatline, the Brent offers dress and casual flexibility alongside Beckett Simonon's usual build quality and durability.
Check Best Price
If you click this link and make a purchase, we earn a commission at no additional cost to you.
If you've matched the key areas I discussed, your toes will have enough room to wiggle freely, and your heel will be a close fit to stop your feet from slipping out.
If you've used a Brannock device, you should have a near-perfect fit, but if you're not happy, swap those shoes!
Do Dress Shoes Stretch?
Unlike work boots and cowboy boots, your new dress shoes won't alter in shape a great deal. If you have dress shoes with a leather sole, then that will, over time, become more comfortable.
The upper of your dress shoe is of a much stiffer, thinner leather, which won't stretch out over time. If the leather upper did begin to stretch, you could start to see cracks and tears appearing, which would ruin your shoes.
It's partly due to the lack of additional flexibility that a leather dress shoe allows that it's so important to get the right fit straight away.
If you buy dress shoes made of another material, such as the Wolf & Shepherd SwiftKnit Derby, your shoe will have more stretch than you'd typically expect, but the right fit for a classic-looking dress shoe is, well, the right fit.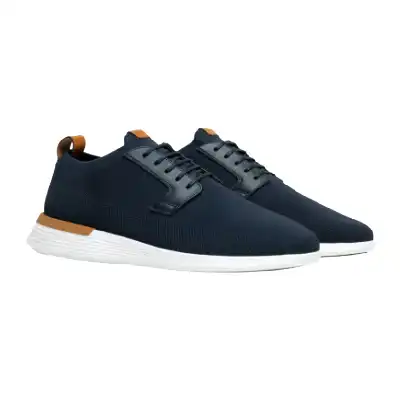 Wolf & Shepherd SwiftKnit Derby
W&S are killing the professional / active / casual crossover shoe game and the SwiftKnit Derby is one of our top picks from the brand. They're comfortable, lightweight, and look as good anchoring chinos as they do gym shorts.
Check Best Price
If you click this link and make a purchase, we earn a commission at no additional cost to you.
Consequences of Wearing the Wrong Size Shoe
Aside from the inevitable shame and self-loathing that would come from not taking my advice on how to fit a dress shoe properly, the consequences of wearing the wrong size shoe can be dire.
The lasting effects of wearing shoes that don't fit can last a lifetime. Your feet can become deformed (in extreme cases, admittedly), but at the very least, you'll cause blisters, inflammation, and discomfort.
Conclusion
It is crucial to find a dress shoe that fits perfectly, even if you only wear them infrequently. If you can measure your feet before buying online, you're on the way to having the perfect shoe.
If ordering online, don't be afraid to return your new shoes if there's the slightest sizing issue; it's better to order a size up or down rather than suffer severe foot pain.
FAQs
How much room should be in a dress shoe?
A dress shoe should be snug but not a tight fit, with around a half inch of space free at the toe box. As you walk, your foot will slide forwards slightly, so the extra room for your toes is vital for a comfortable fit.
Does a half-size make any difference?
While you might not think so and may not even be able to distinguish between a size 8 shoe and a size 8.5, the difference is massive. The small amount of extra length and room could be the difference between having the perfect dress shoe and something unwearable.
What can I do if my dress shoes are too big?
As with many shoes and boots, you do have add-ons that can improve your quality of life. Insoles, heel strips, and thicker or thinner socks can all add to your comfort level. 
However, one thing to consider is that if you're wearing insoles and thick socks with a heel strip, your shoe is too big. If more than one addon is needed, eventually, your shoes will begin to cause discomfort and may need replacing.