If you really think about it, the casualization of fashion was inevitable.
The more we, as a society, focus on productivity and comfort, the more we realize that the two are inextricably linked.
Silicon Valley entrepreneurs, for example. That 'I'm-too-busy-innovating to put on a suit and tie' mentality.
With dress shoes though, you don't have to sacrifice comfort for style and formality.
This is good news for those of us who still work in suit-and-tie professions, those of you who want to be as comfortable as possible in the few formal events you do attend, and for all of us who don't want to compromise our adult wardrobe.
Read on to learn about the most comfortable dress shoes on the market today.
How Did I Come Up With My List?
It's tough to find shoes that are as formal-looking as they are comfortable. Fortunately, I can confidently say that I'm an expert on the matter.
As far as active research on this goes, I've been trying on shoes, scouring reviews on blogs, YouTube, and trade magazines, for a good two weeks. Within that bracket, I've looked into well over 50 pairs of shoes.
In the greater scheme of things, I've technically been researching this topic for well over a decade.
As a long-time art dealer, I spend as much time running around hard-hat exhibition spaces hanging large paintings as I do having dinners and board meetings with billionaire clients. Basically, I'm one of those suit-and-tie professionals with a physically demanding trade. And I'm not allowed to wear sneakers, ever.
That being the case, I've easily tried on well over 100 pairs of dress shoes, actively seeking comfort out as a main priority. Of course, I also consulted colleagues and shoe experts.
The following seven models of dress shoes provide distinct comfort factors, each categorized for specific reasons, starting with the overall best.
7 Most Comfortable Men's Dress Shoes
My Top Pick: Beckett Simonon Dean Oxford
We've spotlit the Deans from Beckett Simonon as a top pick in our Oxfords round-up, and it's easy to see why. It's classic, elegantly slim, and made from beautifully waxed, hand-cut full-grain leather. I've raved over the brand's level of hand craftsmanship on several occasions—the soles on the Deans are even hand-sanded.
Since we've already highlighted its handsome, versatile style, and its premium build, let me laser focus on how they manage to make it so darn comfortable.
Basically, instead of implementing athletic shoe technology, Beckett Simonon is cleverly strategic in how they use traditional dress shoe materials.
First of all, it's Blake stitched. I know that in the shoe-loving community, Goodyear-welting is king.
The Blake-stitched Deans, however, are literally immediately comfortable right out of the box. They still have substance to them because of the full-grain leather and the fact there's stable steel shanks built in. And they do get more comfortable the more you wear them, but you're not looking at a blister-city break-in process here.
Plus, the Vachetta leather lining naturally manages temperature, and the classy-looking stacked heels are equipped with rubber caps to absorb shock as you walk.
Another plus is that Beckett Simonon, which was originally founded by leather industry veterans, uses a small-batch model that cuts loads of costs. They're even able to work ethically with the artisans who hand-craft each shoe (check out their website, they even highlight a few of these talented folks).
Best Budget: Thursday Boots Executive
Not only are the Thursday Boots Executives the best budget dress shoes on our list, they may very well be the most comfortable non-hybrid Oxfords I've ever worn.
They're Goodyear-welted, so they'll take some breaking in, but once you're there, we're talking almost sneaker-like flexibility and support.
The reason why is because Thursday attacks from land, air, and sea, so to speak. They don't rely on one comfort feature, but multiple components, each of which work together to make each's contribution that much more effective.
Going down the line, the interior is lined with soft and flexible leather, which is there to conform to your foot.
Beneath that are classic cork midsoles that help the leather create your foot shape, while also providing support. These midsoles work in partnership with shock-absorbing insoles, which are also antimicrobial.
That being the case, these shoes aren't just ensuring comfort from the wear experience, but hygienically as well.
Once you learn that Thursday came about to strike a balance between comfortable and stylish fashion boots and clunky but strong work boots, it makes sense that they'd eventually get in the dress shoe game with that very same offering.
And again, they do need breaking in because of the Goodyear welt. Still, this combination of strong construction with multi-layered comfort technology ensures these Oxfords will last you years.
Most Comfortable Dress Chelsea: Beckett Simonon Bolton Chelsea
Also hailing from the Beckett Simonon tribe, the Bolton Chelsea Boots combine style, good composition, and a focus on comfort as effectively as the Deans do.
Like his Oxford cousins, the Boltons are built with rich full-grain leather, feature flexible and immediately wearable Blake stitching, and even have SBR rubber heel caps for shock absorbing traction. Yes, even the Vachetta linings, in all its shape accommodating and odor-controlling glory, are built into these boots.
Notably, the silhouette has an unnoticeable deviation from the standard Chelsea shape The almond-shaped toe box offers a lot of extra space, none of which can be seen from the outside. This gives your feet more breathability and comfort, while maintaining the sleek Chelsea look, thanks to the tapered waist.
And just like the Deans, the Boltons are equipped with a steel shank, fully riveted to the outsole and the insole, adding a reliable support and balance factor on top of that comfort.
Most Comfortable Black Dress Shoe: Suitsupply Tuxedo Oxford
Suitsupply makes more than just fast-tailored suits. They do some pretty good footwear, as well. Their Tuxedo Oxford Shoes are a great example, particularly because their super formal design might trick you into thinking they wouldn't be as comfortable as they are.
These shoes have an Italian vibe about them, with the perfectly polished surface, incredibly satiny and sculptural architecture, and minimal but distinguished details. This is as dressy as it gets, though I'd argue you can still wear this in professional contexts (not just with tuxedos).
The calfskin upper and Blake stitching work together to give your foot a wide range of motion, without taking away from the liquidy smooth surface.
Moreover, the vamp is slightly lifted from the sides and the laces have a matte texturing, giving these shoes a modern and well-balanced look. They're upscale, but not stuffy.
Most Comfortable for Standing and Walking: Wolf & Shepherd Monaco Loafer
Unsurprisingly, Wolf & Shepherd, the shoe company founded by a track and field athlete, has one of the most comfortable dress shoes for walking and standing.
There are two reasons why the Wolf & Shepherd Monaco Loafers are perfect for you on-the-go gents. First of all, they're unlined, which means they're much softer and far less stiff than their fully-lined counterparts.
Second, is the memory foam footbeds from FloatForm. Related to the first point, these footbeds are an excellent reason to keep the shoes unlined—a smaller barrier between you and this cozy material.
This is the same foam used for those high-end beds that contour to your body using your own body heat, which provides both a comfortable hug, and support to your bones. It also has a cooling effect. All of these benefits are activated the moment your feet sink into the shoes.
On the design front, the Monacos are penny loafers, with a posh European twist. Unlike authentic American penny loafers, there's no beefroll, and the shape is slender but not pointy. That and the suede construction make these shoes appropriate in casual and formal dress codes.
Wolf & Shepherd is all about comfort and efficiency, as much as style. Their brand focus is evident in the fact they often use athletes like Rob Gronkowski and Steve Nash as spokespeople, over models and actors.
Most Comfortable Hybrid: Wolf & Shepherd Longwing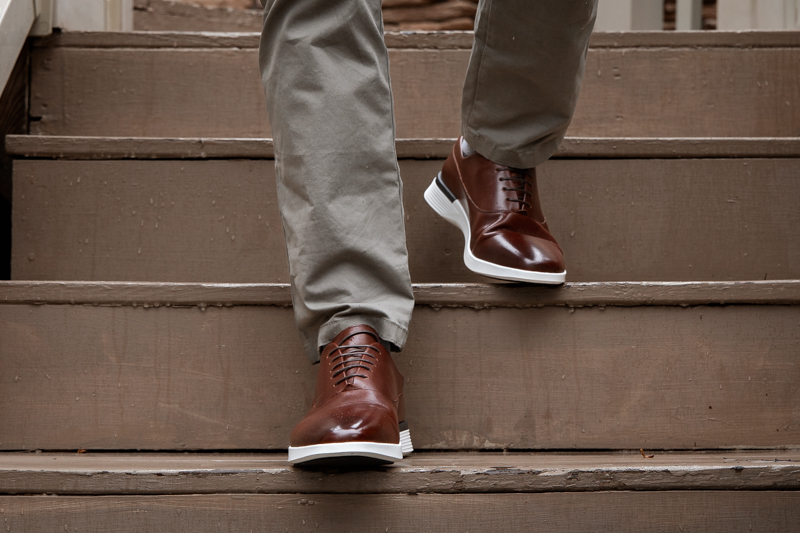 Here's another entry from Wolf & Shepherd, and just like the Monacos, the Longwing Hybrids are made for walking–and then some.
As hybrids, the star of the show here is the thick, agile, and advanced sole system. The memory foam footbed is removable incase you prefer your own personal inserts.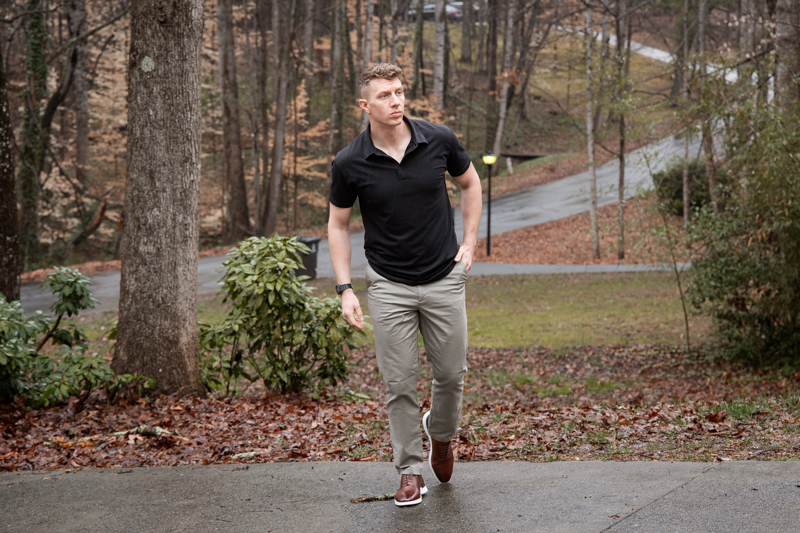 The sole is high-density polyurethane, which means it's both soft and highly elastic. Meanwhile the rubber outsole provides excellent grip, so you can head to the basketball courts right after work without changing shoes.
On top of that, literally, are handsome calfskin leather uppers that come in five colors.
Most Comfortable Wingtips: Cole Haan Washington Grand Laser Wingtip
Not only are the Washington Grand Lasers from Cole Haan the most comfortable wingtips, but they're also the upgrade pick.
The premium leather and slim silhouette are all there. Furthermore, and most importantly, these wingtips are filled to the brim with innovations, both functionally and aesthetically.
When it comes to style, the wingtip design is executed using a contemporary looking perforation, right on the uppers, versus on another piece of leather. This allows the shoes to keep its refined look while also adding unique character.
The EVA footbed and Cole Haan's Grand.ØS technology not only provide cushioning, but arch support. And below that, you've got the leather outsoles meticulously engineered to mimic the natural motion of your feet, reducing the fatigue to almost zero.
3 Ways to Make Your Dress Shoes More Comfortable
1. The Basics: Get the Right Size, Break Them In
This might go without saying, but you have to make sure you get the exact right size. While most brands conform to universal sizing, there's always a little variation. If you're typically a size 10, try a 9, a 9.5, a 10.5 and even an 11 to make sure you're still a 10 with the particular brand you're testing.
If you're buying online, do your research and read reviews. The answers may very well be a few quick blurbs away.
Finally, most shoes need breaking in, so make sure you take the time to do that before putting your feet through an eight-hour work day in new footwear.
2. Maintenance: Conditioning, Resoling If Necessary
If you don't keep your leather shoes clean and conditioned, they can get dry and tight or even loose and brittle. Neither situation would be comfortable or good for your shoes.
Meanwhile, if your outsoles are worn out, and you don't resole them, not only will they make wearing your shoes an unpleasant experience, but it can also be really bad for your feet, ankles, and even calves.
3. Consider What You Wear Them With: Socks and Inserts
I know that it's desirable to go for thicker dress socks in colder months, but if you go too thick, you're basically sizing down the experience of the shoes as well. Go for socks that work smarter, not harder, like temperature-regulating fine wool socks, over heavily woven ones.
Ribbed socks provide mild compression to maintain blood flow. If you're prone to swelling, then you might need proper compression socks.
And of course, you can't go wrong with the right inserts.
Style, Meet Comfort
The Beckett Simonon Deans are our top pick because they're true dress shoes with strategic construction that provides long-term comfort. This is also the case with the Bolton Chelseas.
Looking for a full-grain leather dress shoe with athletic soles? Check out the Wolf & Shepherd Longwing. And from the very same brand, you can get the Monaco Loafers which are made for walking and standing.
Suitsupply even serves up a super formal black dress shoe that's immediately comfortable.
Whether you work in a casual start-up environment where hybrid shoes are allowed, or a super formal buttoned-up office, one of these seven shoes can ensure you're within code and perfectly comfortable.
FAQs