In this guide, I'll break down all the details. By the end, you'll know what kind of soles to look for during your next shoe shopping excursion.
In this guide, I'll break down all the details. By the end, you'll know what kind of soles to look for during your next shoe shopping excursion.
There Are Many Types of Shoe Soles
Now, this question may seem a bit basic, but what are soles exactly? 
The sole is basically the bottom part of the shoe, aptly named for the bottom part of your foot.
It's made up of two components. The insole is the part that makes contact with your foot's sole, and the outsole touches the ground itself.
The terms outsole and sole are often used interchangeably, which we'll be doing here. This is why I wanted to crystal clarify the definitions. So when I refer to the material of, say, some dress shoe soles, I'm talking about the heeled portion at the very bottom of the shoe, unless otherwise noted.
Okay, let's get to it.
Rubber Soles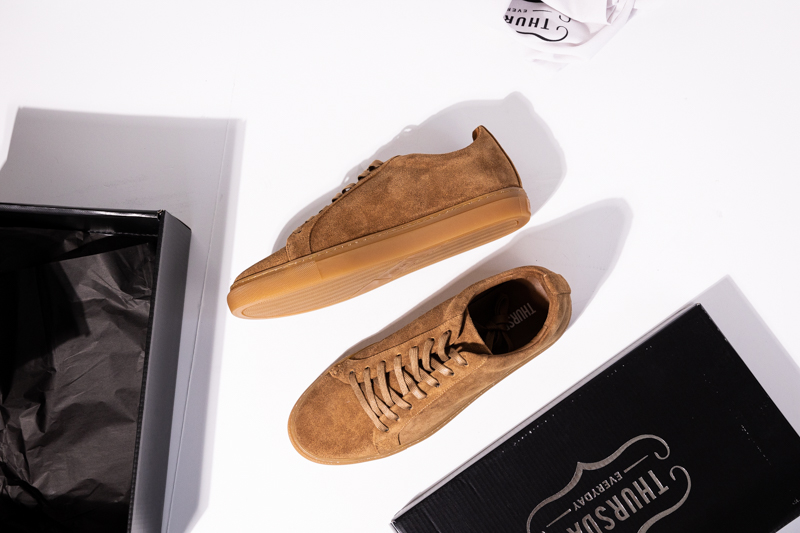 Rubber soles were developed in the 1800s when Charles Goodyear Sr. discovered a vulcanization technique that allows rubber to bond with other materials.
Historically, rubber soles were reserved for performance-oriented shoes like athletic trainers and work boots. These days, however, several brands are serving up comfort dress shoes with rubber outsoles.
They're a light, grippy, water resistant, and generally resilient option, especially when compared to leather outsoles, which are naturally porous.
And since rubber is elastic, it's also naturally shock absorbing.
Here are a few different variations of rubber soles.
Wedge Soles
A wedge sole runs the entire length of the shoe, the tread of which serves as the only topography on the bottom. This means that the heel and the toe are in equal contact with the ground's surface area.
This provides stability and traction, making the wedge a popular choice for work boots.
The wedge sole is often associated with moc-toe boots, like the Red Wing Iron Ranger.
Crepe Soles
Crepe rubber is a porous material with a crumpled texture and a yellowish hue. It has an unfinished and organic aesthetic to it.
Crepe's main strengths are that it's springy and incredibly grippy. Its main downside is that the bottoms get dirty pretty easily.
The Clarks Desert Boot came out in 1949, which was (and is) essentially a chukka boot equipped with a crepe sole. To this day, most people associate crepe with a desert-style shoe, the Clarks Boot being the OG.
Ridgeway Soles
A Ridgeway sole is a fairly brawny lugged rubber sole characterized by a series of channels that sort of flow through the shoe box and toe area, and also the heel if applicable.
It's great for grip and stability. However, since the channels aren't that deep, this sole looks pretty smooth from the side view. It's often used for smarter-looking functional boots.
Plus, unlike an aggressively treaded sole, a ridgeway won't grab as much dirt and debris, so you're looking at pretty easy maintenance here.
Commando Soles
As its name suggests, a commando sole is heavy and highly athletic. It features a deep tread all around the edges of the toe and shoe box that makes its way close to the center of the sole.
The tread in the heel is even deeper to ensure the whole lug system has the same level of peaks and valleys.
And finally, the middle of the sole features star-shaped medallions. While the outer track helps with traction, these medallions provide shock absorption.
Commando soles can be applied to military-style boots and even hybrid dress boots and shoes. I've seen them pair beautifully on derbies and brogues since those styles are topographical and visually match the ridged silhouette of the sole.
City Rubber Soles
A city rubber sole is essentially a fake leather sole of sorts.
It's a rubber outsole that's been molded and painted to look like a traditional heeled dress sole.
A city rubber sole is usually attached to a dress shoe or dress boot to maintain its sleek and formal look while infusing it with athletic litheness and traction.
Camp Soles
A camp sole is like a much skinnier wedge sole in that it's one long, mostly flat piece of rubber. There's a slight heel, though, and usually not much treading.
It's the kind of sole you'd see on a boat shoe or an outdoor moccasin. A Sperry Topsider is a good example of a shoe with a camp sole.
It's low-profile, flexibly comfortable, and requires absolutely no breaking in.
Rubber Lug Soles
Technically, any treaded rubber sole counts as a rubber lug sole. This includes the commando and the ridgeway.
However, a pure, no-frills rubber lug sole is one in which the lugs are mostly consistent throughout the sole. A recognizable example is the 1490 Combat Boot from Doc Marten.
Again, this is a catch-all term, but by including it, you can have a point of reference, and something to call any deeply-lugged rubber sole that doesn't fall into any of the more common and specific treaded rubber sole categories.
Dr. Martens, 1490 Leather Boot for Men and Women
Featuring all the distinctive Doc details: grooved sides, yellow stitching, and heel-loop, the 1490 is a classic Dr. Martens punk silhouette but with higher laces and more attitude.
Buy Now at Amazon
If you click this link and make a purchase, we earn a commission at no additional cost to you.
Raw Cord Soles
Also known as a tire sole, the raw cord sole was invented during World War II when rubber was scarce. Shoemakers started making combat boot soles with melted-down car tires.
The result is a sole with a highly reinforced tread due to the muscular nylon cords in the tires. Suffice to say many military boots feature raw cord soles.
Many have a marbled aesthetic that you can see from the sole's profile, and tire tread markings on the shoe box area to indicate that it's indeed a raw cord sole.
Vibram Soles
A Vibram sole is manufactured or licensed by the Italian company of the same name.
They have a wide range of designs, all meant to provide durability, traction, abrasion resistance, and water resistance.
So, no, there isn't one exact style that defines a Vibram sole. However, it's worth clarifying what it is because you're definitely going to see it in every other product description while shoe hunting.
Notably, Vibram has become synonymous with outdoor gear.
They treat their rubber with different rubber compounds to harden or soften it based on the model of the shoe. So, for example, a mountain hiking boot's Vibram sole is vulcanized for extra hardness, while a climbing shoe is treated for more flexibility and agility.
Dainite Soles
A Dainite sole is similar to Vibram in that it is the name of a specific brand.
The difference is that it does embody a specific style, which is a studded rubber outsole. Other brand's make this style of sole, but it's often described as a "Dainite style" regardless of who makes it.
The studded sole provides extra weight and stability, protection from water, and durability. A Dainite sole is low-profile enough to effectively pair with a dress upper to create a hybrid shoe.
The only downside to the Dainite style is that it isn't particularly grippy. In fact, it can be quite slippery in wet terrain.
Leather Soles
Leather has been a go-to material for shoes and shoe soles since the 18th century. It's definitely the most traditional type of sole, used mainly in boots, more formal dress shoes like oxfords, and casual ones like loafers.
It's far more elegant-looking than rubber soles and also more versatile. For example, you can wear a leather-soled loafer with jeans and t-shirt, as well as a tuxedo. I wouldn't ever recommend wearing rubber-soled shoes, at least obvious ones, with a tuxedo.
And while rubber soles are immediately comfortable and springy, a leather-soled dress shoe will conform to your exact foot contours. Once you've broken it in, it can be sneaker-level comfortable.
I don't love bringing this up because it sounds off-putting, but leather is skin. It naturally accommodates your foot and even your gait the more you wear it.
That being the case, one of the big cons of leather soles is that it does require more breaking in than any rubber-soled shoe will. Another one is that it doesn't provide nearly as much traction and can be downright slippery until you've scuffed up the bottoms a bit.
Welt aside, a leather sole is often anywhere between 4.5 millimeters and 5.5 millimeters.
Rubber may be naturally stronger, but leather gets stronger the more you layer it—which leads us to the common types of leather soles.
Double Leather Soles
Remember when I mentioned that a sole, in its entirety, is made up of an insole and an outsole? Well, this is where that knowledge comes in handy.
A double leather sole is one in which a leather midsole is placed between the insole and outsole. This ups the strength of the shoe considerably, with many double leather soles matching the resilience of rubber.
A gold standard of shoemaking is pairing the double leather sole with a Goodyear welt. This way, water can't easily seep into the midsole area.
Single Leather Soles
A single leather sole doesn't have this extra leather midsole but requires less breaking in. It's also much lighter and therefore a lot more comfortable.
Moreover, you often get a full range of motion, pretty much right out of the box, though this also depends on how it's constructed and what the upper is made out of.
The single leather sole is attached right to the vamp and has a classy, thin profile.
There's also something called a half sole, in which a double leather sole is placed in the shoe box and toe area and a single leather from the waist down. As expected, a half sole is more flexible than a double leather but not as long-lasting and is stronger than a single leather, but not as immediately comfortable.
Combination Soles
And, of course, there are several variations that combine rubber and leather soles in an attempt to harness each material's strength.
There are a variety of different combinations.
A common combo is a leather sole with a rubber insert placed in the center of the widest part of the sole. This provides a touch more litheness, but mainly offers far more traction than any traditional leather sole can give you.
Another common combo, one that Beckett Simonon is known to do, is adding a rubber heel cap to an otherwise traditional leather sole, which not only adds traction but stability.
There are also combo soles that apply both the front insert and the cap.
Another clever combination is taking a rubber sole body and placing it inside what's essentially a leather shell with openings at the bottom. These openings allow the rubber to come through without showing when viewed in profile.
These are all good options if you need to look formal in a high-activity environment. I found hybrid soles to be particularly helpful when I was my friend's best man at his wedding, and anytime I'm on a business trip that requires several offsite client visits.
The Right Soles for You
Truly, a comprehensive shoe closet will have shoes with both rubber and leather soles.
After all, you can't wear rubber soles to a formal event, and leather soles would be useless on a multi-terrain hike (or even a long walk, honestly).
Maybe you wear a suit to work but decide it's best that you stick to city rubber soles on most days, and switch to traditional leathers during board meetings and important client visits. Perhaps your day-to-day is more casual, and your rotation mostly consists of rubber soles.
It's all about figuring out what the appropriate look is for the situation and what you'll need functionally.
FAQs
What's the difference between rubber shoe soles and leather shoe soles?
Rubber is more immediately comfortable, resilient, and grippy. Meanwhile, leather soles are more visually versatile and can be made strong with layering. A leather midsole, once broken in, will take on your foot's shape.
What are the main types of dress shoe soles?
Traditional dress shoes come with leather soles, whether that's a durable double leather or a flexible single leather. These days, you can find hybrid dress shoes with city rubber soles, or combination rubber-leather soles.
Which sole material is more comfortable?
Rubber is more immediately comfortable, but a well-made leather-soled dress shoe will eventually conform to your exact foot shape, providing an almost customized experience.