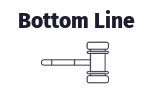 Oxfords are dress shoes with a closed lacing system, while loafers are slip-on dress shoes. The former is more buttoned-up looking, while the latter represents effortless elegance.
Though highly variable, oxfords are the safer choice for formal occasions. Both can be worn professionally, casually, and with cocktail attire.
Arguably, the two most prevalent dress shoes in menswear are the loafer and the oxford.
Despite being in the same footwear category, their designs are fundamentally different. This begs several questions.
Is one design better than the other? On what occasions and dress codes should you choose a loafer over an oxford, and vice versa?
Do we even need both in our shoe closets?
To answer these questions, let's dive into the differences between loafers and oxfords. By the end, you'll know which dress shoe is best for you.
Loafers vs Oxfords
The most glaring difference between loafers and oxfords is the fact that loafers are slip-on shoes, while oxfords are lace-ups. In general, this does make loafers more casual compared to oxfords.
However, there are a lot of variables to consider on top of that.
Let's get into more specifics.
What are Loafers?
Since loafers are slip-on shoes, they don't have a lacing system or any type of fasteners such as buckles or straps. They're basically slippers upgraded with a proper outsole and made from more premium materials like leather or suede.
Dressier loafers often have a higher leather heel, while more casual ones have a lower heel or no heel at all.
The modern-day loafer descends from teser shoes, the traditional footwear worn by Norwegian farmers. Even before that, though, Native Americans wore moccasins, one of the oldest examples of slip-on shoes.
In more modern history, loafers became popular on Ivy League campuses in the 1950s and '60s as a more relaxed alternative to traditional lace-ups. To this day, they're still associated with that relaxed yet 'posh' and leisurely elegant style.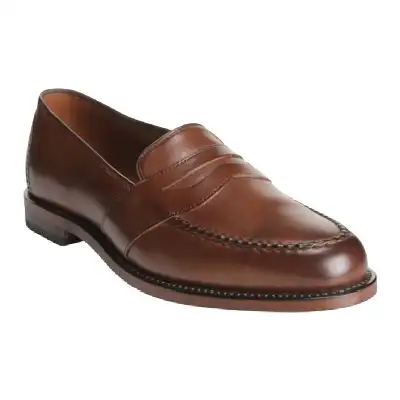 Allen Edmonds Randolph Penny Loafer
If you appreciate traditional style in your Penny loafers, these may just be your new grail. Handcrafted in Wisconsin, the single layer soles give them a sleek profile and the leather lined interior makes for comfortable wearing. Yeah, they're really classy.
Check Best Price
If you click this link and make a purchase, we earn a commission at no additional cost to you.
What are Oxfords?
Oxford shoes are traditional dress shoes defined by a closed lacing system, meaning the eyelet tabs are sewn beneath the vamp. Compare this to their close relative, the derby, which features an open lacing system.
Basically, on an oxford shoe, the seams beneath its laces are embedded into the surface, instead of sitting on top of it.
Oxfords also tend to have an exposed ankle, a heeled outsole, and a separate tongue underneath the vamp and beneath the eyestay tabs.
An early record, or alleged report of oxford usage, was on the campus of Oxford University in the 1800s. It's where the shoe gets its namesake, as well as its reputation for being formal, suit-appropriate, and associated with professional types.
Beckett Simonon Brent Oxfords
With its playful broguing and unique punching along the throatline, the Brent offers dress and casual flexibility alongside Beckett Simonon's usual build quality and durability.
Check Best Price
If you click this link and make a purchase, we earn a commission at no additional cost to you.
What Are the Main Differences Between Loafers and Oxfords?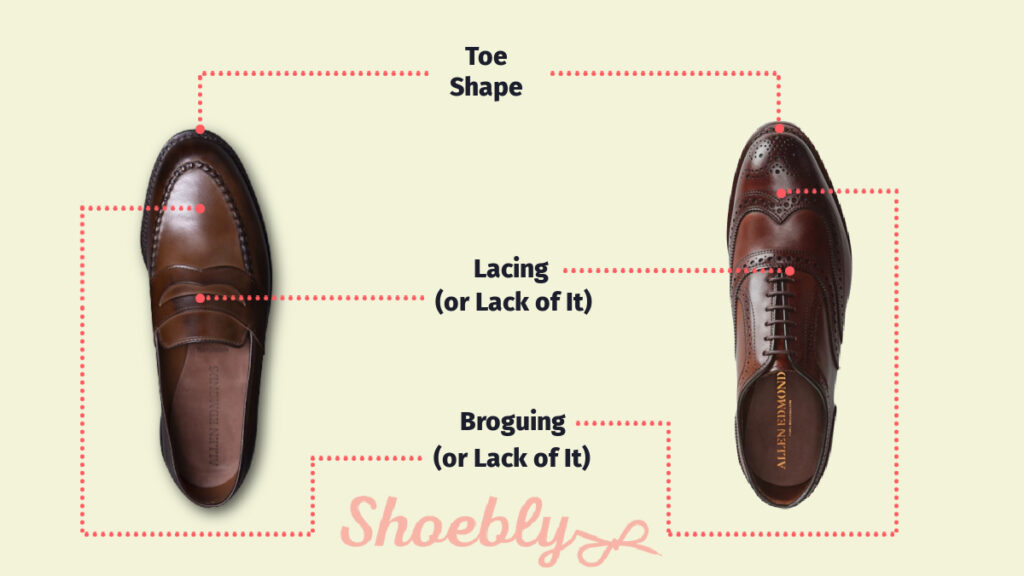 Though there are different variations of both oxfords and loafers (especially loafers), here are the main features that make the two so aesthetically distinct from each other.
The Toe Shape
Loafers come in two main toe shapes: The moc toe and the apron toe.
An apron-toe loafer is one in which the piece of leather on the vamp doesn't extend to the end of the toe, and instead covers the main perimeter like an apron.
This top portion doesn't even need to be a separate piece of leather. If the edge of the top of the vamp prematurely breaks off and starts to descend before it reaches the toe area, it'll still look like an apron. Plus, you'll still be able to see a substantial amount of the descending sides from a bird's eye view.
A moc-toe loafer is the exact opposite. The vamp extends all the way to the toe before descending, creating a more box-like appearance. This is considered more casual looking than an apron toe.
Oxfords come in three main toe variations: The cap toe, the plain toe, and the wingtip.
A cap-toe oxford features a seam across the toe area, while a plain-toe is completely bare, making the plain-toe oxford the most formal.
A wingtip oxford has a decorative W-shaped cap stitched across the toe area, making it the most detailed toe style and, therefore, the most casual.
The Lacing (or Lack of It)
As mentioned, the main defining characteristic of an oxford shoe is its closed lacing system. As such, there's not a lot of variation there.
Loafers, however, vary greatly regarding what they have in place of lacing. In fact, it's a big part of what gives each loafer style its specific identity, which we go into great detail about here.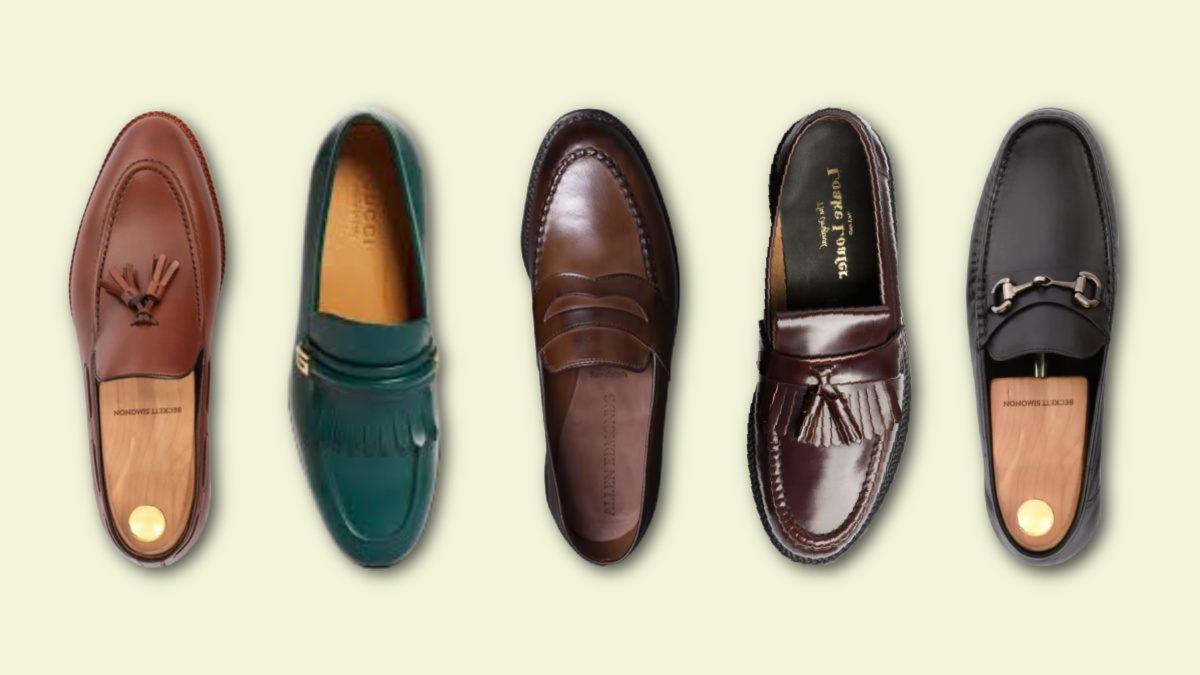 Here are some pieces of decoration you might find on a loafer in the exact same place lacing would otherwise be placed:
A Bow: This is often placed on more formal loafers. An opera pump, for example, is a one-piece loafer usually made out of patent leather with a bow on it.
A Belgian loafer also has a bow, and is a less minimalist shoe than an opera pump. It exudes a more dandy style.
Tassels: Tassel loafers are generally more casual, though this also depends on the toe shape and general detailing.
Kiltie: A kiltie is a piece of fringe that definitely leans more casual.
Horsebit: Despite being a piece of hardware, horsebits are considered upscale since Gucci pioneered them. Pop a horsebit on a patent leather, pointed-toe loafer, and you've got yourself a non-traditional but still black-tie-appropriate shoe.
Penny saddle: The penny loafer is fairly minimal and spans a wide range of dress codes.
Broguing (or Lack of It)
Broguing is decorative perforation often placed on seams and stitching, though it can go anywhere. Any dress shoe, including loafers, can feature broguing.
However, it's far more common on oxford and derby shoes. We go into detail regarding the specific kinds of brogue shoes here.
From most detailed to least (otherwise known as from most casual to most formal), the four broguing styles are the wingtip brogue, the longwing brogue, the semi brogue, and the quarter brogue.
When Would You Wear Oxfords vs. Loafers?
When it comes to standard loafers and standard oxfords, both are highly versatile in a range of dress codes. Still, loafers can go deeper into casual territory than oxfords can, and oxfords can go further into formal territory—all things considered.
Let's put it this way: You're safer when choosing loafers in more casual instances and oxfords in dressier ones.
For example, if you're wearing shorts, a pair of loafers with no socks would go with that more naturally than oxfords would. Since loafers go well with the no-socks approach, they're better warm-weather shoes, too.
A loose, resort-ready slate button-up and cream linen pants would go perfectly with even the most formal loafers, though perhaps a driving shoe would be ideal. Regardless, any loafer style would be preferable to even the most casual, highly-brogued oxford.
There are contexts in which oxfords and, say, a standard penny loafer, are fully interchangeable.
There's absolutely nothing wrong with wearing either shoe with your suit to the office. As long as the loafer is on the dressier side, meaning it has a heeled leather outsole, you're good to go. The same goes for casual Fridays, after-work networking, and cocktail parties.
Now what about formal situations? A wedding, for example.
Oxfords are the natural choice here, especially if it's a black-tie formal. There are, however, formal loafers, like opera pumps and patent leather horsebits, that would be appropriate (though perhaps bold).
Again, if you want to play it completely safe and understated, your best choice in a formal context would be a plain-toe oxford.
Velasca Martingala Opera Pump
The smooth leather pump designed by Fabio Attanasio for Velasca is a shoe of rare beauty that can carry you to other eras. The calf leather has undergone a glossy finish, obtained by spreading a uniform layer of dye and brushing it by hand.
Check Best Price
If you click this link and make a purchase, we earn a commission at no additional cost to you.
Loafers vs. Oxfords–Which Should You Choose?
When it comes to style, part of deciding between the two is a matter of preference.
Since I prefer easy elegance to the buttoned-up aesthetic, I tend to be more of a loafer guy myself. I can wear my dark burgundy leather penny loafers with my suit to work every day, with jeans over the weekend, and even at formal events since my tuxedo is dark navy.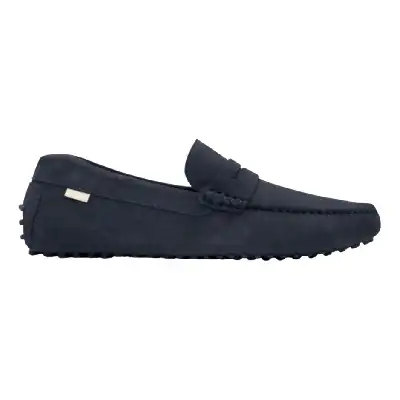 Oliver Cabell Driver
The OC Driver makes the trip to the post office just that little bit more enjoyable. With a 3oz suede leather upper from Marche, Italy, and hand stitched and lasted in Portugal, this ticks all the Euro-luxe boxes you want in a quality driving shoe.
Check Best Price
If you click this link and make a purchase, we earn a commission at no additional cost to you.
Coming at it from a more practical perspective, it's best to assess your shoe closet and determine whether you need both.
Maybe you're an all-or-nothing person. You don't need to level up your casual outfits, so you stick to sneakers when going casual, but go for oxfords when going formal. In this case, you don't necessarily need a loafer because all your bases are covered.
Or maybe you lean formal, so you opt for loafers in even the most casual situations and wholecut oxfords for dressier ones.
It's equal parts personal style and lifestyle.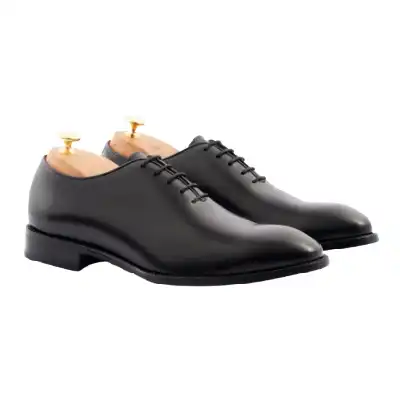 Beckett Simonon Valencia Wholecuts
Wholecuts are rare and highly prized for a reason; they are the most difficult shoes to make. Not only does the single piece of leather need to be perfect, it has to be supple and the fibers must align.
Check Best Price
If you click this link and make a purchase, we earn a commission at no additional cost to you.
Loafer? Or Oxford?
There are definitely more moving parts than just which is more formal and which is more casual (though now we know which is generally more formal).
After this deep dive, do you have a preference? Do you prefer the traditional oxford in all its laced-up glory or the easy-going class of the loafer?
They're certainly both versatile enough.
Your personal style and day-to-day may be more conducive to one or the other, or even both. And now you have the information to figure that all out.
FAQs
Are oxfords more formal than loafers?
Though there are dressy loafers that can be worn formally, oxfords are generally more formal than loafers. They're the traditionally safer choice when it comes to formalwear.
Can you wear loafers as dress shoes?
Absolutely. Though they're generally more casual than traditional oxfords, you can wear dress loafers in place of oxfords. Dress loafers are usually made of leather and feature a heeled leather outsole.
Are oxfords more formal than loafers?
Oxfords are inherently more formal than loafers. However, some loafers are more formal than other loafers. Truly dressy loafers can be worn and styled similarly to oxfords.
When should you not wear loafers?
Certain loafers can't be worn formally. For example, rubber-soled variations with no heel are too casual to be worn with a suit.
Can you wear Oxfords casually?
Yes. Though they're formal dress shoes, oxfords can be worn casually as well. Style-wise, I'd just ensure that your casual outfit still matches the oxford's clean lines (a fitted t-shirt and jeans, for example).