If the concept of the old money aesthetic seems intimidating to you, allow me to try and convince you otherwise.
Whether you love style or quality (come on, if you're not into both, you've got to care about one or the other), tenets of an old money aesthetic benefit the closets of all guys.
It's all about being trend-resistant and focusing more on lasting craft.
Regardless of your style, I can't think of a more important part of your wardrobe to apply this to than your shoes.
3 Must-Have Shoe Types for an Old Money Aesthetic
1. Loafers
The old money aesthetic is all about balancing dressiness with casualness. You never want to be too in-your-face fancy, nor should casual ever mean sloppy. The loafer is definitely the best representative of this important balance.
2. Formal Dress Shoes
While black tie formal events might not be an everyday occurrence, they are an experience shared by most.
From final club balls on Harvard's campus to Upper East Side galas, there's always one genuinely formal event per season in the old world social calendar, and plenty of us 'regular' folks will attend prestigious occasions like weddings, award ceremonies, and formal parties at some point in our lives.
That being the case, achieving the stealth wealth aesthetic means having a traditional dress shoe in your closet.
3. A Casual Shoe (That Implies a Certain Lifestyle)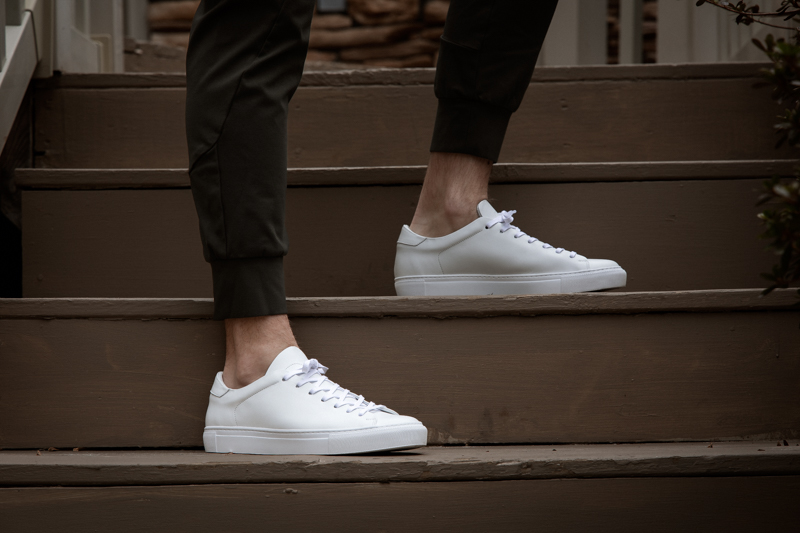 Think about some old-world hobbies: horse-riding, grouse hunting, and tennis are a few that may come to mind.
You want your casual shoe to be related to something in that realm, and that can mean an all-white, low-profile sneaker, a service boot, or even wellies if the weather requires it.
5 Best Old Money Aesthetic Shoes
Best Old Money Loafers: Grant Stone Traveler
Here's why the Grant Stone Traveler is the epitome of a stealth wealth shoe.
First off, because of social media, there's a lot of misplaced overlap between Hollywood glamor and the old money aesthetic. The latter is more likely to be musty than flashy. However, in its best manifestation, the old money aesthetic is both leisurely and elegant.
Enter the penny loafer.
The Grant Stone Traveler is understated and traditional, but the lack of a beefroll makes it a sleeker take on the American penny loafer. Still, there aren't any extra sharp turns, making it more classy than fancy.
I've been known to rave about how easily you can wear the Traveler with any dress code. Linen shorts while on holiday in the Caribbean? Absolutely. With your suit to a board meeting? Go for it.
Even more, my grandfather, a certified WASP, as well as an Eton and Yale legacy (he can tell you which Mayflower passenger our ancestor was), absolutely loves this shoe. It appeals to both the craft-focused generation who couldn't care less about designers, as well as newer generations who want to look relevantly stylish, and are sick of fast fashion.
Multi-generational appeal is important in the old money aesthetic.
This shoe is completely Goodyear-welted and made of strong calfskin that can really take a beating. Go for supple traditional leather or buttery suede; it looks good in either construction.
What I Like
It's classically styled with a few modern, understated distinctions, making you look discerning but not overly desperate to be stylish.
The Goodyear-welt construction and high-end, tough-as-nails leather makes this shoe punch above its price point.
The silhouette isn't too sharp like a formal Italian loafer, yet isn't too relaxed and rounded either, making it adaptable to a wide range of dress codes.
What I Don't Like
The collar is a bit snug, which usually isn't a problem, unless I'm trying to wear this shoe with thick socks.
What Do Other Reviewers Say?
Something I love to point out about this shoe's internet presence is the wild ways I've seen reviewers break them in. From freezing to high-pressure hosing, there's a lot of proof online of just how strong this shoe is.
On top of the praise it gets for everything I mentioned regarding its looks and build, many reviewers love the packaging. Each shoe is kept individually in high-end dustbags, which looks great and ensures a safe shipping experience.
I should also mention that you have to size down a half from your regular shoe size. I've scoured enough reviews to know a lot of these people didn't read that instruction on the product page.
The Verdict
One thing the stealth wealth style focuses on is creating a uniform of sorts. Because of its adaptability, the Grant Stone Traveler is an excellent everyday shoe, which makes it great for this. You can wear it to work, to a barbecue, and, as its name suggests, to the airport.
Since the brand has such a deep relationship with the Chinese footwear industry, they manage to serve up a well-made, luxury-level shoe without the mark-up and without all of the fast-fashion implications often associated with the Made in China moniker.
There's truly nothing that says "stealthily discerning" like a lastingly-built and anti-trend penny loafer.
Best Old Money Loafers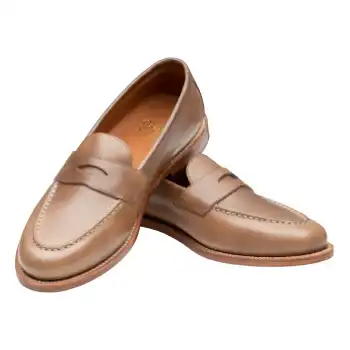 Grant Stone Traveler
At their price, the Grant Stone Travelers pleasantly surprise with hearty Goodyear-welting and topnotch suede. Their honest, no-nonsense design makes them as adaptable as they're functional.
Check Best Price
If you click this link and make a purchase, we earn a commission at no additional cost to you.
Best Old Money Sneakers: Oliver Cabell Low 1
As mentioned earlier, when it comes to casual shoes, going the old money route means choosing a pair that implies something of that lifestyle. Boat shoes might say, "I just got off a boat." Riding boots might say, "I just finished a polo match."
Low-profile white sneakers, though a universal essential, can say, "I just played some racket sport at the New York Athletic Club."
I think Oliver Cabell's Low 1 is the perfect high-value option for achieving this classy approach. It doesn't have any loud, flashy branding on it, and is only a flex in the sense that it looks beautiful and is obviously well-made.
Decades into the age of the internet, a lot of people are pretty dialed-in with things like the gold stamp on the Common Projects Achilles. It's a small feature, but a loud flex in that it's unabashedly telling the world that you paid a lot of money for sneakers.
Remember: Old money aesthetic is all about brands that whisper, not shout (so LV buckles and H Hermes bracelets are a no-go).
There's something anonymous about the lack of branding on the Low 1.
And by the way, it flaunts true, premium construction. It's handcrafted in Marche, Italy by shoe artisans, the leather is calfskin, as is the lining, which is rare at this price point, the outsoles are premium Italian rubber, and even the laces are Italian cotton.
What I Like
This shoe boasts a high level of Italian hand-craftsmanship.
Even beyond the smooth calfskin construction, every detail is considered, seen through its use of premium Italian rubber and Italian cotton laces.
Oliver Cabell provides honest, candid price breakdowns per product, so you know exactly how much they spend on everything, from the leather itself to the quality control.
What I Don't Like
I experienced some major pinky toe rubbing during the first week. A plaster bandage is an easy quick fix, though.
What Do Other Reviewers Say?
One thing Oliver Cabell is lauded for, as a brand, is cost transparency. It's considerate of them to break it down so specifically so the price makes sense and you know that it's fair.
There are some complaints about the lack of half sizes, though. If you're a half-size, just size up.
The Verdict
The tennis whites look is the perfect casual approach if you're trying to infuse some old money aesthetic into your wardrobe. It's simple, non-intimidating, and can literally be incorporated into any personal style.
Oliver Cabell's Low 1 offers excellent and candid, value for money with its Italian leather construction.
Sure, all white sneakers have a slightly inherent preppy vibe, an adjacent style to stealth wealth. But they've been in and out of style so many times that these days, they're officially a universal classic.
Best Old Money Sneakers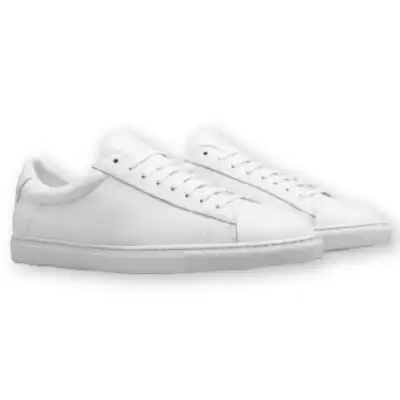 Oliver Cabell Low 1
The iconic Low 1 is Oliver Cabell's most well known shoe, and for good reason. We think they're your best value-for-money dress sneaker choice if you want to go top-end on quality, provided they're on sale.
Check Best Price
If you click this link and make a purchase, we earn a commission at no additional cost to you.
Best Old Money Boots: Thursday Boots Scout
You know who's constantly seen in simple chukka boots? The Prince of Wales. And whether or not you live the lifestyle that requires African safaris and charity jungle trips the way he and his ilk do, you can at least look like it.
The Thursday Boots Scout definitely has that way about it. The reason I went for this instead of, say, a riding boot, or a hunting boot that might imply you host grouse shoots on your country property, is because it's so easy to incorporate into any closet, any lifestyle, and any season.
Pair it with a slate button-down and desert tan chinos, and you'll look like you might be a member of the Explorer's Club.
The best part is that it's as well-designed as it looks good. Thursday, known for bridging the gap between sleek fashion boots and functional but clunky work boots, uses a rich chrome leather. There's also a beautifully napped suede version.
What I Like
Between its antimicrobial insoles which are effectively shock absorbing and foot-conforming midsoles lined with supple glove leather, this boot gets incredibly comfortable after it's been broken in.
The traditional chukka design with a refined, but not overly sharp silhouette provides an elegant but adventurous aesthetic.
The Chrome leather is rich and vibrant and gets better with age.
What I Don't Like
I love the strong, stacked heel, but it's definitely stiff before the boot is fully broken in.
What Do Other Reviewers Say?
Reviewers love the premium build, considering this is a sub-$200 shoe. It also gets a lot of praise for how comfortable it is after the break-in period. Many report that the Scout is a great shoe for walking.
Also, this is another boot that runs large, so you'll want to order a half-size smaller than your usual number.
The Verdict
The Thursday Boots Scout is one of my favorite chukka boots on the market. Its simple chukka design is both ruggedly casual yet clean and classy,and the quality is great for the price..
If you're looking for a boot that checks the boxes for comfort, looks, and good leather, the Scout is your guy.
Best Old Money Boots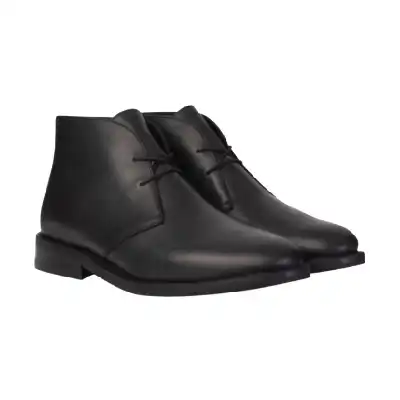 Thursday Scout Chukka
With its traditional but refined chukka design, the Thursday Boots Scout is both rugged and classy. It's handcrafted with premium materials, and has a detailed comfort system, perfect for standing and walking.
Check Best Price
If you click this link and make a purchase, we earn a commission at no additional cost to you.
Best Old Money Shoes: Allen Edmonds Shell Cordovan Park Avenue
If you're going to splurge on a shoe in your closet, splurge on a traditional dress shoe. You can wear them with 99% of your outfits, not just suits and tuxedos.
That being the case, I don't say these statements lightly: First, the Allen Edmonds Park Avenue in Shell Cordovan is elegance manifest. Second, the Oxford dress shoe will always be relevant.
Remember when I mentioned that old money aesthetic, because of its classic and enduring approach to style, often has multi-generational appeal? Well, every single man in my family has the Park Ave Oxford.
Shell cordovan is stronger than other kinds of full-grain leather, has a natural gloss to it, and is essentially crack-proof. So not only is it an obviously high-end shoe just visually, but it'll last you, well, probably forever.
Naturally, this shoe is fully bench-welted all the way around.
What I Like
With its shell cordovan upper and 360 bench-welting, this shoe is tough, water-resistant, and a true lifer.
It comes in a wide range of sizes, from 5 to 16, and ten widths.
You can customize the sole, with strong double leathers and Dainite as two of eight material and color options.
What I Don't Like
This shoe took me an entire month to break in before it became perfectly comfortable.
What Do Other Reviewers Say?
While definitely on the higher end of the price spectrum, virtually no review online claims this shoe isn't worth the money. It can definitely outlast its owner if taken care of.
Reviewers complain about the long break-in period, though they, and I, also acknowledge that that's par for the course when it comes to a shoe of this quality.
Once it's broken in, though, that custom cork insole will fully mold to your exact foot shape.
The Verdict
The Allen Edmonds Park Avenue Shell Cordovan is undoubtedly one of the best Oxford shoes on the market (My opinion? The best). If you can get past the sticker shock, this shoe is well worth the price of admission.
The shell cordovan is strong and beautiful. The re-soleable construction is protective and basically makes this shoe an instant family heirloom.
I also love the colorways. There are only four, but they're all classic yet expressive, with hues like a cooler burgundy and a warmer "chili" brown.
Allen Edmonds Park Avenue
The highly-respected Allen Edmonds Park Avenues are both classic yet distinct, thanks to their subtly unique details. Their all-around bench-welted construction and incomparably premium leather uppers give these shoes the potential to last a lifetime.
Buy Now
If you click this link and make a purchase, we earn a commission at no additional cost to you.
Honorable Mention: Beckett Simonon Beaumont
There is, in fact, a lot of overlap between the jetset and the old money set. Old money folks just aren't as obvious about it as entertainment industry nepo' babies and other upper-echelon subcultures.
When Gucci popped metal detailing onto their iconic loafers, many a cosmopolitan traveler added the Horsebit loafer to their essentials, along with the Rolex GMT and a nice tan.
Beckett Simonon's Beaumont has a more stealth wealth look about it, though. It's not as sharp as an Italian loafer, and even has a beefroll. The beefroll, however, is smaller than the kind you'd find on old American loafers, maintaining the shoe's sleekness.
And because of Beckett Simonon's small-batch, made-to-order business model, they're able to serve up a gorgeously waxed full-grain leather shoe handcrafted by master artisans.
What I Like
With its moccasin-shaped toe and beefroll, the Beaumont is less formal, and arguably less stuffy, than a traditionally sharp Italian loafer, giving it more of a stealth wealth vibe.
The full-grain leather is treated with carnauba wax and shea butter, creating dimensional color that will patinate attractively with age.

The steel shank provides stability and a weighty solidness, though the Blake stitching balances this out with flexibility and a short break-in period.

.
What I Don't Like
The made-to-order model cuts beaucoup bucks from the price tag, but tacks on a long wait period.
What Do Other Reviewers Say?
In addition to its great style and construction, reviewers also rave over the short break-in. Some even report no break-in period at all.
Also, many love the practical features. One example is the SBR rubber heel that gives traction and tempers shock. Overall, this shoe is as functional as it is easy and stylish.
The Verdict
Horsebit loafers have a touch of retro-ness about it, but one that's still relevant today. That's one of many reasons the Beckett Simonon Beaumont is a great old money aesthetic shoe. It's old-fashioned, but in an aspirational way, not a musty, dated way.
Its casual silhouette balances the chicness of the metal detailing, making this well-made shoe fancy but not obnoxious about it.
Honorable Mention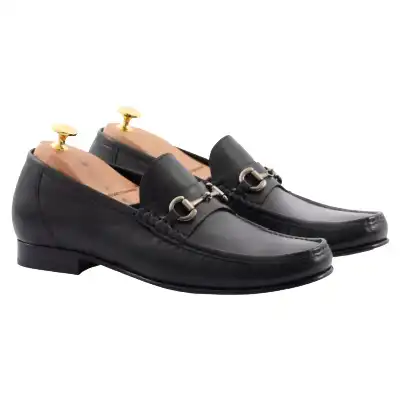 Beckett Simonon Beaumont Loafers
Classy and casual, the Beckett Simonon Beaumont is an unstuffy take on the chic horsebit loafer. It's built to be stable and comfortable, and made with handcrafted with full-grain leather.
Buy Now
If you click this link and make a purchase, we earn a commission at no additional cost to you.
The Old Money Look for Every Bank Account
When I think of an old money aesthetic, I often think of a quick and dirty comparison I once heard between Italian and French clothiers.
Italian fashion houses are often more heart, while French ones are often more head. The former loves paisley and fun cut-outs, the latter loves black and practical textures.
When it comes to the old money aesthetic, you want more of the latter.
That Grant Stone Traveler is as practical as it is versatile, as is the Low 1 sneaker. Still, neither eschew style; they're just understatedly elegant.
Our Top Pick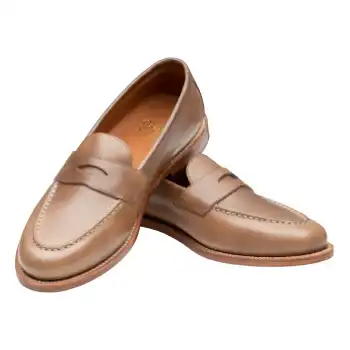 Grant Stone Traveler
At their price, the Grant Stone Travelers pleasantly surprise with hearty Goodyear-welting and topnotch suede. Their honest, no-nonsense design makes them as adaptable as they're functional.
Check Best Price
If you click this link and make a purchase, we earn a commission at no additional cost to you.
Meanwhile, the Park Avenue Shell Cordovan is a splurgy yet logical choice because of its lasting look and build.
Remember that nothing says 'old money' better than a good lifestyle shoe. As mentioned, the Thursday Scout's explorer vibe and the Beaumont's jet-setter look are right on the money when it comes to that.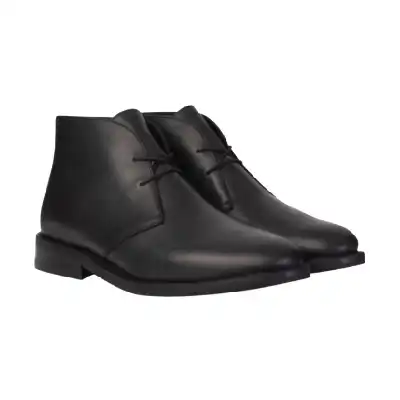 Thursday Scout Chukka
The Scout is Thursday's take on the Chukka, and boy, do they pull it off. Featuring studded rubber outsoles and a tasteful slim profile, they look fantastic in denim.
Check Best Price
If you click this link and make a purchase, we earn a commission at no additional cost to you.
Most importantly, incorporating an old money aesthetic isn't about faking a lifestyle. It's taking that inherently head-focused, practical approach to style and finding ways that it can fit in with your style.
Since shoes are as much show ponies as they are workhorses, anyone can consider old money aesthetic when it comes to footwear.
FAQs
What to wear to look old money?
Go for understated pieces that are clearly well-made. Avoid trends and find well-tailored pieces with a level of wear, like a beautifully worn cashmere sweater or a handsomely patinated leather shoe.
What are the best colors for old money?
Go for neutrals and season-appropriate shades. That means saving light pastels for the summer and winter blacks for the cold season.
What does old money style mean?
Old money style is a simple, traditional one that implies a certain leisurely and effortless lifestyle. It's elegant but understated and high-end but not flashy.