As someone who grew up in autumnless LA and spent my college years in autumn-heavy New England, I'm a big fan of fall.
It's football season, people.
However, one thing I never liked about it is having to switch up my starting line-up of shoes. See, if it went straight from summer to winter, that would be easy—sandals and light canvas sneakers to the back of the line, protective boots to the front.
So if you're like me, well what I used to be like, you rack your brain over what shoe styles from the summer stay and what go, and what new styles to put in heavy rotation.
The round-up of the best fall shoes here will make it obvious and easy for you.
3 Things to Consider When Picking a Shoe for Fall Style
1. Material and Construction
It'll be a lot cooler in the fall with a lot more weather variation, so you want to keep the light canvas and open-toed (or open-backed) resort pieces in storage.
Sure, there are those unseasonably warm days in early autumn, but a simple GAT or leather sneaker will be more comprehensive than, say, a light plimsoll. Think about it, even if it's a warmer day, you may end up trudging through wet leaves.
Of course, you'll be wearing more leather than you did in the summer.
2. Color
We'll get into specifics when it comes to leather colors later, but you'll be switching from light, breezy shades to earth tones and muted warm colors.
Brown, burgundy, and olive are great options. Orange and yellow carry on from the summer, but go for burnt orange and mustard instead of the livelier hues.
For the most part, you want to avoid extremes. So instead of, say, black shoes, go for charcoal. You can wear white leather sneakers, but it would definitely be more fall-appropriate if it had, say, warm accents on them.
3. Occasion and Dress Code
This should go without saying, but always consider the dress code. In summer, formal occasions or semi-formal occasions like weddings and cocktails often happen outside or on the beach.
So while wearing a blazer with canvas slip-ons may have been appropriate at a summer networking event on a patio, suede loafers are preferable during a fall networking event in a boardroom.
7 Best Fall Shoes for Men
Best Sneaker for Fall: Beckett Simonon Reid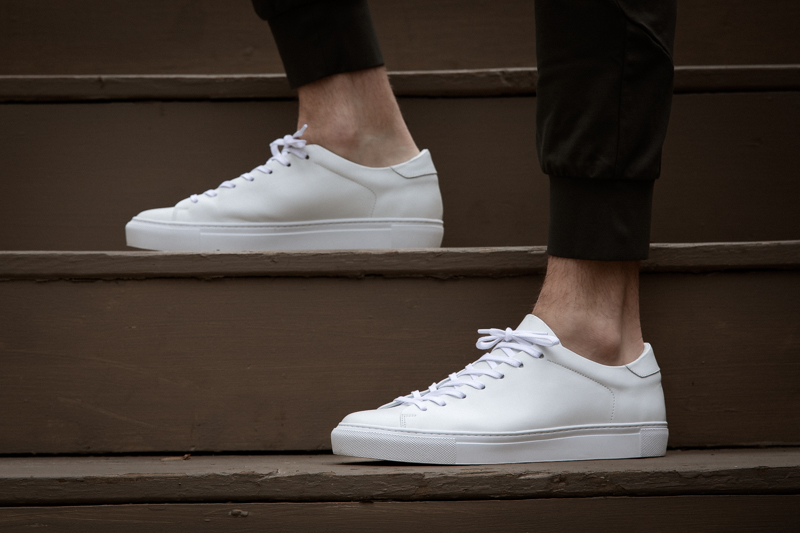 Every fall wardrobe absolutely needs a low-profile minimalist sneaker. After all, they look just as good with cuffed chinos as they do with tweed. What's great about the Reid from Beckett Simonon is that, yes, you can go for the classic white colorway which is more or less a year-rounder.
However, they also have an all-black, which can take you into winter, and a bordeaux and a navy accented variant (among others) to go with your autumn browns and cool reds.
I've raved about the Reid sneaker on several occasions, but let me remind you that Beckett Simonon cuts the middle-men and uses a made-to-order small-batch model. This is why you get designer-shoe level quality for what seems like a weirdly low price.
Some notable specs include its full-grain calf leather construction, which by the way is gold-rated for eco-consciousness by the Leather Working Group. On top of that, there's a high level of hand craftsmanship here—I'm talking hand-made shoes, strategically hand waxed to up the shoe's resistance, and looks of course.
Beckett Simonon was founded by leather pros after all, so leave it to them to find all of the tricks of the trade.
Most Versatile Boot for Fall: Thursday Captain
Like trench coats, the leather service boot has roots in pragmatism and was developed for the army. This is how you know it's a menswear essential. The Captain from Thursday Boots is a legit specimen of the category, boasting a robust and tough build, but a slick and stylish look.
By the way, this very combination is the philosophy Thursday was founded on: Filling the market gap between good-looking but impractical fashion pieces and real-deal work boots that lacked sleekness. This boot was one of their very first models.
Every single variant of the Captain is perfect for fall. You can go for ruggedly handsome suede versions, beautifully oiled smooth leather, lugged soles to stomp across the piles of wet leaves October tends to bring—heck, even the green olive variant and blue marino are cool and forest-hued enough for autumn.
And since this is Thursday, this hard-wearing shoe is made of resilient full-grain leather, and is even Goodyear welted. Even more, the steel shank and comfort system (which includes a glove leather interior and shock-absorbing insoles), efficiently balances stability and comfort.
Best Dress Shoe for Fall: Allen Edmonds Fifth Avenue
The Allen Edmonds Fifth Avenue is my absolute favorite Oxford shoe, and that's because it achieves a tough balance of being both specific yet completely classic.
Of course, the fact that Allen Edmonds is one of few surviving American heritage brands that have kept up their high standards in the face of steep competition plays a big part in this shoe's overall esteem from the public.
Design-wise, the Fifth Avenue doesn't use any new visual elements but instead just combines features from a toolbox of tried-and-trues. The cap toe has some broguing on it, which adds a touch of ornateness without taking away from its understated charm.
It also makes it a bit more fall and winter friendly, since the detailing is in line with the textured look of cool weather looks. Think tweed, cable-knit, and brushed wool.
As always, this Fifth Avenue is made of tightly-grained full-grain leather and is bench welted all the way around. The heel, cork insoles, and leather footbed are perfectly secure, for an extra tough, resoleable, and heirloom-worthy construction.
Best Fall Suede Shoe: Grant Stone Traveler
Here's why the Grant Stone Traveler is such an adaptable suede shoe.
At first glance, it looks like a traditional, and therefore effortlessly stylish, loafer. But those of you with a keen menswear eye might notice that it's not exactly an American style loafer, nor is it a European style loafer.
The saddle goes down past the collar and the shoe lip is flat. It isn't as bulky as an American loafer, especially since it lacks a beefroll, which gives it that European sleekness. However, between the suede construction and the pretty rounded edges overall, it can be worn with anything.
I've worn my Traveler with shorts, jeans, suits, heck I even wore it with a navy tuxedo once—big risk by the way. Check the dress code of the event you're going to before trying that.
It's a traditional shoe that doesn't seem to follow any particular tradition.
Grant Stone shoes are made in China, but in a far more unique way then you'd expect from that usually alarming status. Founder Randy Gilmore worked in China for decades and has real relationships with the high-quality factories out there. By working with these literal artisans, he's able to serve up a shoe that doesn't use shortcuts, is fully Goodyear-welted, and is made of a special water-resistant calfskin suede.
Best Trainers for Fall: Beckett Simonon Morgen
Remember when I mentioned that items rooted in utility, particularly those with an army origin, often become closet essentials? Enter the German Army Trainer.
Another beautiful take on a classic from Beckett Simonon, their Morgen sneaker takes the stylish, multi-sectioned GAT template and builds it with water-repellent suede and full-grain leather.
Modern-day creature comforts include cloud-like padding around the collar and Vachetta leather lining. That lining, by the way, helps the footbed customize to your foot while regulating temperature, odor, and sweat. It's a truly considerate detail to add to a casual sneaker.
Speaking of casual, here's why I think you need a GAT for fall. It's a less laid-back time than summer, but it doesn't mean you'll be wearing leather boots and loafers all season. The Morgen is made of high-class materials and features a slim toe box, giving it a level of sophistication along with its cool factor.
Runner Up Boot: R.M Williams Craftsman Boot
Because of its utilitarian style, I think the Thursday Captain is the perfect fall boot. However, the R.M. Williams Craftsman is a better choice for you minimalists who love a good Chelsea.
It's still slim and sleek as a Chelsea should be, but the chisel-square toe gives it a hint of workwear vibes. It doesn't take away from the clean look overall, but instead adds a practical-looking way about it. And fall wardrobes are all about the pragmatic aesthetic.
Is it a dressy work boot or a rugged dress boot? Spoiler alert: It's both—and highly versatile because of that.
Artisans at R.M. Williams handcraft the Craftsman right in Adelaide in Australia. It's made from one piece of Yearling leather, which is an especially fine-grained cowhide from aged cattle. It's known for being both supple and strong.
Best Loafers for Fall: Velasca Cadregatt
I've mentioned this earlier, but fall is a good time to play with a little bit of texture and detail (tweed and wool, remember?). That being the case, I love recommending a good tassel loafer for autumn wardrobes, and the Velasca Cadregatt is an exquisite specimen of the breed.
I think the Cadregatt can win over even you tassel-doubters out there, and I have two reasons why.
First of all, it's a much more refined tassel loafer. The template silhouette gets an Italian makeover, sharpening out the toe a bit, without going razor sharp on you. This makes it more cosmopolitan than the average tassel shoe, while still maintaining its easy, unintimidating wear.
Second, you can't argue with quality. Velasca uses a brushed calf leather, making the already fine grain of the surface even finer. Did I mention you can choose between a dressy leather sole or a comfortable and practical rubber one?
Best Moccasins for Fall: Minnetonka Classic Mocs
An Americana staple, the moccasin is to fall what the boat shoe is to summer. And with its Americana heritage, Minnetonka unsurprisingly serves up a topnotch model with their Classic Moc.
This suede shoe, which feels as soft as it looks by the way, has a ton of crossover appeal, pairing well with a camp-collar California-leaning look, a simple t-shirt and jeans combination, and of course, with a lightly or heavily textured fall palette as well. There are plenty of ways to style this moc.
The outsole is light and features gum-like rubber cleats. That being the case, you can wear this slip-resistant, bendy shoe inside or outside. I keep my pair by my door, as my quick-errand or grabbing-the-mail shoe.
How to Pick the Right Leather Color for Fall
As with any season, you'll want to stick with colors that, more or less, occur naturally during autumn. Generally, you want to stick to earth tones and muted versions of warm colors and colors adjacent to primaries.
Go for browns, tans, olives, golds, and even navy—as long as it's extra muted and extra cool, like the blue marino Thursday Captain that I highlighted earlier.
There are some colors that carry on from the summer into the fall, like burnt orange, that work well with shirts or accents. With leather though, you run the risk of it being too bright for the season. When in doubt, the more muted the hue of your leather, the better.
Instant Fall Classics
Now you're ready to take on the autumn-ifying of your shoe closet.
Sneakers are a roll-over from summer, and the Beckett Simonon Reid is a classic choice, while the Morgen is as refined as it is cool.
Go for Grant Stone's Traveler for a relaxed yet classy suede loafer, and Velasca's Cadregatt for a slick take on the tassel loafer. And speaking of dress shoes, Allen Edmond's Fifth Avenue is a fall go-to thanks to its subtle detailing.
You absolutely need a boot for the season too. Thursday Captain is a well-built service boot, while the R.M. Williams Craftsmen is best for you minimalist lovers.
And of course, it wouldn't be fall without a moccasin, and Minnetonka is as authentic as they come, design-wise.
FAQs