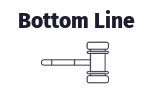 As with any dress shoes, you can color match your socks to your loafers or pants. Or, do subtle contrasts by choosing light complementary shades for your pants and socks, or matching pattern accents for either. Since loafers are high-exposure, you can also use your socks as a pop of color or texture.
Let's play a game of word association.
What do you think of when I say the words slip-on shoes?
Summer, probably? Casual, perhaps. Easy—that's another common one.
Probably not socks though. It's no wonder that loafers are often worn without them.
We sometimes forget that loafers, specifically, are originally meant to be worn with socks. Sure loafers suit most dress codes, but they're technically dress shoes.
As a society, we seem to be out of practice in the art of pairing loafers with socks.
If you don't know how to wear them together, you're not alone. And I'm here to help.
Can I Wear Socks with Loafers?
The answer is a resounding yes. Whether you're wearing penny loafers or tassel loafers, here are three ways to sport them with socks.
1. Follow the Formal Dress Shoe Rules
Again, the loafer is technically a dress shoe.
When it comes to formal or semi-formal occasions, there are two main camps out there on the answer to the question, what color should your socks be? There are those who think you should match your socks to your pants, and those who think you should match them to your shoes.
When it comes to loafers, you can actually do either depending on what you're going for. Moreover, you can apply these rules when you're wearing loafers in casual situations too.
Let's get into it.
Match Your Loafers to Your Socks
The point of matching your loafers to your socks is to create a natural extension of your shoes. It's like a boot of color.
You also get a similar effect if your socks are a darker shade of the same color as your shoes, if your pants are a lighter color than your socks. So let's say your loafers are a deep tan, your socks are a dark windsor tan, and your trousers are light gray. Here, your shoes will still be more tonally aligned with your socks.
If you want to create less of a defined separation between your shoes and your socks, this is the way to go. One example in which you'd want to do that is if you're trying to make your black loafers look dressier.
Let's say you're going to a semi-formal event. By pairing black leather loafers with black dress socks, the low-profile of the shoes aren't as in your face. This works whether you're wearing a navy, gray, or black tuxedo.
Still, you can match your loafers to your socks with casual outfits too.
For example, you can wear black loafers and black socks with gray jeans for a street style approach. With blue jeans, try pairing them with dark brown suede loafers and brown socks for an Americana vibe.
Match Your Socks to Your Pants
While matching your socks to your loafers creates an extension of the shoes, matching your socks to your pants makes them like accessories to the rest of your outfit.
There are two reasons to go this route. First, it creates a more streamlined overall aesthetic for your outfit. Second, it can really make your loafers pop.
A good example of the latter is when you're going for a monochrome, or mostly monochrome look. Perhaps you've been invited to a smart casual summer dinner by the beach. And, you don't want to risk it by going sockless. Go for beige socks to match your linen button-up and trousers, along with brown leather or suede loafers.
If said loafers are adorned with ornamentation, for example if they happen to be bit loafers, this approach can also really highlight the hardware.
Remember when I mentioned that you can wear socks in the same color as your loafers, but in a darker shade? Similarly, you can also go for a darker version of whatever color your pants are.
Wearing olive chinos and brown tassel loafers? Go for forest green socks.
Cool gray trousers and black penny loafers? A pair of charcoal socks will maintain the color continuation from your pants, tying the outfit together and isolating the shoes into their own section.
2. Go for Light Contrasts and Look for Accents
You don't actually have to choose socks that are perfectly tonal with your pants or your shoes. It's just the easiest approach.
Here are two subtler ways to team up your sock-loafer combo that take a little bit more discernment. Don't be worried though, neither are as difficult as they sound.
Match Undertones or Pattern Accents
This mostly applies to dress pants, since jeans and chinos aren't usually patterned nor do they often have a subtle secondary weave color.
A straight-forward example of this could be gray pants with undertones of blue partnered with dark navy socks and brown loafers.
If your pants have a more obvious pattern, with maybe one or two accent colors throughout, you can basically choose any of those accent tones to match your socks.
Okay, so here's an extreme example, but I promise it'll get my point across crystal clearly. Look at the classic Burberry check. The base color is tan, and it has black, white, and red lines forming the overall pattern. If you were so bold to sport pants with this check, your socks could be white, red, or black.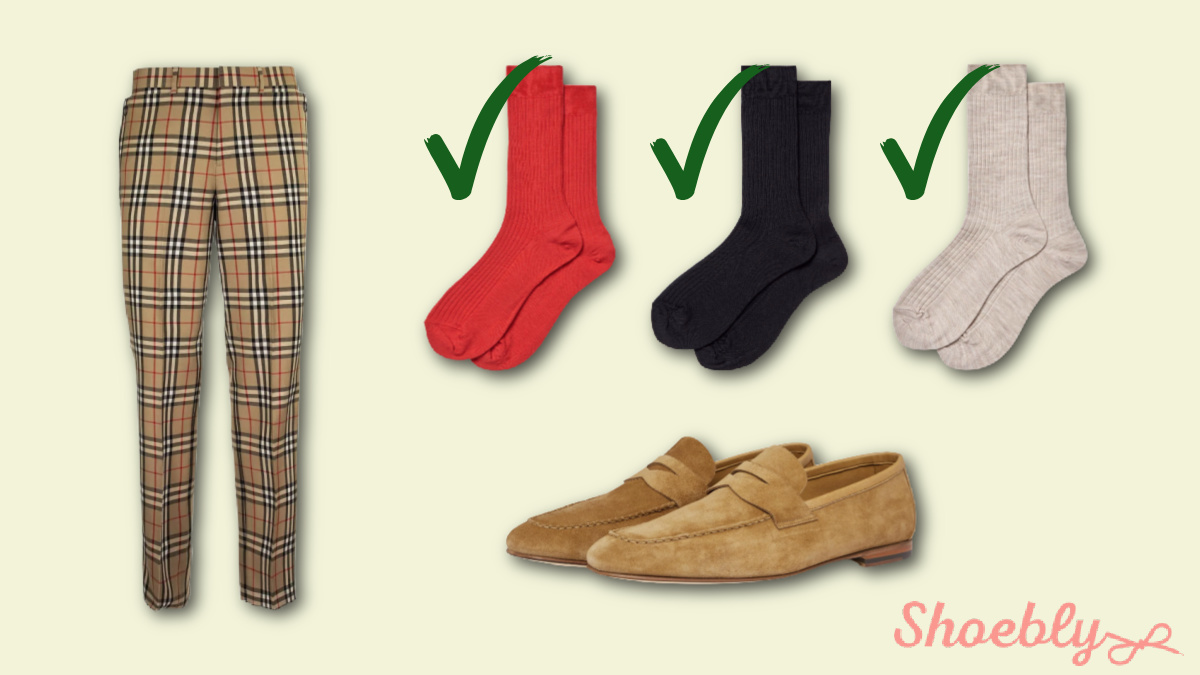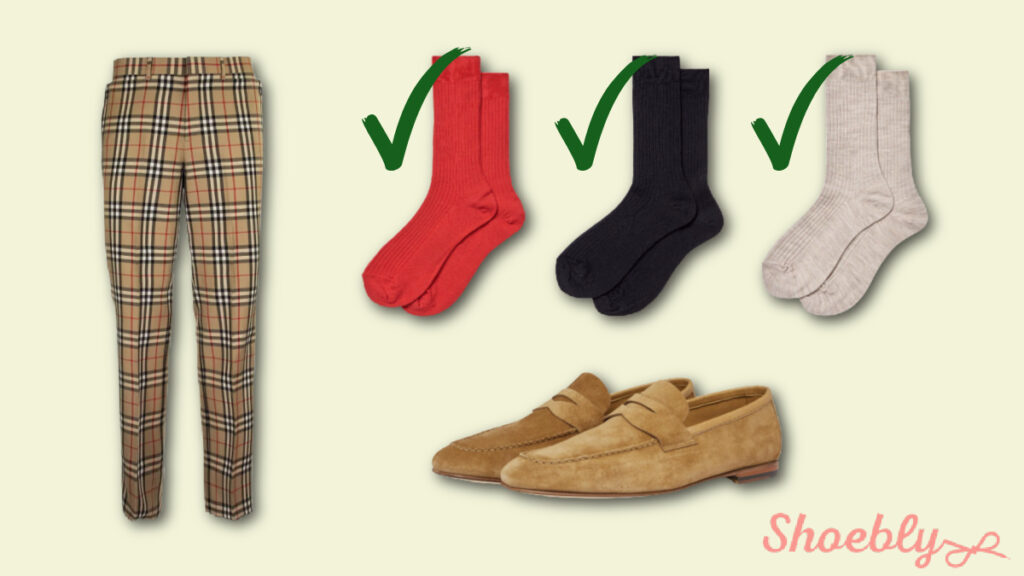 Avoid black socks if your loafers are a bold, true brown though. Those are two opposing neutrals that will compete to be the visual anchor.
And of course, this accent matching situation works the other way around too. Meaning, you can wear patterned socks, and match the base color to your pants. If you really want to pull the look together, you can match your loafers to one of the pattern's color accents.
So continuing on with the prior pattern example, if your socks were in Burberry's traditional check, you can wear them with tan pants and black loafers to match one of its accents.
You can also match the base color of your socks to your shoes, while ensuring one of the accents matches your pants.
Matching the socks' base color to your pants will have a similar (but far less bold) effect to matching single-color socks with your pants, tying the outfit together more seamlessly. Meanwhile, matching the base color to your shoes is like matching single-color socks to your shoes, making the loafers slightly less defined.
Use Subtle Contrasts
Using subtle contrasts between your pants and your socks is an approach that works with dress shoes in general. However, the low lip on loafers makes it even more effective and important.
It's a little less predictable than color-matching, but is sophisticated and natural-looking if you go for lighter shades of these colors.
Basically, contrasting colors are ones that are on the opposite side of each other on the color wheel. Here's why, with everyday fashion (particularly with your sock game), it's important to do this subtly with lighter colors.
Red and green are two contrasting colors. If you're wearing Nantucket red pants with olive socks and brown or black loafers, it's stylish, and unique but not weird.
Wearing bold primary red pants with bright true green socks? Well, that combo screams, "top me off with an ugly Christmas sweater."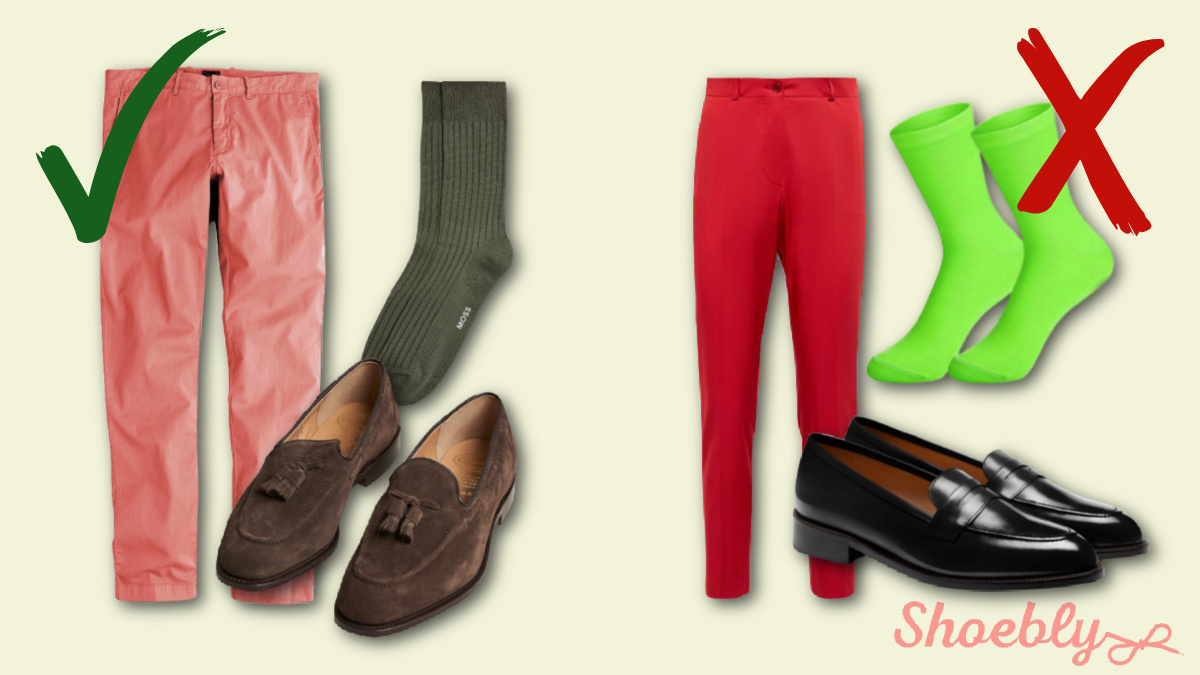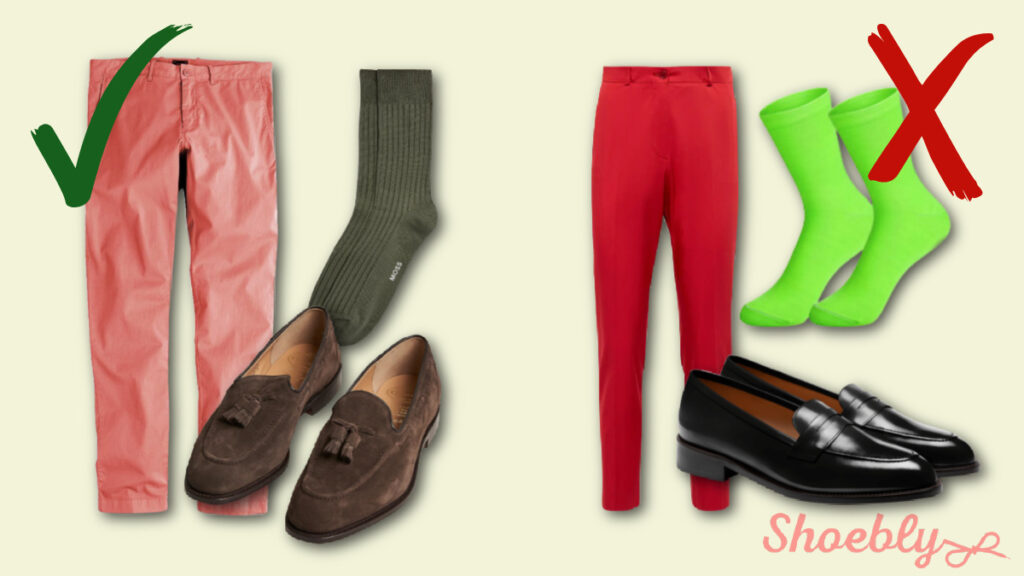 Moreover, going for light tones with subtle contrasts is an excellent choice for warmer seasons. You can experiment with more color options, as one does in the summer, but the subtlety makes it less jarring. It also has that effortless, sun-faded aesthetic.
This method isn't just for summer though. Think about a pair of tweed pants that exhibit both light oranges and cool tans. They'd look excellent with light blue socks, since orange and blue are contrasts.
Combining both the pattern matching philosophy with the subtle contrasting approach, this combination would be even more effective if those pants have blue undertones or blue incorporated into its linework.
3. A Pop of Texture or Color
Believe it or not, socks can be a bit like statement pieces when you wear them as bright accents. You can also use them to texture-match a sweater or scarf.
Remember, the fact loafers expose so much of your socks allows you to showcase them in ways you couldn't with any other shoe style. Well, except for sandals, but that's a controversy for another time.
How to Incorporate Brightly-Colored Socks
Let me start by saying that this is indeed a look. It can look highly coordinated, not totally effortless, but there are ways to do it that are more understated.
A non-intimidating approach is to make your socks the brightest thing on your body, but only by one or two levels. Try wearing a dove gray button-up with olive chinos and cobalt blue socks with loafers in a cooler tone of brown.
For a higher level of coordination, match your blue socks with another accessory on your body. Maybe a watch with a blue leather strap.
For a louder pop, you can go full monochrome, an all black outfit with black loafers for example, and bright crimson socks. Or, do this very same combo, but swap out the black shirt for one that's tonal with your socks.
Again, this curated style isn't for everyone, but it's undeniably impeccable. Naturally, cuffing your pants will make that accent color even more prominent.
If you're not comfortable doing this in casual contexts, try doing it in formal or semi-formal situations. After all, you're meant to look coordinated in those dress codes.
You're not supposed to match your tie with your pocket square, so why not match it with your socks? It'll give your look a sense of fun without fully going rogue on the dress code.
How to Incorporate Textured Socks
There are so many different kinds of textured socks that can bring some stylish topography to your outfit, and again, loafers will show them off effectively.
Marled socks aren't actually textured, but the combination of different-colored yarns on the same thread creates dimensionality, resulting in visual texture. Pair marled socks with cuffed jeans, brown tassel loafers, a shacket, and your favorite hat, and you've just pulled off a quintessential cool guy look.
Socks made with slubbed fabric offer a similar effect using one color. This fabric has knobbles and knots throughout the surface, creating real texture, and an organically contoured look.
Cable-knit socks with loafers can go a few different directions. With a simple outfit, say, the prior-mentioned one I used to contextualize the marled socks, it can give a stylishly dad-leaning cozy vibe.
For an off-duty Ivy League professor style, wear them with penny loafers, khakis, and a cable-knit turtleneck. For an on-duty look, go for a tweed jacket, dress shirt, knit-tie, and if you aren't sick of the textures yet, a cable-knit sweater vest or a cashmere sweater vest under that jacket.
If you aren't afraid of a dandier take on this transatlantic classiness, go for yellow cable-knit socks to match a mustard cable-knit turtleneck, anchored by neutral pants.
Socks and Loafers with Shorts: Youthful, but Not for Everyone
Fashion is a lot more diverse these days. Part of this has to do with the casualization and comfort-pivoting of style in general. So of course, there are more acceptable ways to dress informally than ever.
You see a lot of socks, loafers, and shorts teamed up on runways or in trendy street style, but it's difficult to pull off in an everyday way, much less a neutral way.
Wearing socks and loafers with shorts taps into more youthful fashion subcultures. Think geek-chic or neo-prep. For example, you can wear socks with loafers, paired with madras shorts and a polo.
If you're interested in trying this, the important thing to do is to stick to neutral colors to temper the peculiarity of the combination. Otherwise, just stick to no-show socks when wearing shorts with loafers.
What Type of Socks Should I Wear with Loafers?
As you've likely gathered from my three tips, you can essentially put on any kind of socks with loafers. It's just a matter of what outfit you're wearing.
If you're wearing a suit or a smart casual combination, you'll want to stick to dress socks.
If you're wearing jeans or any other kind of non-formal pants, the kind of socks you wear will often depend on the weather. If it's cooler, thicker, heavily-woven socks will make more sense.
It's really all about dress code, personal style, and weather.
3 Best Socks to Wear With Loafers
Boardroom Socks
Boardroom Socks are tailor-made for dress shoes, and their traditional build and look seem tailor-made to pair with loafers. They're made largely out of natural yarn, which results in temperature-regulating breathability and a silky look.
Plus, they come in all colors, as well as in mid-calfs, over-calfs, and now-shows. If you take a look at their Over the Calf Dress Socks, as an example, you'll notice how close-to-body and fine the construction and fit is, all the while showcasing the classic vertical lining. It's Mad Men meets the 21st century.
London Sock Company
The London Sock Company makes dandy styles accessible, and brings an almost royal sensibility to your outfit. By teaming that visual philosophy up with sensible loafers, you can showcase a sense of sartorial fun, balanced with class and functional construction.
They sell summer socks, wool socks, cashmere socks, and in colors ranging from black and navy to pink and yellow. Their line of patterned socks boasts every arrangement you'd find at a Savile Row tailor, from hounds-tooth to tweed-like styles.
And Like Boardroom, the London Sock Company has a wide range of lengths too.
Southern Scholar
Southern Scholar takes a full-on scientific approach to make their in-house fabric blend. I'm talking about a super specific amount of extra particular polyester for durability, threaded with an equally specific amount of rayon for comfort. Then there's nylon and spandex and a 200-needle-count knitting system—it's meticulous.
Fortunately, the result is a line of socks that aren't just long-lasting, but comfortable, with a perfect shape-retaining fit.
What I find extra impressive is the fact their line includes several designs, from stripes to dots, in all sorts of colors, yet they all seem to be relatively neutral and sophisticated. It's as if they hired a color theorist to ensure each sock is as versatile as it could be.
8 Ways to Pair Socks with Loafers
1. Classic Yet Distinct
This combo doesn't go off-script at all, with his elegantly smart casual broken suit. The part I love most about it is the fact that he color matches his crimson dress socks, vertically textured to go with the rest of his shoulder-season approach, with his warm maroon-brown loafers. It's more unique than black or brown without begging for attention.
2. Safari Chic Meets Resort Casual
One way to level up a casual holiday outfit is to root your look in some cosmopolitan endeavor whether that's yachting, or in this case, safari (or safari-adjacent). The hat and tropical shirt are tempered by an on-theme blazer. Meanwhile, the bit loafers cinch the class factor, as he matches his socks to his white trousers as per tradition.
3. Street Style with a Touch of Utilitarian
What makes this combo work is that everything about it is practical. Regular fits throughout for comfort, a cool bag, and of course, simple white cotton socks which are as pragmatic and incidentally good-looking as his beanie. If you pay close attention, you'll notice that those white socks are tonal with the detailing on his shirt.
4. Street Style with a Touch of Capital-F Fashion
The high-low combination, as well as the mixed-weight silhouette, is the fashion guy's official casual go-to in basically every era. The white socks and white-and-black loafers are probably the shiniest, most eye-catching element of this outfit which creates an excellent visual anchor. Despite how fashionable every single element of his combo is, the shoes are the statement.
5. Timeless and Dapper
The finest, thinnest, and almost stocking-like men's dress socks are probably the most stately of dress socks. They're even reminiscent of the colonial era, creating an almost bygone era of class.
He further leans into this with his suspenders, which are, of course, the same color as his socks. Since everything is on a strategically neutral background though, he avoids looking costumey and instead just looks like the most refined guy in the room.
6. An Amalgamation Unified by Color
What do Beefroll-clad American penny loafers, cargo pants, and a Lacoste polo have in common? Absolutely nothing. This guy manages to pull off his unique personal style by color-matching his socks to his shirt, but he doesn't match the shade so that the socks pop more. He then tempers it with neutral-colored shoes and pants—cuffed, to show off those electric socks.
7. All About Texture
This stylish gentleman levels up a tried-and-true smart casual staple, that is a crew-neck pull-over, collared shirt, and trousers, with his footwear. There's definitely a dissonance between the striped socks and almost wicker-like texturing of his shoes.
However, he creates a boot of texture with this combo, while tempering it using neutral attire, that still features high contrast (white and blue) so that the action going on with his socks and loafers aren't completely out of left field.
8. Everyman Casual
The trucker jacket and wool trouser partnership is one of the most effective high-low combinations in menswear. It speaks to both the suit guy and the work-with-your-hands guy.
By choosing loafers, instead of extra dressy Oxfords or something too casual like sneakers or work boots, he perfectly streamlines all of the pieces he's wearing. His white socks are more relaxed than dark ones, but don't take up too much real estate, peaking out just so.
A Lost Art
Truly, the easiest way to combine loafers and socks is by following the dress shoe standards. Wear dress socks and match them either to your shoes or your pants, and apply this approach to casual outfits too. It's not the only way to do it, but it's basically foolproof.
Feeling a little more advanced? Then try matching accents on patterned socks to your pants or shoes, or figuring out what the undertones of your trousers are, and coordinate your socks to that.
And of course, you can always use your socks to add color and texture to your outfit. With their lower lip, loafers are the perfect sock partner to do this.
FAQs
Is it OK to wear socks with loafers?
Yes. Loafers were originally made to be worn with socks, and there are several ways to pair socks with loafers depending on your personal style or the weather.
What type of socks do you wear with loafers?
Dress socks are the most common and easiest type of socks to wear with loafers. But, you can wear any type of socks, gym socks aside, depending on the outfit you're wearing.
Can I wear loafers without socks?
Yes, you can wear loafers without socks or no-show socks. This is the best way to do it when you're wearing loafers with shorts. With pants, this approach will give a more casual, breazy look, compared to if you wore them with socks.
Is it OK to wear white socks with loafers?
Yes. One good way to do this is by wearing white or off-white dress socks with brown loafers and a beige or cream linen suit. It's usually a warm weather look.