You know the phrase, "jack of all trades, master of none"?
When it comes to footwear, the minimal sneaker is a master of all trades.
It's like the loafer of the casual shoe world. Or perhaps the loafer is the minimal sneaker of the dress shoe world.
The range of dress codes a minimal sneaker can span is basically unmatched. Like a loafer, you can wear it with a suit on a casual Friday. Unlike a loafer, you can wear white leather sneakers with athleisure.
This is why the minimal sneaker is, without exaggeration, a necessity for all men. All that to say, check out my round-up to find the right pair, or pairs, for you.
How Did I Come Up With My List?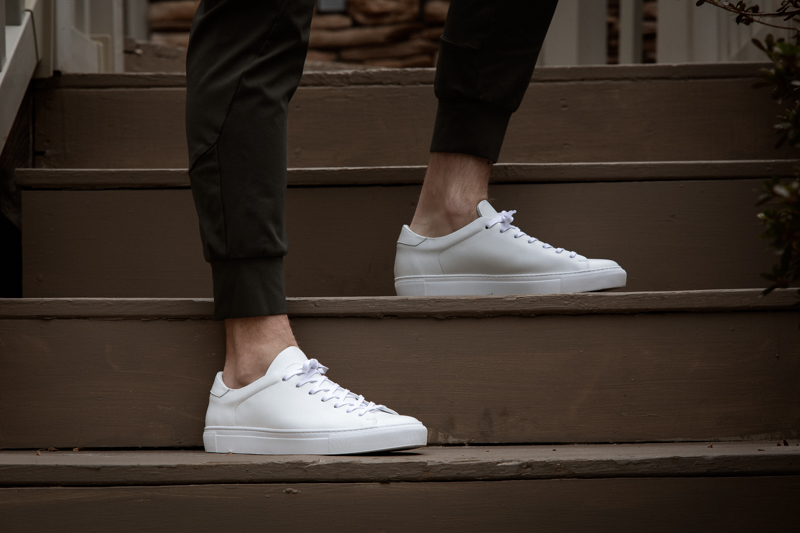 To find the best minimal sneakers, I spent an inordinate amount of time running around in our picks (and several other models that didn't make the cut), researching them, reading and watching reviews, and of course, consulting with colleagues and shoe experts on their experiences with these models.
Like I always say, not every pair of feet is made alike.
I spent a good two weeks of immediate research for this round-up, but a few years on top of that having been in the footwear review space for quite some time now. In fact, I've been wearing a lot of these models since they came out.
To help you narrow them down better, every model in the round-up is organized by best in specific categories and price-points.
7 Best Minimalist Sneakers Every Man Must Know
Best Under $100: New Republic Kurt
I don't mean to come out of the gate with superlatives, but the New Republic Kurt is the best sub-100 low-profile leather sneaker on the market. It has the same compact look as say, the Common Projects Achilles, with a slightly rounder toe—though this is splitting hairs.
Here's why this shoe is so impressive. It's cheap because it's made in China, yes. However, it's made out of Italian leather, which is sustainably sourced. It feels soft and is of much better quality than a lot of the legacy brand sneakers that have turned to Chinese manufacturing.
Basically, New Republic is incredibly savvy with their budget. No surprises there, since the founder, Mark McNairy had been in the footwear game for three decades before starting New Republic. Suffice to say, he knows his way around the industry.
When it comes to function, the Kurt gets most of its points for how comfortable it is. The lining is micro-suede and the insole is EVA foam with Tencel which adds airflow, creating a soft but supportive, and super pliant, wear right out of the box. 
The upper is a bit thin, but not flimsy, and definitely not offensive at this price point. You just have to make sure to take care of it by immediately buffing out scuffs and keeping it clean.
Best Under $150: Thursday Premiere
The Premier Low Top from Thursday Boots is unsurprisingly sturdy. After all, Thursday's mission statement is to make boots that are better looking than clunky work footwear, but stronger than fashion boots. It's good to see their foray into sneakers honors this philosophy.
First off, the rubber outsole has topnotch traction. It's a dual-density rubber, which keeps your feet comfortable even when you're moving from dirt to concrete to uneven terrain.
Inside the shoe is a shock-absorbent footbed, and over that is a Vachetta leather insole. It's the same kind of leather used in designer handbags, meaning it's soft and luxurious, but incredibly strong. Additionally, Vachetta naturally manages temperature and keeps odors at bay.
Speaking of, the uppers are made out of Nappa leather, the smooth surface of which makes the shoe look extra premium. Of course, this leather is also known for its resilience.
Each of the several colorways offer a different style, with the all-whites showcasing a classically standard look, the different shades of brown leaning slightly into an American vibe, and the gum soles looking almost GAT-like.
Best Under $200: Beckett Simonon Reid
It's astounding how well-built the Reid sneaker is, but that's the magic of Beckett Simonon's made-to-order model. This quality assurance is clear to see, right down to the very minute details.
It's made of full-grain leather, calfskin to be specific. Calfskin is extremely fine-grained, which allows it to be pliant and tough, while retaining a luxurious softness.
Going back to Beckett Simonon's business model, they cut all of the middle-men. This is how they're able to literally have artisans handcraft each shoe, each element hand-finished and hand-cut. They use a mix of carnauba wax to up the water damage resistance and shea butter to soften and condition the leather.
The brand was started in 2011 by long-time leather industry professionals, who, as you can see, took their leather know-how and connections to get creative on a budget.
Best Under $300: Koio Capri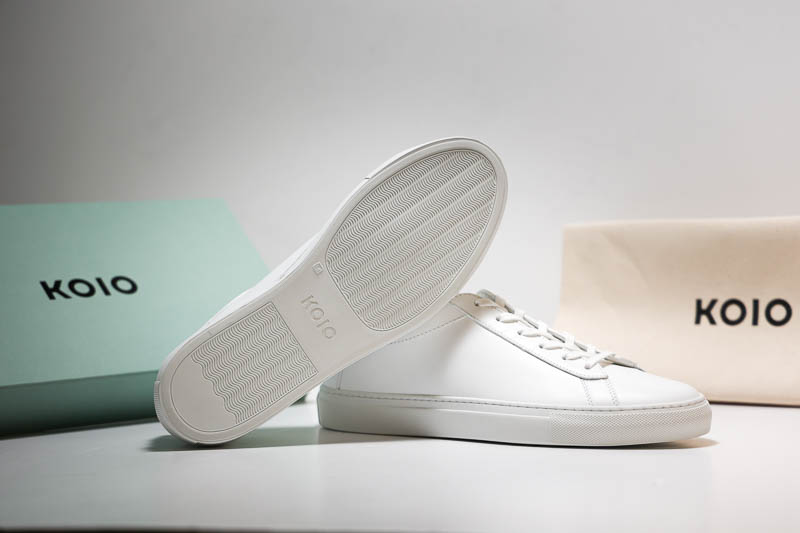 I know not everyone can afford a sneaker for just under $300. But, if your budget is just a little below the price of the Koio Capri, even a good $50 below, you might want to consider saving up just a little bit longer.
It comes at a premium, but that premium really goes a long way.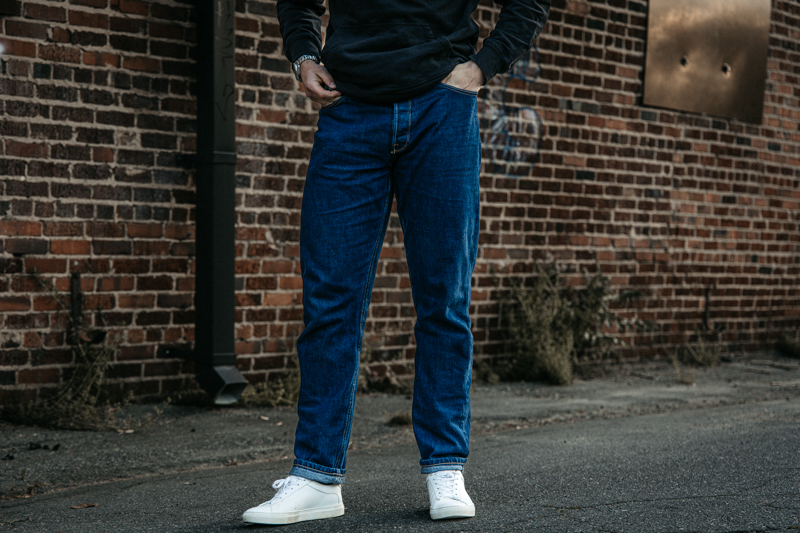 The Capri is handmade in Italy from sustainable full-grain Italian leather and lined with more Italian leather. Inside and out, there are no short-cuts when it comes to the materials. It's even finished with hand-painted edges resulting in a flawless piece of footwear.
Plus, the stitching is tight and reinforced, with a special focus on high-pressure areas, like right below the tip of the eyelet stays. Even as you bend your feet, this shoe will see minimal wrinkling and surface stress, especially if you're occasionally conditioning the surface.
Best Vegan: Cariuma OCA Low
You don't have to go the leather route when it comes to the minimalist sneaker game. The canvas Cariuma OCA Low has that youthful but classy look of a Keds plimsoll, but is far more sophisticated.
It's made out of organic cotton, zero pesticides and chemicals by the way, which makes the shoe incredibly lightweight and breathable. Between the easy-to-wear construction and breezy aesthetic, the OCA Low is a great summer shoe.
Even the sole is made out of cork, natural memory foam, and an organic plastic substitute. This team-up provides an incredibly flexible and crack-proof system.
Cariuma, founded as a casual-focused boardsports brand, is known for their comfortable shoes. I've worn a few, and the OCA Low is definitely the most comfortable.
Best Designer: Oliver Cabell Low 1
There are two reasons why the Oliver Cabell Low 1 is the chicer, slightly more fashion-forward model in the world of minimalist sneakers.
First off, it's stitched and lasted right in Marche, Italy, giving it fashion street cred. Marche is known for its tradition of fine and luxury footwear. The upper is full-grain Italian leather, the lining is Italian calfskin, the outsole is durable Italian rubber, and even the laces are Italian cotton.
This is a comprehensively-made shoe.
Second, it features some stylish details that make it distinct without taking away from its on-template minimalism. The gold Oliver Cabell stamps on the lip and back add the subtlest pop, while the slight pebbling on the eyelet stays add a touch of dimensionality and luxuriousness.
Best Luxe: Common Projects Achilles
The Common Projects Achilles is more than just a brand name shoe to show off in. I mean, it's certainly fun to do that considering they're a more understated flex and you'll get a lot of respect from sneakerheads and fashion fans.
Still, the reason they became so famous is because they're genuinely well-built.
As so many of the best shoes are, the Achilles are hand-made in Marche, Italy. If you look closely at the immaculate stitching, you'll notice that there's a lot of double-stitched sections, providing an enduring construction.
Common Projects uses a particularly premium Nappa leather, that's not only soft and firm, but even shines a little. It's part of the reason why this shoe looks undeniably high-end, even at first glance.
Famously, there's no branding on this shoe, other than a gold foil stamp on the outside heel that states the shoe's style, size, and color.
What to Look for in the Perfect White Minimalist Sneaker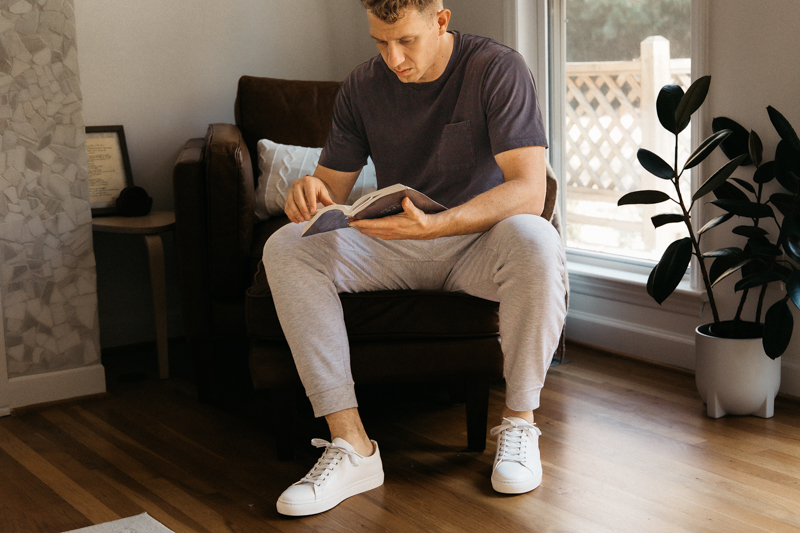 As you now know, not all minimalist sneakers are made alike. However, there are a few qualities to consider that are, for the most part, universal.
The Leather. You might think that you're saving money by settling for subpar leather. But, as this list proves, you don't need to spend a fortune for full-grain leather sneakers. They look better and they'll last longer.

Details. Despite being minimalist, some models have small distinguishing features that may or may not be deal-breakers. If you have sensitive ankles, make sure to get a pair with padded collars. If you want the cleanest look possible, go for a model made with as little sectioning and separate parts as possible.

Comfort and Fit. Some models don't have half sizes and other models have a wider size range. If you need a lot of support, make sure that the option you're going for has the right insoles or can be easily replaced.

Convenience. Need something you can wear right away? Then avoid shoes that have infamously long break-in periods. Another thing to consider is how easily the shoes will slip on and off.
One Sneaker, a Lot of Mileage
You really can wear a minimalist sneaker with almost anything. And, there really is a quality minimalist sneaker at every price point.
For under $100, the New Republic Kurt offers a sustainably sourced option made of Italian leather. Of course, for just a bit more, there's the highly functional Thursday Premier.
Both the Beckett Simonon Reid and the Koio Capri boast a high level of hand craftsmanship, as does the ever premium Common Projects Achilles.
If you want a vegan option, Cariuma's OCA Low is a comfortable canvas shoe with a relaxed aesthetic. Meanwhile, the Oliver Cabell Low 1 features subtle, distinct details that make it extra fashionable.
Again, all of these models look fairly similar, but once you take a closer look, you can easily pinpoint which pairs are more for you and which ones aren't.
FAQs