In today's era of 'anti-fashion' fashion and earnestly ironic style, can any piece of clothing or accessory really be ugly?
The answer is yes.
And so, today, we're highlighting several shoes that fit into that category.
This is partly due to our inability to look away from a trainwreck. Jokes aside, several dubbed-ugly shoe designs, from Uggs to Birkenstocks to Doc Martens, eventually made their way into the canons of style.
That's the fun of documenting hits and misses—you just never know what might become of these ugly ducklings.
There Are the Ugliest Shoes Ever Created— We're Not Kidding!
1. Nike Air DT 96
One thing the Nike Air DT 96 has going for it is an endorsement from Deion Sanders. In fact, one of the most interesting things about ugly footwear, in general, is that there's often a lot of hype around them.
This shoe has been relaunched several times since it came out in 1996. There's even a cleat version that Nike made for Kyler Murray.
I can get behind a topographical high-top sneaker. And I do love a well-placed velcro strap, a la Marty McFly's future Nike MAGs. But let's be real here. This sneaker looks quite Frankensteined.
Between that sizable strap over the middle of the lacing and the upper's sides that make the shoe look like it's promotional merch for the latest Jurassic Park or even a Freddy Kreuger flick, this shoe isn't particularly wearable. At least, not style-wise.
Questionable aesthetics aside, at least that strap does protect the lacing. Modern renditions have a more flexible mesh construction, unlike the vintage suede, as well as Nike's React Foam soles, which I think are some of the most responsive soles on the market.
It's a good gym shoe if you have the brass to be seen with them in public.
2. The Cowboy Sandal Boot
While the Nike Air DT 96 at least has function going for it, the cowboy sandal boot is as impractical as it is visually confusing. It's truly just a joke that went way too far. Literally.
In 2012, former Missouri sheriff, Scotty Franklin, cut his cowboy boots up to create a thong front, while maintaining the tall boot shaft. While at a party, a friend offered to pay him $150 for his cowboy sandal boots. Sources say he was likely inebriated. Come on. He had to be.
Franklin then started his Redneck Boot Sandals business, boosted by a 2015 viral tweet by Pee-wee Herman. This boot's origin is just one stunt after another.
Digging desperately for something positive to say about these boots, I guess we can see it as an instance of good old American entrepreneurialism.
3. Dada Sprewell Spinnahs
Hot off the MTV Cribs and MTV Pimp My Ride era, few sneakers represent the conspicuous aesthetics of the aughts than the DaDa Sprewell Spinner, or Spinnah, or Spree. It was a time when the most aspirational thing one could do with their Escalade was add 24-inch spinning rims onto its wheels.
Here's the funny thing about this shoe, though. Its blocky silhouette isn't that ridiculous, and it's definitely Hypebeast-friendly. Meanwhile, the signature tire and spinner by its heel, which continues to spin even after you've stopped moving, has gone from of-its-time to ridiculous to still ridiculous, but in a self-aware throwback kind of way.
More than anything, its association with Latrell Sprewell, the temperamental dunker who choked his coach, gives the shoe a bit of infamy.
4. LA Gear Karl Malones
I have a soft spot for the LA Gear Catapult, often nicknamed for its original spokesperson, Karl Malone. I mean, I wouldn't personally wear it, not when I could wear Air Jordans instead.
And that might be the whole issue with this shoe. It's LA Gear's answer to the Air Jordans, the latter making more long-term waves. Relatedly, the '90s saw LA Gear in third place for athletic shoe sales, behind Nike and Reebok.
See, Nike came out with their patented AIR cushioning, while Reebok created the pump. Both were actual innovations in the sneaker world. LA Gear created their own pump line, before they were forced to cease after Reebok sued them.
Supposedly, the Catapult featured a feedback system that helped you jump higher. It didn't. The '90s was a golden era of sneaker design, a time when many icons were made, and LA Gear was a bronze medal at best. Ironically, this could be part of its following.
And who knows. In the auction world, vintage sneakers are leveling up to the same realm as fine art. It may very well get a recontextualized second wind.
5. Reebok Shaq Steel
Possibly the alien cousin of the Shaq Attaq, many might argue that the design of the Reebok Shaq Steel is simply trying too hard and too loudly. And some of you like that, and that's fine. The Steel to the Attaq is like dubstep to drum and bass, or Shaq's movie career to his athletic career.
The lava-lamp-like circles on the upper, the metallic glow, and the Hexalite are certainly reminiscent of 1997. At the time, we were on a high with '60s revivalism and entering the futurism of the late '90s into the Millennium.
Still, the honeycomb-inspired cushioning was effectively supportive and comfortable, so it wasn't a useless shoe by any means.
6. Givenchy Bondage Oxford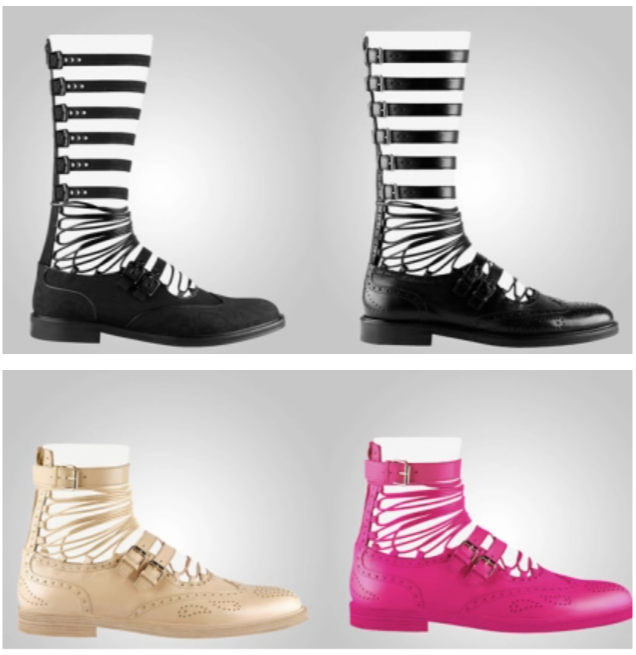 What do bondage and classic footwear have in common? Absolutely nothing. That being the case, you'd think combining the two concepts would look utterly unnatural.
And you'd be absolutely right.
Givenchy may have given the women's fashion world basically every iconic Audrey Hepburn look, but this supposedly unisex bondage oxford is a sinful exercise of excess. There are so many straps that it would take a lifetime to get in and out of, and it's fully brogued.
7. Yeezy Foam Runner
Nightmare fuel for anyone with trypophobia, the Yeezy Foam Runner is as controversial and as subversive as the rapper who designed it.
His whole deal was bridging the gap between luxury and sportswear for mass audiences—a classic concept in hip-hop long before rap was commercial enough to headline the Super Bowl. You might recall his leather jogging pants.
This Giger-esque sculpture has literally no practical use, other than being an in-your-face statement.
​​I will say that when Adidas debuted this shoe, it was $75. Then, due to its limited availability, it started to retrieve far higher prices. It's historical moments like this that helped the sneaker world become market-ready for high-end auctions next to watches and paintings.
8. Adidas x Jeremy Scott Softcell Cowboy Boot
American fashion designer Jeremy Scott is known for his irreverent tone, which often results in fun, colorful clothes and accessories. Or at least funny ones. You might call him the Jeff Koons of fashion. As such, being offended by what he does can sometimes mean you're taking it a touch too seriously.
His Softcell Cowboy Boot, however, wasn't hailed as fun or funny.
It's part of his 2012 Adidas line, which he announced would take inspiration from Americana. But, no one realized he would simply pop a cowboy-style shaft onto a traditional Adidas sneaker. It's almost like adding a big cowboy hat brim to a baseball cap.
It is actually functional, though. There's a cell cushion beneath the heel, making it usable on the court or the ranch. It even started a whole trend of cowboy basketball sneakers.
9. Golden Goose Distressed Superstar
Imagine paying several hundred dollars for dirty, scuffed-up sneakers. That's the whole concept behind the Golden Goose Distressed Superstar. And it isn't for everyone.
When it comes to style, pre-distressed leather in and of itself is nothing new. You see them on biker jackets or furniture, going for a more "rugged" look. With the Distressed Superstar, Golden Goose trailblazed the used-and-abused look for sneakers by constructing a tattered-looking design, built with high-quality materials.
They even take it to the next level with scuffs and marks, basically just making it look like you haven't cleaned your shoes in years. It's one of the more confusing aesthetics that's caught on.
And hey, if you want to go for this look but would rather not pay several hundred dollars for some Superstars, you could dirty up any old low-profile sneakers.
10. Reebok ZigTech
For the ZigTech, Reebok teamed up with '90s Nickelodeon to serve up a shoe that looks like it was drawn by a child using crayons on construction paper. Just kidding.
But doesn't it kind of look like it? Especially the ones with a Gak-green or neon orange outsole.
Quite the contrary, though, the zig-zag foam sole was designed by fully-grown shoe engineers. It's actually a real innovation because it absorbs shock starting from the heel, then returns energy throughout your entire foot. It gives you a sort of extra propulsion while tempering fatigue.
Fortunately, this sole would re-manifest in later variations in more aesthetically smooth and less jarring models, like the Zig Dynamica 2.0.
11. Adidas Kobe II
When my basement flooded during a big storm, I had to create makeshift rain boots by putting mini trash bags over my shoes and cinching them at the ankle with a rubber band. That's sort of what the Adidas Kobe II looks like.
When it debuted, there were headlines like "The Ugliest Sneakers Kobe Bryant Ever Wore" and coverage wondering whether it was a shoe or a toaster. Personally, I think the silver Kobe II looks more like a futuristic textile iron.
In fact, Kobe Bryant even opted to wear the original Kobe I over the Kobe II during the Lakers' finals the season the Kobe II came out. So quite literally, this shoe doesn't even have the face a father would love.
12. Nike Air Force 1 'Invisible Woman'
In 2005, Jessica Alba went from superhero TV girl to superhero movie woman when she got cast as the Invisible Woman for that year's Fantastic Four film. In 2006, Nike released a shoe based on each of the four main heroes.
Unfortunately, opinions are mixed on whether or not the Nike Air Force 1, the Invisible Woman, is as nice-looking as her namesake. It takes the Air Force 1 template, and builds the front vamp with see-through plastic, fully exposing your toe area.
Nike had already been experimenting with see-through Air Force 1s leading up to this release. But regardless of your thoughts on this shoe, it's hard to dissociate the general look with late-'90s/Millenium-era tween girl fashion; I'm talking jelly sandals and colorful see-through plastic backpacks.
13. Vibram Fivefingers
It seems that the year 2006 could've been rebranded as the "free the toes" era. In addition to the prior-mentioned Invisible Woman shoe, this was also when the infamous Vibram Fivefingers debuted.
Design student Robert Fliri wanted to create a sneaker-like shoe that allows you to move around more naturally in the outdoors. The solution was a piece of footwear with separate compartments for each toe, resulting in a glove-like design.
Apparently, this shoe can help reduce injuries and enhance your running. If this is the case, then good for the Vibram Fivefingers. Still, the splayed-toe look isn't everyone's cup of tea.
14. Yeezy 450 Cloud
In 2021, Adidas and Kanye West were at it again with another sci-fi shoe design straight out of the Alien franchise. In fact, the finger-like sole structure climbing up the knit upper and its all-white palette looks like the shoe version of The Engineers from Prometheus.
It's this uneasy combination of organic forms and unfamiliar structures that makes this shoe so disturbing to some. I've definitely heard critics refer to it as being "gross."
It's a more practical shoe than the Yeezy Foam Runner, though, since the elastic cuff and the integrated lacing secures the fit, while that incredibly weird-looking outsole is equipped with a grippy bottom.
15. Nike Air Footscape Woven Motion "Animal Print"
From the stitched-up peek-a-boo moment climbing up the side into the collar to the choice of leopard or zebra print, the Nike Air Footscape Woven Motion should definitely be on The Flintstones — except the characters in that world don't wear shoes.
That being the case, is there anything this wild-looking shoe should be on? I certainly wouldn't know what to pair it with and where to take it. Perhaps a theme party.
Even the edgier voices in the high-fashion community agree that you have to basically be Idris Elba even to begin trying to pull this shoe off.
16. Starbury 1
The thing about the Starbury 1 is that it was born of honorable intentions. It was part of a shoe line started by NBA star Stephon Marbury, who wanted to offer quality shoes that are shockingly affordable.
It was a personal endeavor for Marbury who, growing up in poverty in Brooklyn, recalls not being able to afford Air Jordans. The Starbury 1 retailed at $15.
Though the quality-for-price was there, it seemed they skimped out on the design factor. The Starbury 1 is exceedingly elementary-looking, with a primitive silhouette, not unlike the Kobe IIs.
All that to say, I fully appreciate what Marbury has done with his shoe line.
17. Adidas x Rick Owens Superstar Ankle Boot
Rick Owens designs tend to have a sort of deconstructed, simplified rock star aesthetic about them. That being the case, he's a good designer to turn to when you want to see a stereotypically confusing fashion-with-a-capital-F look.
The Adidas x Rick Owens Superstar Ankle Boot is a quintessential I-don't-get-it shoe. The simple silhouette is great and is an on-brand shape for Owens, but the entire look is leather boot meets sneaker meets duck boot.
It's what they refer to in the fashion industry, as "a choice."
A Final Take on the World's Ugliest Shoes
At the end of the day, the word ugly really is subjective. If you love any of the shoes in this round-up, you're definitely not alone.
Truly, it's fun to take a look at controversial styles and look into the contexts and thought processes behind the choices made there.
Why anyone would ever want an open-toed cowboy boot, I'll never know. But it seems there are many who do.