When it comes to style, there's nothing I love more than a good high-low combination.
A henley with a blazer is handsome and comfortable, while a broken suit feels like old world class.
My favorite high-low partnership is wearing sneakers with a suit. Suffice to say, I'm glad this combo has gone in and out of style enough that it's now a classic smart casual approach.
Still, there's an innate danger in mixing dress codes.
Choosing the right shoes will minimize the potential for fashion faux pas when it comes to wearing sneakers with a suit. So, start with the sneakers; the rest should follow.
How Did I Come Up With My List?
I wear sneakers with my suit whenever I get the chance. And since I have to wear a traditional suit and tie to work every day, this often just means for after-work gatherings or the occasional casual Friday.
That being the case, I've worn sneakers with suits for at least a decade.
That legwork aside, I spent weeks trying on different sneakers with different suits, seeing what worked and what didn't. As always, I also spoke to colleagues and fashion experts regarding their experiences and opinions since we all have different styles—and different feet.
Relatedly, I scoured the internet for reviews to take into account, filling any gaps in my own research.
6 Sneakers to Wear With a Suit
Best Overall: Oliver Cabell Low 1
Oliver Cabell's Low 1's classy and universal aesthetic is rooted in two important characteristics.
First, it's a straightforward and classic design, with a low profile and graceful silhouette. The subtle branding gives it that understated style that pairs naturally with a suit.
Though I'm focusing on the standard Triple White version, which is the most adaptable, several non-distressed colorways are equally as elegant.
The monochromatic burgundy version would go well with an olive suit, while the off-white version (just like the Triple White but with a tan outsole) would partner beautifully with a tan linen suit in the summer.
I've worn the white and navy-accented variation, which OC calls Ocean, with an all-navy suit and white t-shirt for a casual Friday look.
The second important characteristic is that the Low 1 is authentically premium, and it shows. It's handcrafted in Marche, Italy, using calfskin leather, which looks as supple as it feels. Calfskin also has high strength for weight, so you can definitely kick around in this shoe.
Even the lining is calfskin, which isn't often the case at this price point.
Best Gum Sole Sneaker: Thursday Boots Legacy
I've always loved the idea of a smart casual suit combination paired up with some GAT sneakers. There's just something about a casual heritage design mixed with a formal heritage look that has so much cool factor.
However, even in the era of fashion casualization, most dress codes wouldn't allow for this. Enter the Legacy Sneaker by Thursday Boots.
The gum sole is reminiscent of the GAT design, but the white leather upper is less casual-looking. This allows you to style this shoe essentially like a monochromatic white sneaker.
On top of that, it's as functional as it's comfortable, which is Thursday's MO.
The traction from the dual-density rubber outsole makes this shoe almost as lithe and flexible as a dedicated athletic shoe.
In my personal experience, it makes walking on uneven and varying terrain so much less stressful on my feet. I've comfortably stomped around Manhattan concrete sidewalks to Central Park grass and dirt to lobby marble, all in one long day, in this shoe.
Inside, the shock-absorbent footbed tempers impact, while the Vachetta leather insole cushions while providing support.
Best Slip On: Allen Edmonds Randolph Slip-on
One big reason to pair your suit with sneakers is that it adds effortless refinement to your look. The Randolph Slip-On from Allen Edmonds perfectly embodies this.
It has a similar silhouette to the traditional Randolph loafer, but the added sporty outsole and the three-tone elastic band in place of the saddle (my favorite design feature), transform the look from boardroom and ballroom to Saint Tropez resort-chic.
You can definitely wear this shoe with a full suit, with or without a tie. You could also wear it with a blazer and linen shorts, or a dress shirt and suit pants.
Best Minimalist: Beckett Simonon Reid
Though the Beckett Simonon Reid looks a lot like the Triple White Low 1, you'll notice just how much less detail the Reid has. It's almost completely without topography, giving it a cleaner, more minimalist look.
It doesn't have a padded collar, there's zero branding, and there aren't even eyelet stays, making it look borderline deconstructed.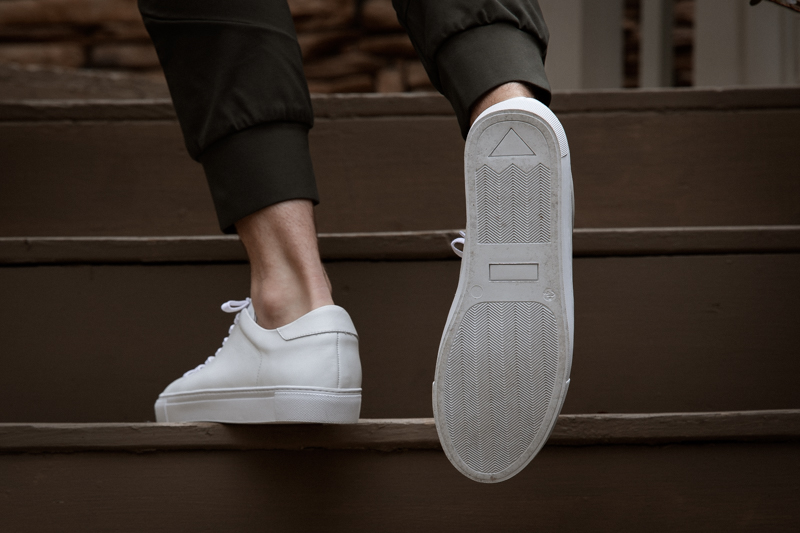 This classically sterile look is perfect for suits.
And since this is Beckett Simonon, the Reid is made out of full-grain leather calfskin, making it resilient and undeniably handsome. Their made-to-order business model gives them the space to ensure everything is hand-cut and hand-finished.
Best High Top: Thursday Boots Premier High Top
You know what's more dynamic-looking than socks or a bare ankle peeking out from beneath your suit trouser? More shoe.
The boot-like collar of the Premier High Top from Thursday Boots is a distinguished and striking option to wear with your suit. However, because of its minimal design, which allows the plush Nappa leather to take center stage, it isn't at all inappropriate.
As always, Thursday provides features that make this sneaker incredibly comfortable to walk and stand in.
Basically, the Premier High Top feels as smooth and sturdy as it looks. The leather they use is the same that's often used for the interiors of luxury cars. This means it smells great, feels great, and will wear in long before it wears out.
By the way, there's also a Premier Low Top, which we reviewed.
Best Monk Strap Sneaker: Allen Edmonds Mora Monk Strap Sneaker
The Mora Monk Strap Sneaker from Allen Edmonds has such a dressy upper that it almost looks like a contemporary take on a formal dress shoe. This double-strapped, vividly-hued, and luxuriously-oiled sneaker is a great choice if you need something formal with sneaker-level comfort.
It's probably the only monk strap shoe that would look good with a pair of shorts. Just wear this guy with white chino shorts, a linen blazer, and a dress shirt on your next vacation. You might get mistaken for James Bond, off duty.
Also, the practical features are exceptional. This shoe is comfortable and supportive thanks to Allen Edmonds' in-house Fly Form insole. Working with this is the rubber cup sole, which is flexible, durable, and super lightweight.
Wearing Suits With Sneakers: How to Get it Right
When Would You Wear Sneakers With a Suit?
You could wear sneakers with a suit during a casual Friday or an after-work event. Other instances include weddings with casual or smart casual dress codes or when you're out and about. Perhaps you're headed to a party, bar, or lounge with a flexible cocktail dress code.
What Types of Suit Can You Wear With Sneakers?
You can wear any suit with sneakers. It's more about choosing the right shoes to maximize the overall look. For example, if you're wearing a patterned, autumnal tweed suit, maybe a boot-like leather high-top like the Thursday Premier will match the seasonal aesthetic. A low-profile, light-colored sneaker is best if you're wearing a flowy linen suit.
What Types of Sneakers Go Well With a Suit?
Leather or suede sneakers are the most effective options because they bridge the gap between traditional dress shoes and athletic trainers. Avoid sport-specific sneakers, like basketball shoes or soccer cleats.
Quick Style Tips for Wearing Sneakers With a Suit
As I mentioned prior, consider the season. You wouldn't wear a heavily woven suit with a dark leather high-top in the middle of August, just as you wouldn't wear a pastel spring suit while going sockless in low-profile leather in February.
Relatedly, think about the color combinations. The Oliver Cabel Low 1 is our best overall because the Triple White version can go with any color shirt, suit, or tie. Don't wear stark brown sneakers with a full-black suit.
Choose sneakers that complement or temper them if you're going for livelier suit colors. An olive suit would look great with honey-brown sneakers or just black or white ones.
And finally, consider the overall balance of the look. Pairing sneakers with a suit is inherently smart casual. Maybe you ditch the tie and go for a more casual slip-on sneaker. You can also keep the tie, opt for a dressier sneaker, and go for a broken suit instead of a tonal one.
The Ultimate High-Low Look
The Oliver Cabel Low 1 can be worn with pretty much any type of suit in its white variation. It comes in various colorways that provide a range of sneaker-suit combination possibilities. This and its classic styling and premium construction make it our best overall pick.
However, the gum soles on the Thursday Boots Legacy give it a cool factor, the way the Allen Edmonds Randolph Slip-On has that cosmopolitan factor.
If you want something super minimal, go for the Beckett Simonon Reid. On the other side of the spectrum, the Thursday Boots Premier is our pick for the best high-top to wear with a suit.
I think the Mora Monk Strap Sneaker from Allen Edmonds is easily one of the most unique sneakers on the market, at least when it comes to sneakers you can wear with suits while looking relatively classic.
FAQs