Here's a hot take from me to you.
When it comes to essential shoes every guy should own, I think monk straps are the easiest to style.
You can wear them like traditional oxfords, but they're a bit more interesting. You can also wear them like bit loafers, but they often have more formal dress capabilities. Since monk strap shoes also have a ruggedness about them, you can even style them like boots.
Truly, few leather dress shoes can be worn with both a formal suit and a biker jacket.
And you can do both, and everything in between, with the five models in this round-up.
How Did I Come Up With My List?
I'm in an industry that still requires me to wear a complete suit to the office every single day. Casual Fridays only exist in the summer, and all that means in my company is that I can get away with not wearing a tie.
That being the case, I've worn my fair share of monk strap shoes. Since I can wear them with a tie or a T-shirt, they're the perfect transitional shoes when going from the office to the pub. I can honestly say I've worn close to a hundred models in my life.
As far as immediate research goes, I dug into those years of experience, consulted shoe and fashion experts, and spoke to colleagues regarding their experiences with different models. As always, I did a deep dive into plenty of reviews as well.
Let's just say that far more shoes got cut than made the cut.
5 Best Men's Monk Strap Shoes in 2023
Best Overall: Beckett Simonon Leonard
We've highlighted the Hoyt before—Beckett Simonon's double monk strap shoe. The Leonard is their single strap design, and it flaunts other slick details that lean into this more adaptable and minimal look.
The upper is elegantly clean, with an uncapped toe that's slightly rounded, which tempers the slim silhouette. It isn't so formal that you can't wear it with jeans, but equally, you can wear the black version with a tuxedo.
Beneath the buckled strap is another piece of leather, which is more exposed since the single-strap design only covers half of the piece beneath it. It's almost asymmetrical, like the zipper of a moto jacket. This ensures that though the uppers have little topography, it's not a boring design by any means.
Even more, this shoe is built similarly to those double its price. The catch is that you might have to pay with time, instead of money.
Beckett Simonon uses a small-batch, made-to-order model. It allows them to use high-end leather and sturdy handcrafting without the extra costs. The founders know a thing or two about good materials since they were all in the leather goods industry before founding Beckett Simonon.
Relatedly, they only use leather from Gold-Rated tanneries that the Leather Working Group deems environmentally sound.
The Leonard boasts a lush, full-grain calfskin leather upper, full leather lining, and a leather outsole. The heel has a rubber cap for extra grip and support, while the Blake stitching perfectly balances comfort and long-lasting, resoleable integrity.
These shoes have a lot of structure, support, and style, especially for their price.
What I Like
An exceptional value proposition, the Beckett Simonon Leonard is made from full-grain calfskin leather and has a high level of hand-craftsmanship.
The one-strap style and slim, European-looking silhouette allow you to wear this shoe at the most formal occasions without compromising its ability to pair perfectly with tapered jeans.
Details like the Blake stitching and the rubber heel cap display mindfulness towards comfort and function.
What I Don't Like
My main gripe with Beckett Simonon is how long it takes for them to deliver your shoe. The made-to-order model is a blessing when it comes to the shoe's price, but you'll definitely be waiting a good month from order to arrival.
What Do Other Reviewers Say?
Reviewers praise the leather quality and construction for the price, many claiming the Leonard is their first nice shoe. Beckett Simonon's business model is clearly democratizing high-end footwear.
Several reviewers also highlight the color options. All five of them are neutral enough to be worn with anything, yet shades like Bordeaux and oak offer a level of expressiveness that doesn't weaken its versatility.
The Verdict
With its hand-crafted construction, calfskin leather, and timeless, adaptable styling, the Beckett Simonon Leonard punches far above its price point. Of course, part of this has to do with the fact it can easily be incorporated into any personal style.
Thanks to the brand's small-batch, made-to-order business model, this shoe is made at a level similar to shoes several times its price.
Overall, it's a strong and stylish model, exactly what you want from a monk strap.
Best Overall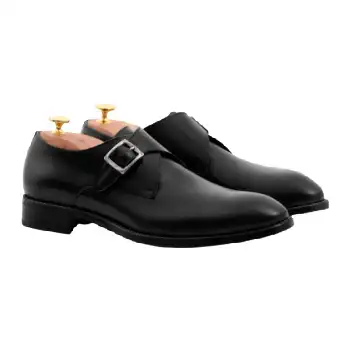 Beckett Simonon Leonard
The Leonards have a classy, minimal look thanks to their single-strap, clean-toe design. And since Beckett Simonon uses a small-batch system, these full-grain leather, handcrafted shoes have the quality of footwear double their price.
Check Best Price
If you click this link and make a purchase, we earn a commission at no additional cost to you.
Best on a Budget: Johnston & Murphy McClain
The McClain Monk Strap from Johnston & Murphy is a standard shoe in the best way possible. It doesn't go off template or try to riff on a classic in a creative way, and it comes in two colors: Brown and black.
Its rounded buckle and tapered yet not overly sharp silhouette makes it an undeniably handsome shoe.
All that to say, it's easy to wear and easy to style, making it a stress-free addition to your wardrobe. Wear it with a suit or a leather jacket—either works.
For its price, the full-grain leather construction is pretty impressive. The vivid burnishing makes it even more impressive.
Also, the sheepskin lining is a considerate detail since it's naturally antibacterial and helps keep odors at bay.
What I Like
The full-grain leather upper is beautifully burnished, making the shoe look much more expensive than it is.
It's immediately flexible right out of the box and requires no break-in.
The sheepskin lining adds a freshness factor even when you've been wearing the shoe for long periods of time.
What I Don't Like
The insole is pretty flimsy, but replaceable at least.
This shoe is definitely cement-constructed which means it's not the most durable piece of footwear, but this doesn't offend me considering it's made of full-grain leather. Just don't be too rough with this shoe, and try not to get it wet.
What Do Other Reviewers Say?
Several reviewers call this shoe "a neat trick" in that you'll pay the price of a cheap dress shoe for it, but no one would ever know.
Sure, the affordable concrete construction is a go-to for footwear at this price point, but the attractive full-grain leather is all anyone can actually see.
The Verdict
The Johnston & Murphy McClain is a budget shoe that doesn't look like a budget shoe. Not only is it made of full-grain leather, but it's impeccably buffed and polished.
This shoe is also good for those who are on their feet all day, and for those who only occasionally wear dress shoes. The concrete construction may not be super durable, but it's immediately comfortable, stays comfortable, and won't give out on you if you're only wearing it a few times a year.
Johnston & Murphy McClain
The Johnston & Murphy McClains are a classic monk strap shoe made with well-oiled full-grain leather, which is rare at this price point. Comfortable right out of the box, these shoes are an easy and stress-free purchase.
Check Best Price
If you click this link and make a purchase, we earn a commission at no additional cost to you.
Great Value: Thursday Boots Saint
With its tapered shape and cap toe, the Thursday Saint is a double-buckle style shoe that leans into the casual side without taking away its ability to be worn with dress trousers.
There are a lot more embellishments compared to the Allen Edmonds Leonard, which is why you can even wear this shoe with jeans and a workwear-style utility shirt.
Each colorway is slightly different, the black version featuring a more rounded toe, while the other two ultimately square off.
More important to note is that the attractively textured and burnished distressed gray variant pushes even harder into the casual side of things. Still, I can see it in a cowboy formal situation. A wedding in Texas, perhaps?
Don't wear it with a traditional black tuxedo, though.
Thursday started out building boots that filled the gap between one-and-done fashion boots and sturdy but burdensome work boots. That being the case, they focus on craft and comfort.
This is made completely evident with the Saint. The full-grain leather is outrageously good for the price, lush and strong, while the shoes overall are Goodyear-welted.
Despite this muscular build, a combination of its cork midsole, which helps the interior conform to your foot, and the shock-absorbing insole make this shoe pretty comfortable out of the box.
What I Like
While the three variations each have distinct details, even outside of their respective leather color. They're each embellished enough without overpowering the sleek shape, for a stylishly balanced look.
The Goodyear welted construction ensures this shoe can be resoled as long as the leather lasts, and is highly impressive at this price.
This shoe is decently comfortable out of the box, especially for a dress shoe, and continues to get more comfortable as you wear it.
What I Don't Like
The bottoms of the outsole aren't particularly grippy at first. This isn't that rare of a quality for dress shoes, but the sturdy boot-like build of the Saint made me think the outsole would have a bit more traction.
What Do Other Reviewers Say?
A lot of happy reviewers are professionals who have to dress relatively formally but are also on their feet a lot. A good example is those who work in suit-and-tie corporations but are perhaps in the operations department.
This is because the Saint is wildly comfortable while also maintaining a fairly dressed-up look.
Thursday instructs buyers to order half a size smaller, so keep that in mind. I saw comments from a few reviewers who didn't catch this and had to exchange their initial order.
The Verdict
With its combination of Goodyear-welting and sophisticated comfort technology, the Thursday Boot Saint is both durably sturdy but also easy to walk around in.
Even more, its double-strap design and visually intriguing colorways allow you to have a bit of fun with fashion.
Great Value
Thursday Saint
The double-strap Thursday Boots Saints are a more detailed monk strap, perfect to level up casual outfits. Their sleek full-grain leather uppers ensure you can still wear them with suits, though, while a partnership of comfort technologies makes them easy to wear right out of the box.
Check Best Price
If you click this link and make a purchase, we earn a commission at no additional cost to you.
Luxury Pick: Allen Edmonds Plymouth
If you want a real investment piece, the Plymouth single monk strap dress shoe checks that box—both in looks and build. The less-is-more approach will never go out of style, while the refined silhouette comes from the clever architecture of the toe.
Allen Edmonds' 201 last has a bigger forefoot, so there's more room on the sides and top of the area around the balls of your feet. This gives extra comfort and breathability. However, the toe profile is still thinly sculpted so the extra room doesn't temper the formality of the design.
The Plymouth is a design that's built to endure. It features European calfskin, which is known for its tight, smooth grain, and top-notch strength for weight. And, of course, it's 360 Goodyear welted, which means it's as stable as it's dapper.
What I Like
The calfskin leather is clearly premium with a supple hand feel, a sweet yet tobacco-like smell, and a beautifully oiled surface that you can even see on the surface of the stark black version.
Thanks to Allen Edmonds' 201 last, there's extra room for high insteps while also providing a chiseled and chic toe profile.
Allen Edmonds is a highly respected American heritage brand, giving these shoes an air of reverence—basically, they're a nice flex.
What I Don't Like
There's a long break-in period here, which is common for a full-grain, fully-welted shoe, but not any less uncomfortable.
What Do Other Reviewers Say?
The most remarkable commonly reported quality about Allen Edmonds shoes is that many claim they've owned pairs for decades. These reviews truly cinch this shoe's lifer status.
Also, those with smaller feet are grateful that Allen Edmonds offers a wide range of shoe sizes, with the Leonard available in as small as a 6.5.
The Verdict
Straight from a true American heritage brand, the Allen Edmonds Plymouth will last forever if you take care of it. The European calfskin is exceptionally smooth and strong, while the all-around welting provides a high level of water resistance and, more importantly, resoleability.
If you can afford the price, you may never have to buy another monk strap shoe for a long time.
Luxury Pick
Allen Edmonds Plymouth
A true investment model, the Allen Edmonds Plymouths are classically minimal. This allows the fine yet strong calfskin leather, which is exquisitely buttery, to take center stage. They're Goodyear-welted all the way around and come from a truly esteemed shoemaker.
Buy Now at Amazon
If you click this link and make a purchase, we earn a commission at no additional cost to you.
Best Boot: Ace Marks James
Ace Marks is a genuine luxury brand that uses some of the best materials available. The James shoe is no different, boasting full-grain calf leather that's been hand-selected for its smoothness and strength.
This means that, starting from the fundamental raw materials, this shoe has a meticulously hand-inspected quality assurance factor. Of course, it's dyed and burnished by hand as well.
The James intriguingly combines rugged boot-like elements with European-style dress shoe elements. The multi-piece upper and the double-strap emerging from an initial single piece look rugged, serving up loads of details in the form of buckles and stitching. Yet, the shape is slim, and the collar is clean and straight.
It's not a balance of two different aesthetics, as much as it's simultaneously both, allowing you to style this shoe in a wide range of outfits. It's a unique yet versatile look, to say the least.
What I Like
​​The slim Italian silhouette, hardware, and multi-piece construction beautifully balance rugged and sleek aesthetics.
Though the Italian calfskin is sturdy, the blake flex outsole provides flexible and lightweight wear.
Ace Marks' Buy Back program allows you to send back your old shoes for a $50 credit towards new ones, while donating the returned pair to men in need.
What I Don't Like
It's a bit narrow. Looks-wise, it adds to the chic aesthetic. Fit-wise, this shoe might be a bit tight for you wide-footed gents.
What Do Other Reviewers Say?
An internet favorite, reviewers report wearing this boot in for casual fall occasions like an autumn apple-picking trip, and in situations as dressed up as a board meeting.
As I mentioned, there are some complaints about the narrowness. Still, even many who complain about this on the Ace Marks website give the shoe a five-star rating regardless. The sleek look must be worth the slight discomfort.
The Verdict
If you're looking for a truly adaptable and distinguished double monk-strap shoe, the Ace Marks James boot is for you.
Moreover, it's a premium piece of footwear made completely of specifically-picked full-grain leather, handcrafted at every component.
Best Boot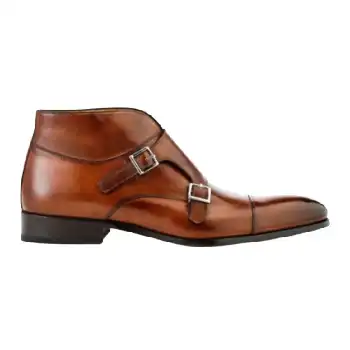 Ace Marks James
The Ace Marks James are undeniably premium boots, hand-made in Italy using 100% full-grain calfskin. Combining the best of both worlds, they're as tough-looking as boots but as classy as dress shoes.
Check Best Price
If you click this link and make a purchase, we earn a commission at no additional cost to you.
3 Key Things to Consider When Choosing a Monk Strap Shoe
Single or Double (Or Triple)?
Remember that monk strap shoes come with either one strap or two. They'll sometimes have more, though those aren't as common.
Often, a one-strap looks more minimal and formal than a double-strap, while anything more than a double is pushing casual—or statement. Of course, other details play a part in the overall look (buckle style and stitching, for example).
However, when it comes to monk strap shoes, figuring out how minimal or detailed you want your shoes to be starts with the strap style, since it's the main visual element.
What Occasions Are You Wearing It For?
If you're looking for an everyday casual shoe, you can have a bit more fun with hardware styles and how many straps there are. Heck, you can even go for an exotic leather monk strap boot if you work on a ranch.
If you want a shoe that you can wear to a formal office as well as casual after-work activities, a simple one-strap or double-strap with minimal details is the way to go. And don't forget to consider the comfort features if you want to stomp around in these shoes.
What Color Should You Go For?
This is inextricably related to the first two considerations. And while the importance of picking the right color isn't specific to monk strap shoes, the fact they have hardware on them can really create a different vibe based on the color.
For example, choosing between an oxford shoe in a cool brown versus a warm brown isn't that consequential as long as they're the same shade (or level of darkness).
Now, if it were a double monk strap shoe with antique brass hardware, the warm brown shoe would look way more Americana, while the cool shoe would look more urban.
Remember that darker colors are more formal than lighter ones, and cooler tones are more formal than warmer ones.
Strapped Versatility
Thanks to Becket Simonon's small-batch model, the Leonard offers the style and quality of a shoe several times its price.
Our Top Pick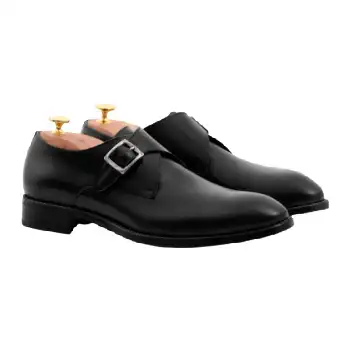 Beckett Simonon Leonard
The Leonards have a classy, minimal look thanks to their single-strap, clean-toe design. And since Beckett Simonon uses a small-batch system, these full-grain leather, handcrafted shoes have the quality of footwear double their price.
Check Best Price
If you click this link and make a purchase, we earn a commission at no additional cost to you.
If you are on a budget, the Johnston & Murphy McClain is a classic monk strap made of full-grain leather in the ~$120 range.
Looking for a double-strap monk shoe? The Thursday Saint comes in several colorways and styles, while the Ace Marks James is a tough yet classy boot option.
Thursday Saint
Goodyear welted and with a premium leather outsole, the Saint is one good looking double monk, holy references aside.
Check Best Price
If you click this link and make a purchase, we earn a commission at no additional cost to you.
You can also splurge on the Allen Edmonds Plymouth, a timeless monk strap that will last forever.
There's a monk strap shoe out there for every guy. It's just a matter of looking at the variations and considering your lifestyle, and of course, personal style.
FAQs
Are monk strap shoes still in style?
Yes, though there are times when they're more (or less) popular, monk strap shoes are a classic design that's never completely out of style.
Are monk straps good?
Yes, the dress shoe design combined with hardware perfectly balances formality and casualness. This makes monk straps highly adaptable.
Are single or double monk straps more formal?
Single monk straps, like the Beckett Simonon Leonards, are more formal than double straps, having a classy, minimal look thanks to their single-strap and clean-toe design. With less hardware on the upper, the single Monk Strap looks cleaner and more refined.