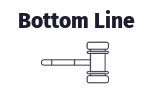 Yes, you can wear loafers with a suit. Any leather dress loafer is appropriate with any suit in most modern-day contexts. Under strict formal dress codes though, go for less detailed loafers, like the opera pump with dress socks. When in doubt, opt for the versatile penny loafer.
Loafers are like the cardigans of shoes. We associate them with a sense of class, elegance, and a laid-back aesthetic.
And I'm not going to bury the lead here—a lot of men wear loafers with suits.
The question is, are those men breaking the rules? Are they doing the equivalent of matching your tie to your pocket square? (Don't do that, by the way).
Here's everything you need to know about whether or not wearing loafers with a suit is actually appropriate.
Can Loafers Be Worn With A Suit?
Yes, loafers can absolutely be worn with a suit. However, certain types of loafers are more casual, and others are more formal. Depending on the situation and dress code, you'll want to choose the most appropriate loafer.
These days, you'll likely be able to get away with basically any dress loafer. If it's leather or suede (not a boat shoe, a moccasin, or even a driving shoe), you'd be fine pairing it with a suit on most professional and formal occasions.
Still, by knowing which loafers are traditionally associated with which dress codes, you can optimize your look and have a rule of thumb to follow in times you aren't sure. You never want to be a disrespectful guest, after all.
Keep this in mind: The fewer details there are on the shoe, the more formal it is. This is why brogues are less formal than plain-toe oxfords. Fewer details mean a cleaner and more elegant look.
Here's how it works with loafers and what that means for suiting.
Opera Pumps
An opera pump is the most formal style of loafer. It's characterized by a single-piece design, often patent leather and sometimes velvet or suede, with a grosgrain or silk bow on the upper. Some modern versions simply have a grosgrain keeper, which I prefer since it looks more modern and less like something an 18th century dandy would wear.
Wear your opera pumps with a tuxedo, a black suit, or a dark navy suit. They're strictly formal. Think black tie balls or, as its name indicates, a night out at the opera.
Extra credit if you pair a black suede opera pump with a suit or tuxedo sporting a suede shawl lapel. That's some classy coordination.
Velasca Martingala Opera Pump
The smooth leather pump designed by Fabio Attanasio for Velasca is a shoe of rare beauty that can carry you to other eras. The calf leather has undergone a glossy finish, obtained by spreading a uniform layer of dye and brushing it by hand.
Check Best Price
If you click this link and make a purchase, we earn a commission at no additional cost to you.
Penny Loafers
If you're absolutely unsure of which loafer to go for, the penny loafer is the safest bet. Its identifying feature is its penny saddle, a strap that goes across the front of the shoe, below the lip.
It's not as clean-looking as a wholecut shoe, but it's fairly minimal and well-structured enough to wear a full suit and tie. I would just say to avoid penny loafers with thick beef rolls on the most formal occasions.
Penny loafers also go with any casual wear. This means they'd go well with broken suits, tieless suits, and even smart casual suit combinations in which you opt for a t-shirt over a dress shirt.
Just remember to wear socks on dressier occasions. Yes, even if it's hot out. Feel free to go sockless (or wear no-shows) anytime you go tieless.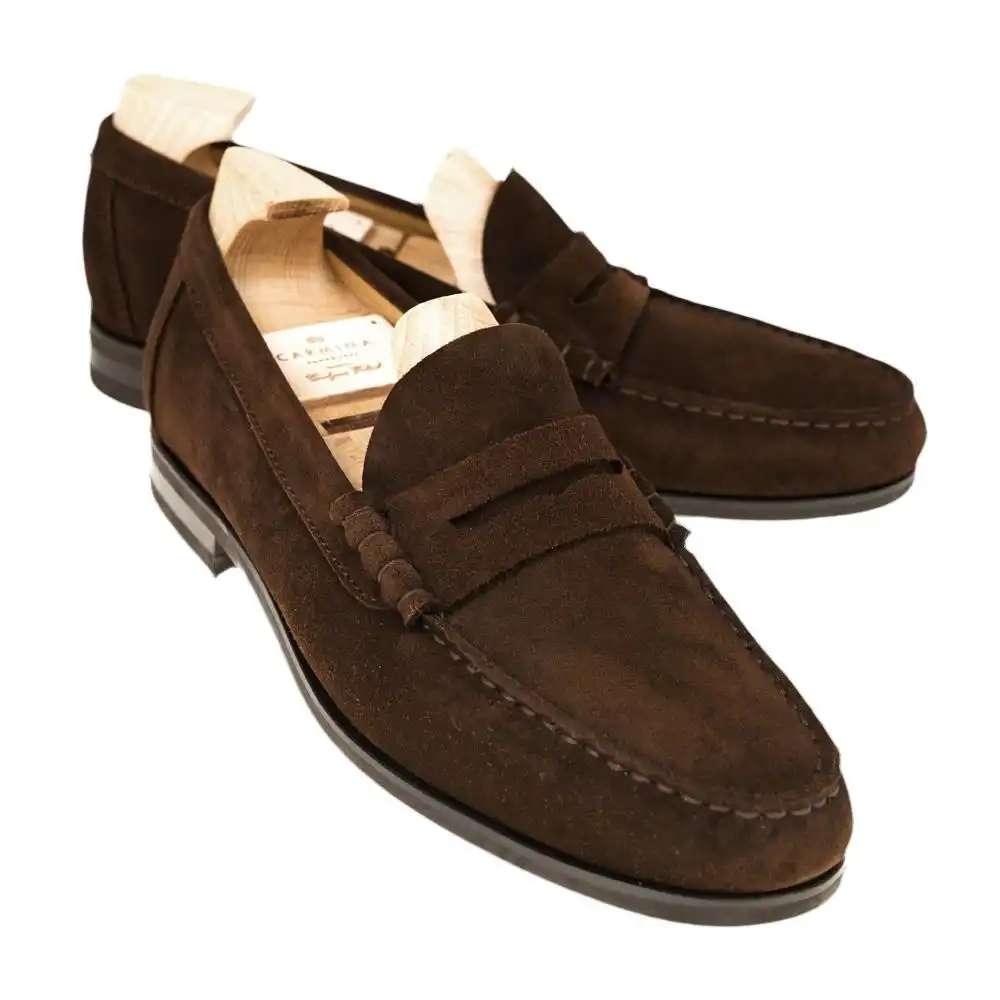 Carmina Penny Loafers
The Carmina Penny Loafer is a true classic, featuring traditional saddle and beefrolls. This smart casual design is elevated by the fact it's handmade in Mallorca using supple calfskin or buttery suede, with a range of exquisite colorways available.
Check Best Price
If you click this link and make a purchase, we earn a commission at no additional cost to you.
Horsebit Loafers
The horsebit loafer is technically more casual than the penny loafer, but since it was popularized by Gucci and the jetset, there's still an air of fanciness to it. As such, you can style it exactly like a penny loafer.
Its defining visual is the metal detailing on the upper. It resembles a horse snaffle, which is where it gets its name. I always say it's like the Rolex GMT-Master II of shoes. It's laid-back and even borderline sporty but still has an aspirational aesthetic.
Think of the horsebit loafer as the off-duty aristocrat shoe.
Sure, it goes well with either a full suit, or just jeans and a t-shirt. But, its most natural habitat would be a smart casual outfit or a resort-chic one. So either a full suit, no tie, no socks, or a lightweight, flowy linen suit.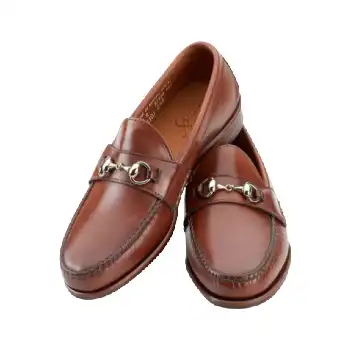 Rancourt & Co Horsebit Loafer
The Rancourt & Co Horsebit Loafer features a refined but relaxed silhouette and an ornate horsebit. As such, you could wear this hand-built, custom-sized calfskin loafer in a range of scenarios.
Check Best Price
If you click this link and make a purchase, we earn a commission at no additional cost to you.
Tassel Loafers
The tassel loafer is a more casual one, as it features two hanging tassels by the lip. This not only adds extra detail, but details that move.
Avoid wearing this loafer on strict formal occasions.
It's truly a fun shoe though, and one that allows you to add a touch of whimsy without leaving the realm of conventional style. It looks great with a suit in smart casual situations.
If you pair your suit jacket with chinos or jeans instead of suit trousers, go for the tassel loafer. If it's after work and you're headed to a lounge sans tie, same thing.
As a leather loafer, it's technically still a dress shoe, but one that's not stuffy, and goes beautifully with any tie-less outfit.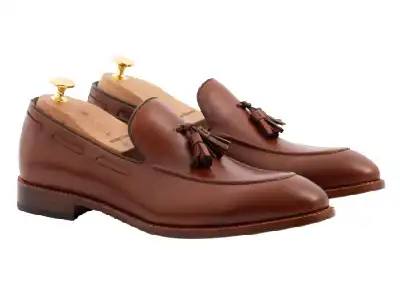 Beckett Simonon Bernard Tassel Loafer
Made to order. Italian full-grain leather. Blake stitch construction. I appreciate all of these things in a loafer, and this one from Shoebly favorites Beckett Simonon brings them all plus more in a very stylish tassel package.
Buy Now
If you click this link and make a purchase, we earn a commission at no additional cost to you.
How to Wear Loafers With a Suit
Look 1: For a Semi-formal Event
A full suit is the safest outfit for a semi-formal event. However, I appreciate that this gent is having fun with colors and patterns here. Notice how he tempers this lively look by going for a conservative penny loafer, one without beefrolls, and black dress socks.
The burgundy still pops more than a regular brown would, grounding the whole look without looking out of place. This outfit is a perfect example of how versatile a penny loafer really is.
Look 2: For After-work Drinks
This combination selectively omits all of the most formal components of the suit, resulting in a classy look that's relaxed enough for happy hour. There's a pocket square but no tie. The suit is a formal wool construction but not tonal.
It's the prime opportunity to go for suede tassel loafers without socks—which is exactly what he does.
Look 3: For Casual Friday
This outfit is such an effective casual Friday choice because of how well-balanced it is. The broken suit, especially with the patterned jacket, and chambray shirt, is pushing hard into the casual realm. However, he keeps it stylishly professional by adding a tie and going for simple oxblood loafers.
Look 4: For Warm-weather Vacations
Even if you're on an island mostly populated by palm trees for the summer, you might find yourself at a chic bar, casino, or party. In that case, go for a combination like this one.
It cleverly utilizes casual and warm weather fabrics in a broken suit to achieve a formal silhouette, but a completely relaxed look. He creates this same dynamic on his feet by going for tapered but extremely low-profile loafers and no socks.
Look 5: For a Formal Event
And how does one pull off loafers in a tuxedo situation? Exactly like this stylish guy does it. It's a completely simple, detail-free, one-tone shoe, made even more mute by the fact he goes for tonal socks.
Also, props to him for knowing not to match his pocket square to his tie.
Comfort, Meet Elegance
Now you know how to do it.
Heading to a debutante ball or coronation? Stick to the opera pump and wear it with a black suit or tuxedo.
If you're off on vacation, go for the jetsetter look by throwing on a nice horsebit loafer. On days when you're channeling your inner '80s sports agent and wearing a blazer with jeans, the tassel loafer is the way to go.
And when in doubt, you pretty much can't go wrong with a nice penny loafer.
FAQs
Are loafers OK to wear with a suit?
Yes, you can wear loafers with a suit. However, you want simple loafers with less detail for formal dress codes.
Are loafers business formal?
Yes. If you go for simple, well-heeled loafers, and wear them with dress socks, they're appropriate in business formal occasions.
Is it unprofessional to wear loafers without socks?
It depends on your office culture, but for the most part, if you're required to wear a full suit and tie to work (or a work event), you should opt to wear dress socks.