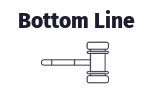 Allen Edmonds dress shoes run true to size, and come in an exceptional range of sizes and widths. Relaxed-fit dress-sneaker hybrids often require you to size down a half. Use a Brannock device to get your true size and align the ball of your foot with the toe box and ensure there's no heel slippage.
Allen Edmonds is undeniably an investment brand.
And by the way, they're totally worth it.
Allen Edmonds make their dress shoes using full-grain leather—they're 360-welted, and they're basically instant heirlooms.
You know what isn't worth it, though? Spending your hard-earned money on a pair of Allen Edmonds Shell Cordovan Park Avenues when you're simply guessing if you have the right fit.
With this guide, I'm going to help you understand Allen Edmonds sizing so you can buy the right shoe without dealing with the hassle of returns and exchanges. 
What's The Right Fit for Allen Edmonds Shoes?
Allen Edmonds Dress Shoes Run True to Size
Ever the shoe professionals, Allen Edmonds dress shoes run true to size. In fact, your dress shoe size is your actual size, and is different from your sneaker size (which is the measurement you may be most used to). If you're used to measuring yourself by your sneaker size, then you're often going half a size bigger or more over your true-to-fit.
Allen Edmonds Offers Extended Sizing
One of the reasons Allen Edmonds is such a respected heritage brand is because they have such a wide range of sizes. In that sense, they're as close to bespoke as you can get without going full Savile Row or even made-to-order like Beckett Simonon does.
Most of their dress shoes go as small as a men's size five, all the way up to a 16. They offer half sizes, usually up until size 13. If you're a size 13 or bigger, (even by a half size), you can just size up one.
Allen Edmonds also offers an extensive range of widths. And no, I'm not just talking medium and wide. I'm not even talking just slim, medium, and wide either.
They offer all of the nuances of Brannock sizing, including six levels of slim widths (AAAA, AAA, AA, A, B, and C), a medium (D), and three levels of wides (E, E, EEE).
Relaxed Fit Dress Sneakers
Keep in mind that the true-to-size rule applies to dress shoes only. For example, their boots tend to run a little big.
One important thing to remember is that Allen Edmonds often makes sneaker versions of their dress shoes. They may list these models as fitting true to size, but read the description carefully.
If the model in question, say a Randolph Suede Slip-On, is true to size but also is described as having a relaxed fit ("Relaxed Fit: Slightly Roomy Feel"), you might want to go half a size down.
Many reviewers of this specific Randolph variation and other dress-sneaker hybrids that run true to size but have a relaxed fit, felt it was a bit too loose.
Some prefer a tighter fit, and others a looser one. However, if the upper is designed like a dress shoe, it should fit like one.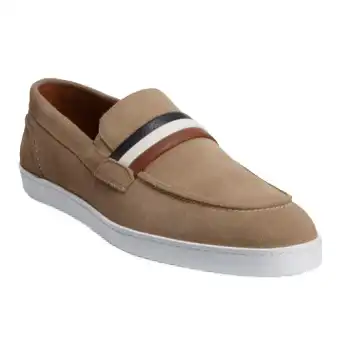 Allen Edmonds Randolph Slip-on Suede Sneaker
A stylish bridge between dressy loafers and casual sneakers, the Allen Edmonds Randolph Suede is an everyday essential that can be dressed up or down. Lined with soft milled leather and featuring FlyForm™ insoles for enhanced comfort and support, it's stylish and comfortable too.
Check Best Price
If you click this link and make a purchase, we earn a commission at no additional cost to you.
Finding The Correct Fit for Dress Shoes
Again, if you use your sneaker size as your anchor, you'll need to correctly measure your feet to get your real number. If it's been a while since you last did this, here's a refresher.
First, I'll explain how your feet should sit in your dress shoes. Then I'll share how to properly use a Brannock device to get the exact size and width you should go for with Allen Edmonds dress shoes specifically.
Let's take a look at proper fit as it pertains to the foot:
Toe Fit
Ensure your toes aren't touching the very tip of the shoes. Of course, a pointed toe will have less room than a rounded or square toe, and will move in closer to the sides of your feet.
Regardless, if your toes touch the end, the shoe is too small.
Forefoot Fit
This is the most important part of the fit. The balls of your feet should be perfectly aligned with the shoe box.
The shoe box is the widest part of the shoe. Everyone has differently proportioned feet, but the shoe box is where your foot anchors itself in your footwear. Everything around this area should be snug but not tight.
Heel Fit
With lace-up dress shoes, you don't want any heel slippage at all.
With most types of loafers, there might be some sliding, but as long as your feet don't move up too close to the collar, you're good to go. If your heels completely slip up and out as you walk, your shoe is way too big.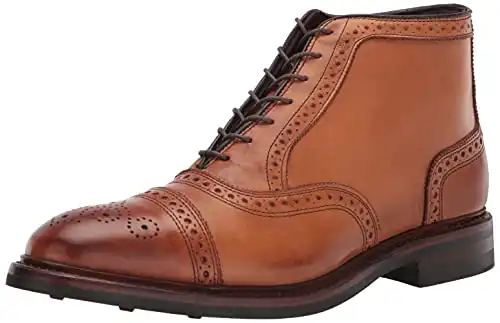 Allen Edmonds Hamilton Oxford
The Allen Edmonds Hamilton Oxford is a dress boot with a lot of personality, thanks to its heavy broguing. It's also highly functional, with a weather-proof membrane, a fully-sealed storm-welted construction, and a grippy rubber outsole.
Buy Now at Amazon
If you click this link and make a purchase, we earn a commission at no additional cost to you.
Tips for Measuring to Find Your Allen Edmonds Dress Shoe Size
Use a Brannock Device
Using a Brannock device, you'll get each foot's arch, length, and width.
If your arch is bigger than your length, then that's the number size you're going to go for. So, for example, if you have an 11 length, but an 11.5 arch, then you'll go with a size 11.5
The width bar on the Brannock device will measure your width based on letters A through E:
A, B, and C are slim widths
D is regular width
E, EE, and EE are wide
Most dress shoes simply offer slim, regular, or wide options. Allen Edmonds actually offers the exact letter widths, providing super specific fits.
Make Sure You're Measuring at The Optimal Time
Don't measure your feet first thing in the morning. Even those with the most physically undemanding lifestyles will find that your feet swell, even just a bit, by midday or by the end of the day.
To ensure you don't accidentally choose a size too small, make sure that you're measuring your feet during the midday at the earliest.
Ask Someone to Help You Measure
Here's the thing. If you do your measurements yourself, you'll be bending down to get the length and width bars of the Brannock device. Even if you're a master gymnast, your feet will move around a bit, affecting the measurements.
Find a friend who can help you work the device and take measurements while standing perfectly still.
Wear Your Usual Socks
You're going to wear dress socks with your Allen Edmonds dress shoes. As such, you should be measuring your feet with those very socks.
If you live in a really cold climate and you know you'll be wearing thicker dress socks with your shoes in the winter than in the summer, I recommend measuring your feet with your cold-weather socks.
Measure Both Feet (Not Just One)
One foot is often bigger than the other. If this is significant, you can ask a retailer if you can have two different sizes. Otherwise, go for the bigger size.
Take New Measurements Periodically
If it's been a while since you last bought a proper pair of dress shoes, you'll want to remeasure your feet before purchasing a new pair.
Moreover, if you experience significant weight loss or weight gain, your size might go up and down accordingly.
And we all know Allen Edmonds shoes last forever. If you were 21 when you first bought a pair of Park Avenues, and now you're 40, needing a new pair, I guarantee they won't fit the same. Your feet will have changed, even if your weight is fairly consistent.
Allen Edmonds Park Avenue
The highly-respected Allen Edmonds Park Avenues are both classic yet distinct, thanks to their subtly unique details. Their all-around bench-welted construction and incomparably premium leather uppers give these shoes the potential to last a lifetime.
Buy Now
If you click this link and make a purchase, we earn a commission at no additional cost to you.
Classic Fits for Classic Shoes
As long as you measure your feet using a Brannock device, finding the right Allen Edmonds shoe should be pretty straightforward.
Again, since everyone's foot proportions are different, you should further ensure the right fit by placing the ball of your foot in the shoe box, then ensuring that your toes don't touch the tip and that your heels aren't slipping.
If you're going to spend your hard-earned money on a pair of Allen Edmonds, you better get the perfect fit.
FAQs
Do Allen Edmonds run large or small?
Allen Edmonds dress shoes run true to size, though the boots often run half a size larger. Meanwhile, you can size down a half for their relaxed-fit dress-sneaker hybrids like the Randolph if you want a more traditional dress shoe fit.
How do you size Allen Edmonds?
Use a Brannock device to get your proper shoe length and width. That's going to be your Allen Edmonds dress shoe size.